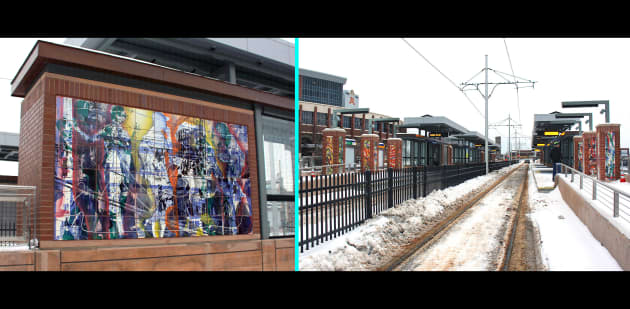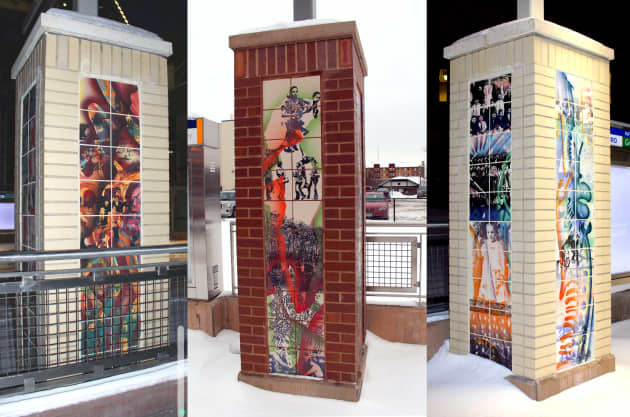 Client: Metro Council
Completion date: 2013
Artwork budget: $560,000
Project Team
Artist
Roberto Delgado
Roberto Delgado Studio
Artist
Yamilette M. Duarte
Slauson Studio
Overview
Shown are the 4th and Cedar Station near St. Paul City Hall, and the Stadium Village Station in front of the new U of M stadium. Each has 4 large 6′ x 11′ murals and some smaller , all made of ceramic tile with glaze airbrush-over-photosilkscreen, majolica brushing, and slip trailing imagery. The imagery was culled from hundreds of cultural and historical records and my own personal photo studies. And for something entirely new, there was some Braille poetry with fired chrome steel beading as a test for freeze freeze-thaw conditions. Hope they survived the winter.
Goals
Well, I guess like the Renaissance Medicis, the city and county burghers in the Twin Cities made the wise decision of investing in public art for some very good reasons. Draws and keeps tourism going, makes the grind of the daily commute a little more interesting, makes the whole place attractive for international investment, and draws in the convention trade. After all, they're competing against cities that have a head start by hundreds of years. Those Medicis were smart business people and not necessarily art lovers. They would know that a Lufthansa Airbus 380 full of tourists ready to spend thousands of Deutschmarks in a city, would do so if you hire Mike Buanarotti to do you a statue or two. So more power to the burghers of MSP.

What I did was simply use the tried and true medium of ceramic tile. The new twist was the stenciled airbrushing over photosilkscreen. About a couple of thousand pix. They were big and small and falling over and under each other. Fairly abstract stuff that seldom gets borong. Airbrushing was done with auto detail overhead-feed airbrushes and some mylar stencils.
Process
They sent me all the autoCAD files, I converted them to PSD, and designed-to-cost. Of course, as with any public art project, they wanted to see and vet the archive and personal photo studies I was going to use. This was from the cities of St. Paul and Minneapolis, Ramsey and Hennepin County, and the University of Minnesota. The only people that seemed to object to my bank of images was the University. But that's normal if you take into consideration normal interdepartmental college politics and that the Athletic, History, and Art Departments were involved. So, of course, I took all the images that they didn't like and used them.