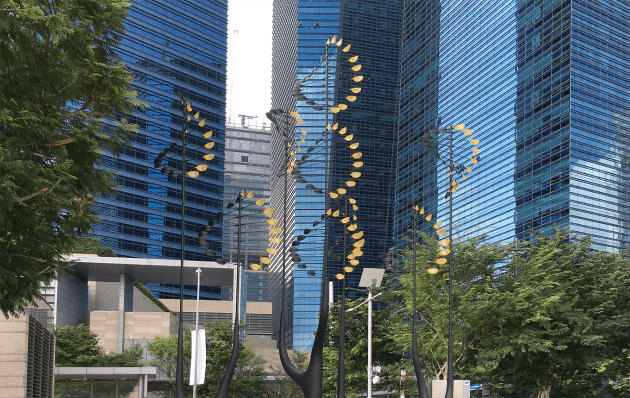 Photo: edwin cheong
Client: Youth Olympic Games Committee
Location: Singapore, Singapore
Completion date: 2010
Project Team
Artist
Edwin Cheong
Edwin Cheong Studio
Client
Urban Redevelopment Authority
Urban Redevelopment Authority
Client
Youth Olympic Games
Youth Olympic Games
Overview
This wind kinetic sculpture was commissioned to commemorate the 1st ever Youth Olympic Games. The global awareness of the need to love our earth inspired the meaning behind the work. The total number of leaves on the tree counts the number of nations in the world. The wind harnessed to create movement and splendor reminds us that when nature is left to itself, the balance creates beauty for us humans. Do enjoy the kinetic movement in the video attached.
Goals
To be a meaningful artwork that speaks about our current global concerns.
Process
Close working relationship with Youth Olympic Games Committee, Urban Redevelopment Authority of Singapore and generous sponsor City Development made this project possible.