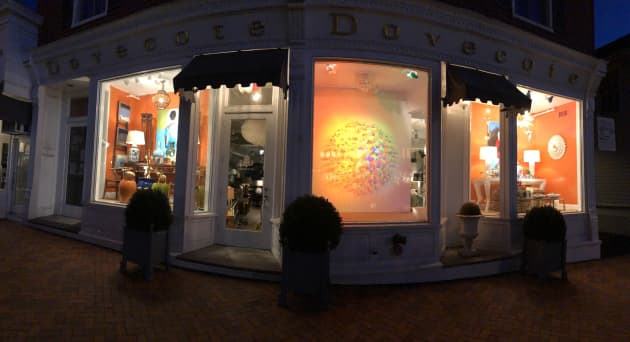 Photo: United #2 - Dovecote Storefront, Westport, CT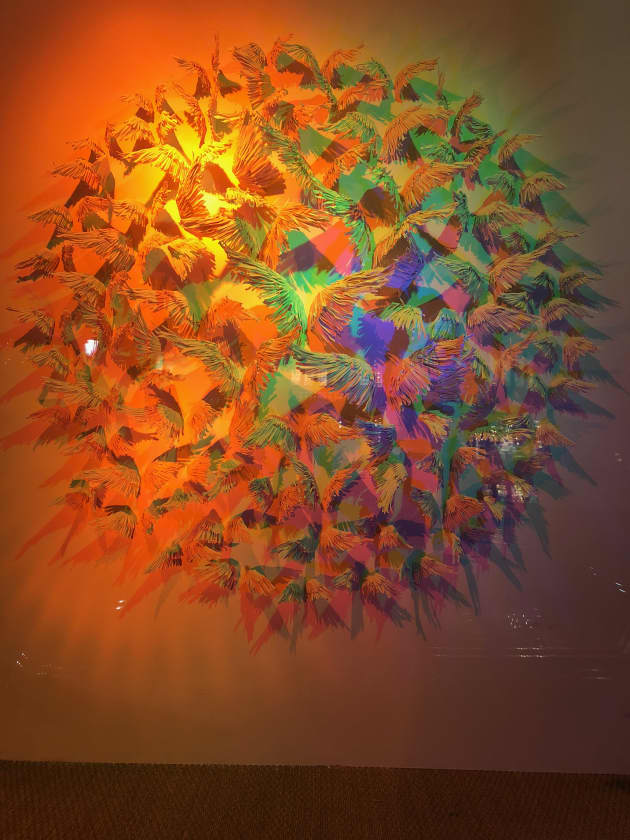 Photo: United #2 - Dovecote Storefront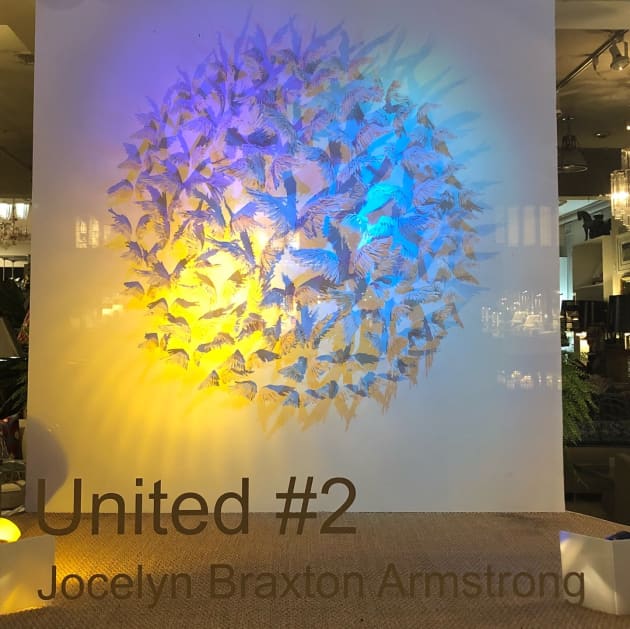 Photo: United #2 - third lighting change
Photo: Daytime view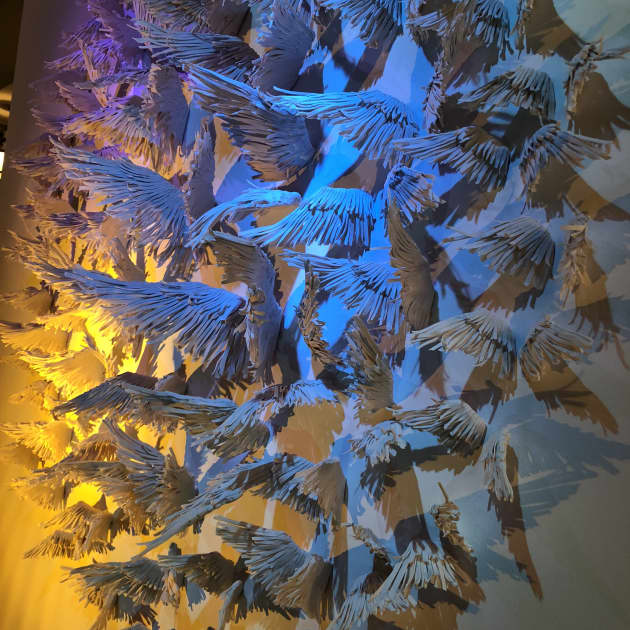 Photo: UNITED #2 @ Dovecote
Client: Dovecote - Retail Interior Design Shop
Location: Westport, CT, United States
Completion date: 2018
Artwork budget: $11,900
Project Team
Artist
Jocelyn Braxton Armstrong
Jocelyn Braxton Armstrong Ceramics
Client
Sarah Kaplan
Dovecote
Overview
The original installation, UNITED is comprised of 180 unique pairs of porcelain wings mounted in a circular arrangement with larger wings in the middle radiating to the smallest wings on the perimeter, creating a domed effect. It is 8 ft in diameter. The wings are drawn from the white dove, a symbol of peace. (see image with white wings)
Goals
For this project the client wanted to mount UNITED #2, (a scaled down version of the original) in the center window and light it at night to coordinate with the visual merchandising in the windows on either side to produce a dynamic visual display. She wanted to change the gelled lighting color midway through the display period, to coordinate with the newly dressed windows. The work transforms from white with a blush of color during the day and color builds in intensity as night falls. UNITED #2 is 5 ft in diameter and is comprised of 77 pairs of porcelain wings.
Process
Each wing is unique and hand built and is hung on one nail at a 45 degree angle. The The work must be installed on a sheetrock surface (which was fabricated for this project). The wings are delicate yet sturdier than they appear. New unique versions of UNITED can be created from 4-8ft dia. in size. Different arrangements, lighting and video applications can be explored to suit the space in which the work is shown. (ex; a sweep, a triangle shape, etc).
Additional Information
The wall hung sculptures created with porcelain wings evoke a sense of calm or drama, depending on how they are lit, and can easily work as a statement piece in a hotel, hospital, church, building lobby, restaurant or large foyer. There are many facets of this work that can be explored further to create a unique visual presentation. The collateral photography and detail images of the work can be used for wallpaper, textiles, window vinyls and other creative uses.