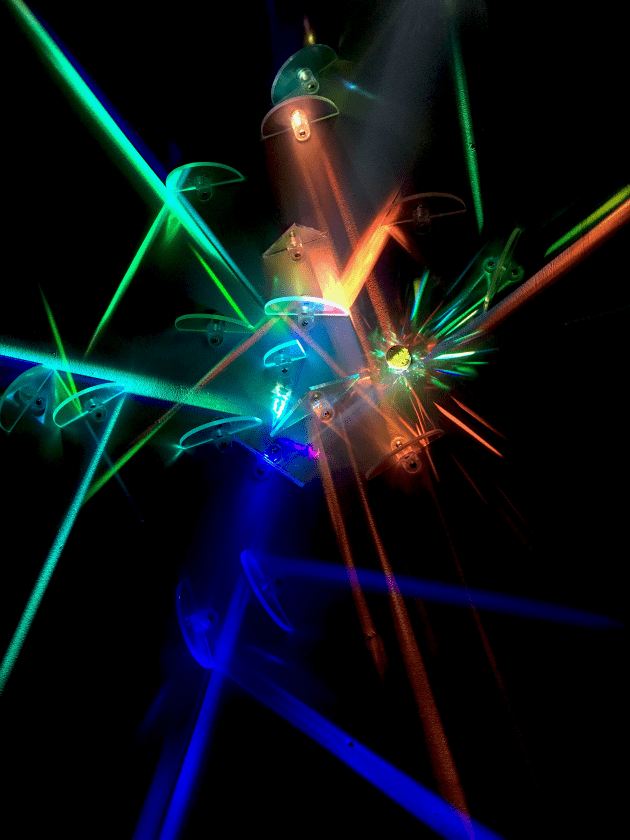 Photo: Anthony Dallmann-Jones
Client: Charles Lindsay
Location: Palm Beach, FL, United States
Completion date: 2018
Artwork budget: $25,000
Project Team
Industry Resource
Moon Shadow Etchers
Moon Shadow Etchers
Industry Resource
John Blazy
John Blazy Designs
Industry Resource
Joshua Marschie
Manowske Welding Corp.
Overview
The home, on Oceans Blvd, overlooking the Atlantic and a few blocks north of Donald Trump's Mar-A-Logo, with 15 foot ceilings was a perfect location for my 15th Light Sculpture in south Florida. This was, however, my first Light Sculpture with Crystals – rapidly becoming a trademark feature – completed in Florida. "Uninvited Guests …" is a wall-mounted sculpture, covering 15 feet x 8 feet. It features dichroic glass, lead crystals, a specially constructed 6 degree, 4-watt, LED lamp, among other things.Negotiations began in February and culminated in the completed and exciting project on August 1, 2018.
Goals
The Light Sculpture was to hold one end of an art corner, featuring Warhol's original pieces along with a piece by Chagall - Integrated into a home next to original Warhol's and Picasso's and colorized to augment.
Process
Glass made by Moon Shadow Etchers and cut by Manowske Welding, along with design consulting with Zak Jones and the owners, Susan and Charles Lindsay. Onsite electrician made modifications prior to arrival - rewiring and snaking cable through the walls after covering the original and mis-located outlet to be used.
Additional Information
It took 3 months to design and tool, AFTER receiving the glass. Much discussion with owners over color and design scheme and placement. Electrician specs were exacting and most helpful. Lived on the premises in Palm Beach for 3 days to complete the process, after shipping tools and glass to the residence a week before.