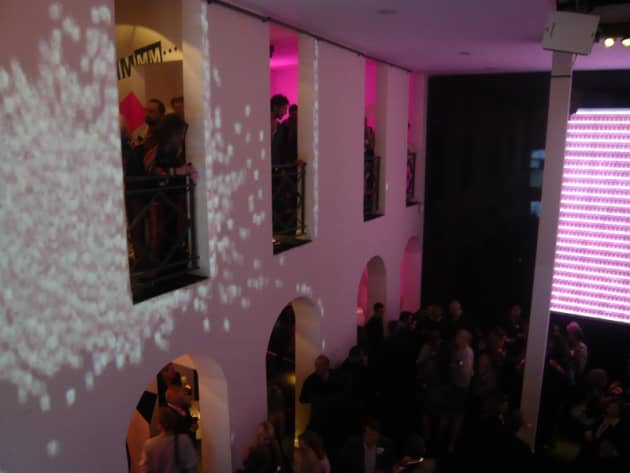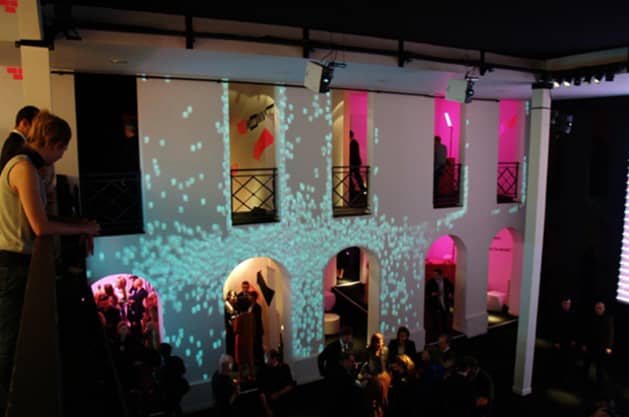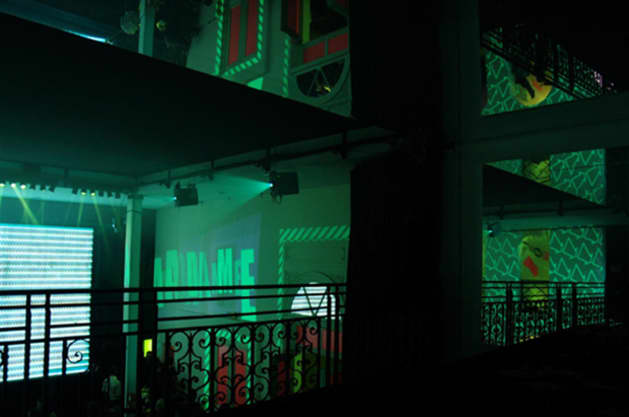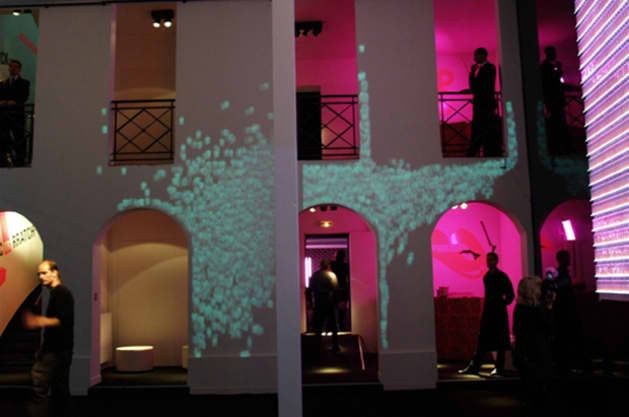 Client: J.P. Gaultier
Location: Paris, France
Completion date: 2008
Artwork budget: $12,000
Project Team
Client
Villa Eugenie
Villa Eugenie
Client
G.P. Gaultier
G.P. Gaultier
Overview
"Two Walls Dialogue" is a generative site-specific video installation especially designed for the entrance-room of Jean Paul Gaultiers "MaDame" launch event held in Paris, spring 2008.
Two walls fronting each other are the target of a generative installation reacting on the existing architecture of the building. 2000 digital icons of the MaDame profume's bottles swarm as two opposite "clouds" bouncing and sliding on the two facades, in an everlasting interplay between them.
Goals
This temporary installation was commissioned by the Belgian events production house "Villa Eugenie" and it was installed on the main entrance of a three storey building in the heart of Paris, which was completely re-designed for the European launch of "MaDame", a new profume line by the French fashion designer Gean Paul Gaultier.
The installation was designed so that a software running in real time would render the trajectories of 2000 "digital icons" based on flocking and swarming algorithms found in nature. This would assure that the movements and interaction between the individual elements would always be different and anew.
Process
The project was art directed by Mattia Casalegno, visual artist and designer, and the architect Michael Langeder. They teamed with the Italian developer Nathan Sinigaglia, who programmed a custom made application in the 3D-based graphical programming environment "VVVV". The software interface was designed so that virtual physical boundaries could be set so the individual icons would bounce against specific areas of the projection surface, while moving around with movements resembling flocking of birds.
The two artists then deployed the software on site, setting the boundaries around the windows and doors of the two opposite facades so the video-projected content generated in real time would react and adapt its movements according to the architecture of the venue.
The video set up consisted of 6 video-projectors and a WatchOut System.