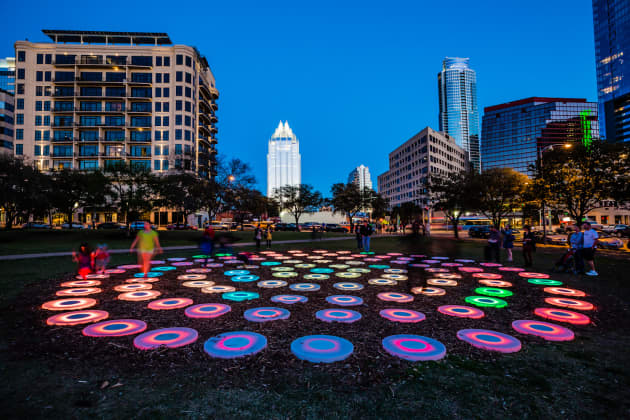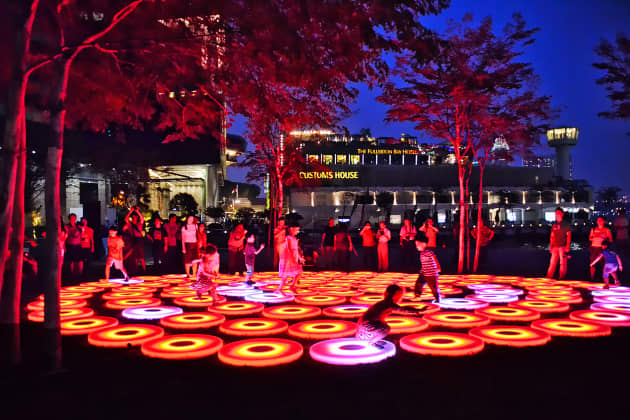 Photo: Couresty of Jen Lewin Studio Photo By Choo Yut Shing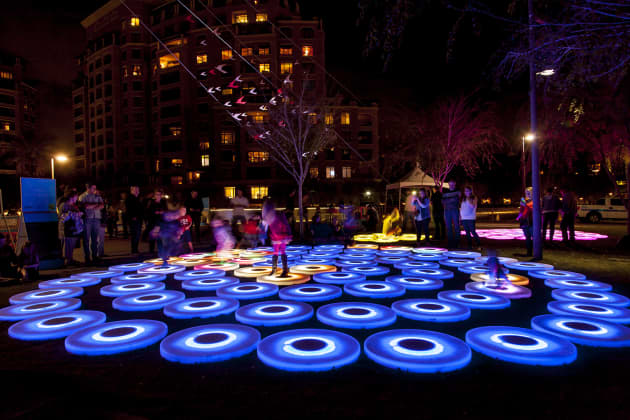 Photo: Couresty of Jen Lewin Studio Photo By Sean Deckert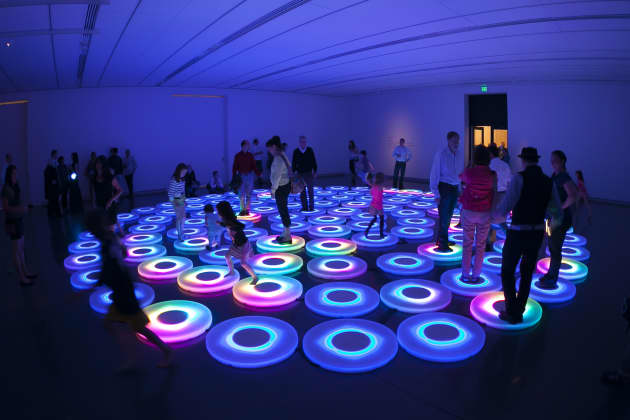 Photo: Couresty of Jen Lewin Studio Photo By Aaron Rogosin
Photo: Couresty of Jen Lewin Studio Photo By Martin Dionne
Client: Jen Lewin Studio
Location: Traveling Installation, CO, United States
Completion date: 2013
Project Team
Artist
Jen Lewin
Jen Lewin Studio
Overview
The Pool is an environment of giant, concentric circles created from interactive circular pads that can span up to a quarter of an acre. By entering The Pool, you enter a world where play and collaborative movement create swirling effects of light and color. As multiple users play in The Pool, their interactions become mesmerizing patterns of shifting and fading colors. Part of Jen Lewin's 'Have Art, Will Travel' program, The Pool has traveled the world since 2012. It was built and designed specifically to pack into crates and ship worldwide really easily.
Goals
To make The Pool "work" you must engage actively within the sculpture by stepping, running, jumping or even riding across the pads. The Pool is inherently interactive and creates its own form of community within the sculpture itself. The interaction varies dramatically depending on the number of individuals involved. This dynamic interaction between individuals and The Pool creates environments ranging from curious and playful with few participants to energetic and competitive with many participants.
The Pool was designed with any environment and aggressive use in mind. It's weather resistant and has been designed for such aggressive use that it has been used by more than 10,000 people in an evening and (once) driven over by a car and still works! The Pool was developed to work in any space and has been installed in the endless Nevada desert, the middle of large cities, in parks, plazas and on college common centers.
Process
Jen Lewin was inspired by tidal waves glowing in the moonlight while camping in Australia. It took nearly almost two decades for materials and technology to evolve from that moment of inspiration to a working installation. Over the years Jen Lewin pursued architecture and technology and relied on her background in art and dance to continuously evolve her medium. All of her installations come from a strong desire to capture a sense of community and the wonder of nature.