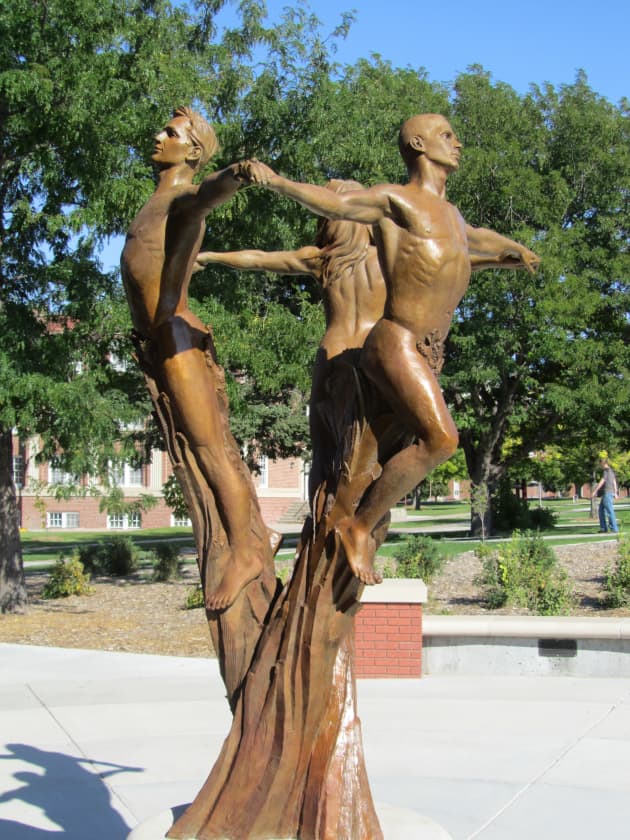 Photo: MJ Clark
Client: Chadron State University
Location: Chadron, NE, United States
Completion date: 2011
Project Team
Artist
David Alan Clark
D.A. Clark Sculpture LLC
Client
Chadron State University
Chadron State University
Overview
Chadron State College wanted a sculpture to celebrate their 60th anniversary. We came up with the idea of three allegorical figures: muses (Arts, Science and Sport) as the means for students to grow and become polished adults. The figures are bronze, the plaza cast concrete.
Goals
The three figures, two males and one female, emerge out of the rocks, supporting one another and reaching towards their destiny as they experience university life. They are meant to represent everyone, and are of different ethnic groups to underscore the inclusiveness that is the ideal college experience.
Process
The College gave me free reign in developing the concept and execution of the idea. I worked with my foundry to ensure that the final composition would be stable and secure.
Additional Information
This sculpture is one of the few that I've seen on any campus that represents the students themselves. The student body has adopted the figures, and it is not uncommon for the statues to be seen draped in scarves and hats in school colors during the first snow, or 'grasping' pompoms on game day, or wearing aloha shirts and leis in honor of another kind of celebration.