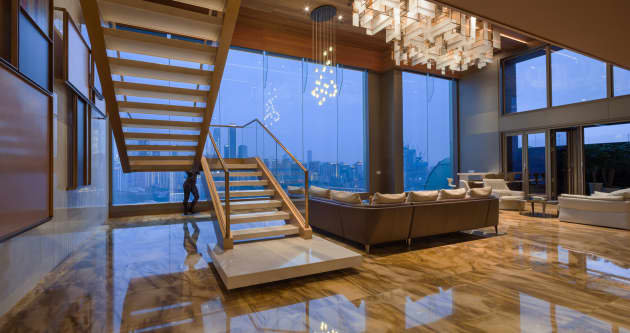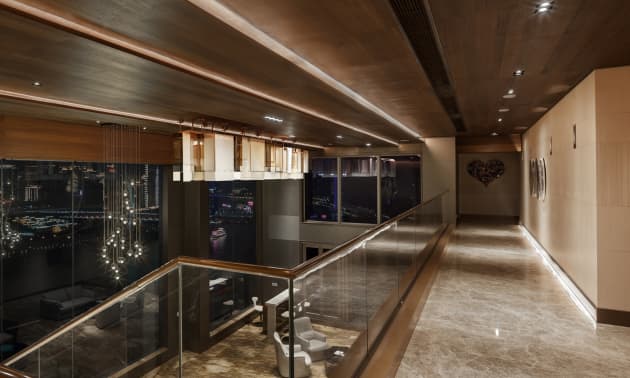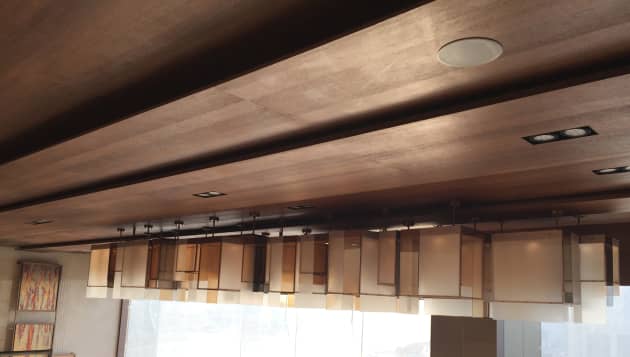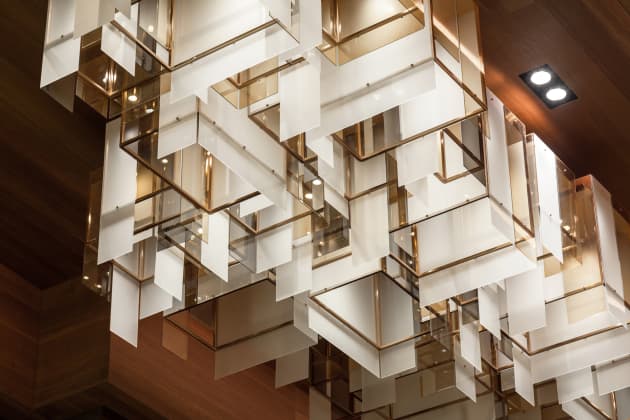 Client: Private Client
Location: Chongqing, China
Completion date: 2017
Artwork budget: $170,000
Project Team
Other
Pinchen Design
Pinchen Decorative Engineering and Deisgn Co., Ltd
Other
Lutai Decoration Co., Ltd
Lutai Decoration Co., Ltd
Artist
Daphne Hsieh
Fishbone Design Co., Ltd
Overview
The artworks located on a 7 meters high ceiling area of a private residential house.The relationship between the artworks is the use of same rectangular principle.The size of lighting is 695cmx230cm, installed in the living room.It made of 3 different colors of glasses,3 different sizes of rectangular,and 54 pieces of spotlight with 3 types of beam angle.To create a focal point in the living area,the wall art presented in the 2 storey high wall, the use of steel-made frames stacked vertical and horizontal way,and paneled with different texture of metal which make this work appear shinny and attractive.
Goals
The lighting is a piece of art which combine the functional and visional aspect. The technical perspective of the design is to make the free flow and enhance the various reflection of light, and the transmission of light through the glasses.There is a big French window in the living area that facing Yangtze River with spectacular scenery of buildings. The design of lighting is like the reflection of the scene in the river. The different beam angles and colors of glasses with rectangular shapes, creating the image of sparkling building on the river. When you stop by the upper floor on the high ceiling area, you can see the scenery outside through the glasses of the lighting. To continue the design form of the artistic pendant, we created the rectangular frames of different proportions with different materials on the surface of the art decoration as the highlight on the high wall beside the staircase. The different materials will give a different visual attraction no matter you are going up or going down on the stair.
Process
This is a project located in Chongqing, China. Herzu Design in Taiwan served as the chief interior designer, artistic designer for the pendant and wall decoration. Our collaborative partners are Fishbone Design Co., Ltd. (Taiwan), the lighting consultant, Pinchen Design(China), in charge of construction drawing, and Lutai Decoration Co., Ltd (China), the constructor for this project. Herzu Design handled the conceptual design of both the huge pendant and wall installation, such as visual, proportion, and material. Fishbone Design involved in the detail of the lighting, including ,explosion drawing, communicate with manufacturer, the method of lighting fixture, and monitor the installation on site. Pinchen Design acts as communicational bridge between Herzu Design and the Lutai Decoration in China,and assisted on monitoring the construction. To ensure the quality of the whole construction, the Chief Designer of Herzu Design supervises the construction process on site in each critical stage to achieve the design concept to the best result.