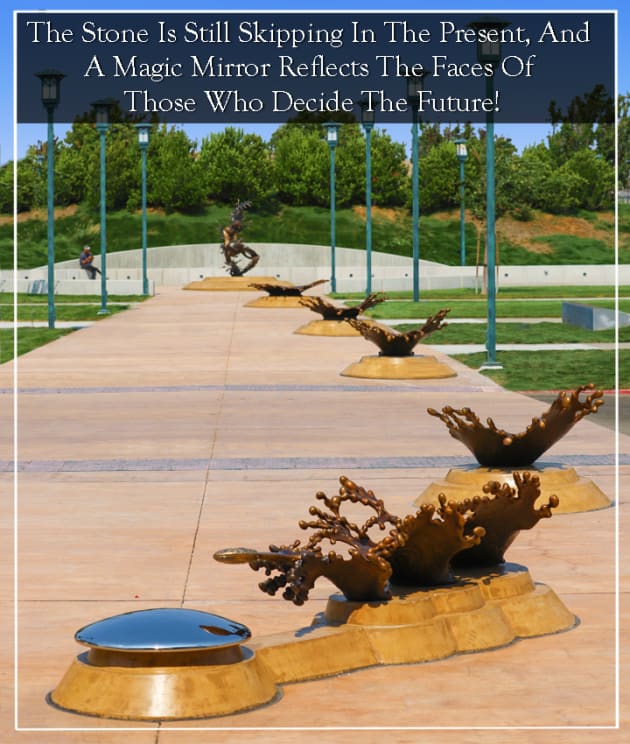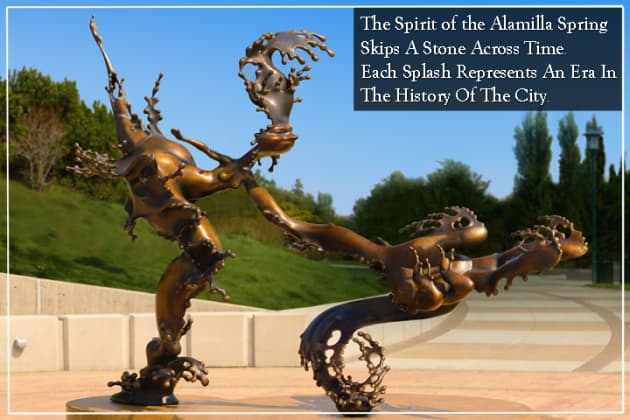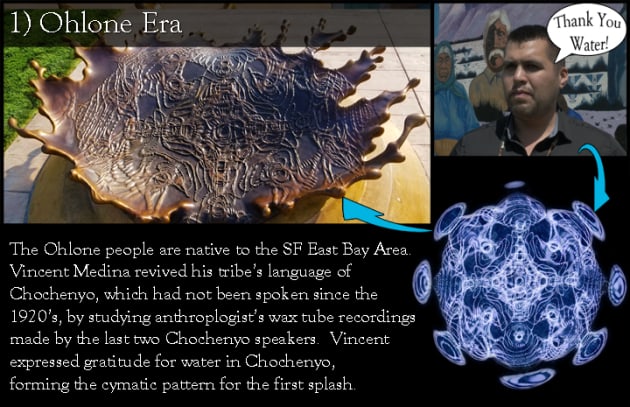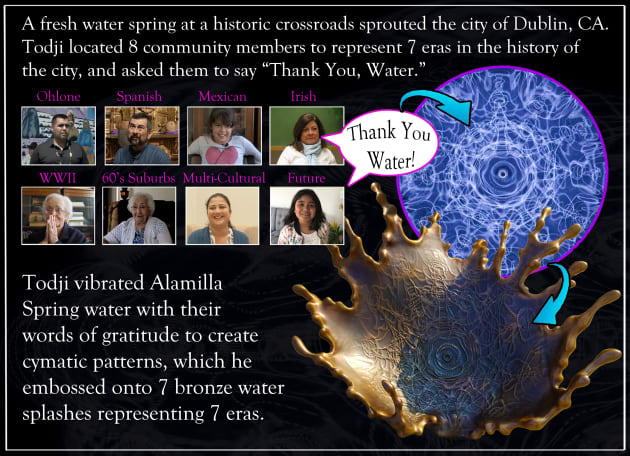 Client: City of Dublin California
Location: Dublin, CA, United States
Completion date: 2018
Artwork budget: $325,000
Project Team
Architect
Dahlin Group
Dahlin Group Architecture
Overview
Thank You, Water is an offering of gratitude to the Alamilla Spring and all waters.
The Spirit of Alamilla Spring skips a stone across time. Seven splashes represent seven eras in the history of Dublin, which sprouted next to the spring: Ohlone, Spanish, Mexican, Irish, WWII, 1960s suburbs and today's multi-cultural city. The stone is still skipping in the present, and a magic mirror reflects the faces of those who decide the future! Todji interviewed community members, vibrated Alamilla Spring water with their words of gratitude, and embossed the cymatic patterns onto the bronze water splashes.
Goals
Commissioned by Dublin California's Public Art Program , this was a $44 million construction project for which the nine bronze monuments and plinths form the trajectory of a skipping stone along the entry plaza to an aquatic center . I collaborated with Dahlin Group Architects to integrate our designs in Sketch Up. I subcontracted the engineering, and personally drafted the construction documents from which the contractor built the nine plinths. The principle intention was to make a community offering of gratitude to water for an aquatic center built during a major drought.
Process
Please see the "Thank You, Water" documentary to see how Todji interviewed eight community members and vibrated Alamilla Spring water with their words of gratitude to form cymatic patterns which Todji embossed onto seven bronze water splashes representing seven eras in the history of the city.
Additional Information
The "Thank You, Water" full length documentary is a work in progress whose principle thesis is that the root of true ecological healing lies in the re-awakening to the sanctity of nature within ourselves.