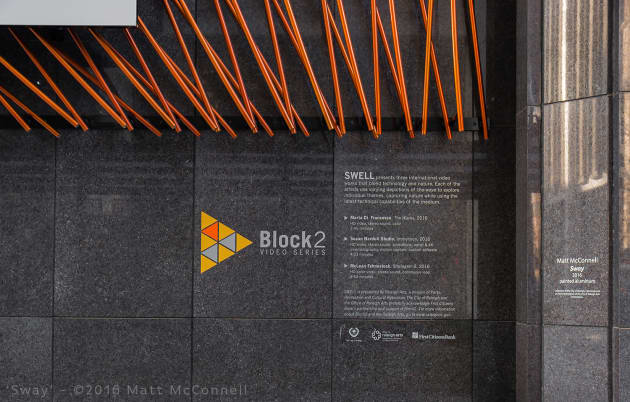 Photo: ©2016 Matt McConnell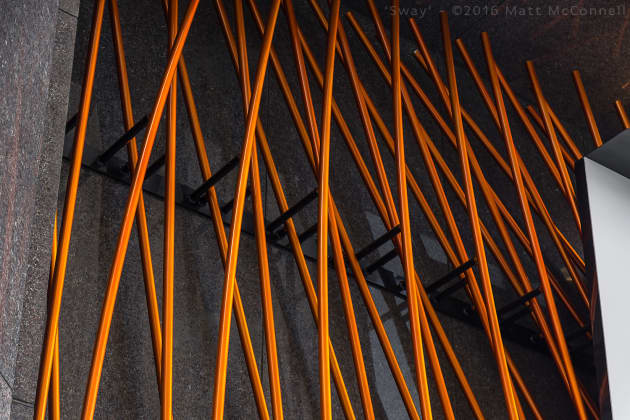 Client: City Of Raleigh
Location: Raleigh, NC, United States
Completion date: 2016
Artwork budget: $30,000
Project Team
Public Art Agent
Kim Curry-Evans-former Public Art Coordinator
City of Raleigh
Artist
Matt McConnell
McConnell Studios
Overview
A video screen wall sculpture inspired by the sway of tree limbs. The white center panel comes alive every evening as falls with art curated by the City of Raleigh's Block Gallery.
Goals
The key goal was to bring the space alive during the day, since the budget did not allow a fully lit screen, but a projection system that can only be seen easily at night. The sculpture brings interest while the curated video art cannot be shown.
Process
I was hired to consult on this and an adjacent plaza to suggest art integrated into the landscape with railings and planters, as well as an artistic element for the screen. The final result was passed by the City of Raleigh Arts Commission and included engineering and an agreement with First Citizens Bank to not impact the granite facade in installation.
Additional Information
The entire system is mounted through the gaps between the granite facade elements, so when it is finally removed, there will be no trace of its presence.