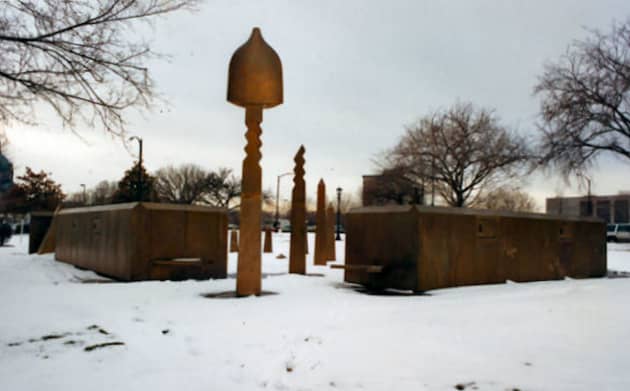 Photo: Mark Salzman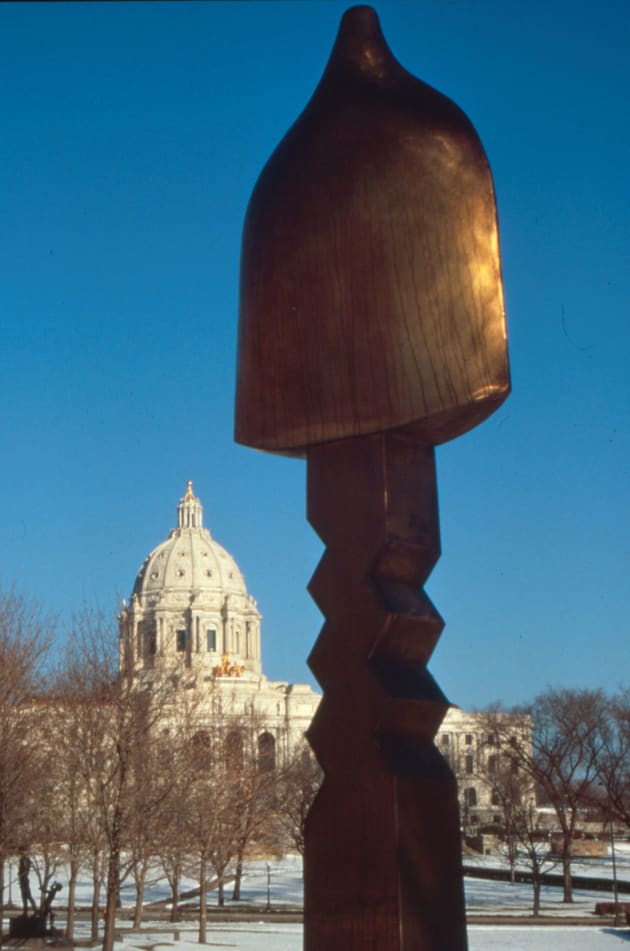 Photo: Curtis Patterson II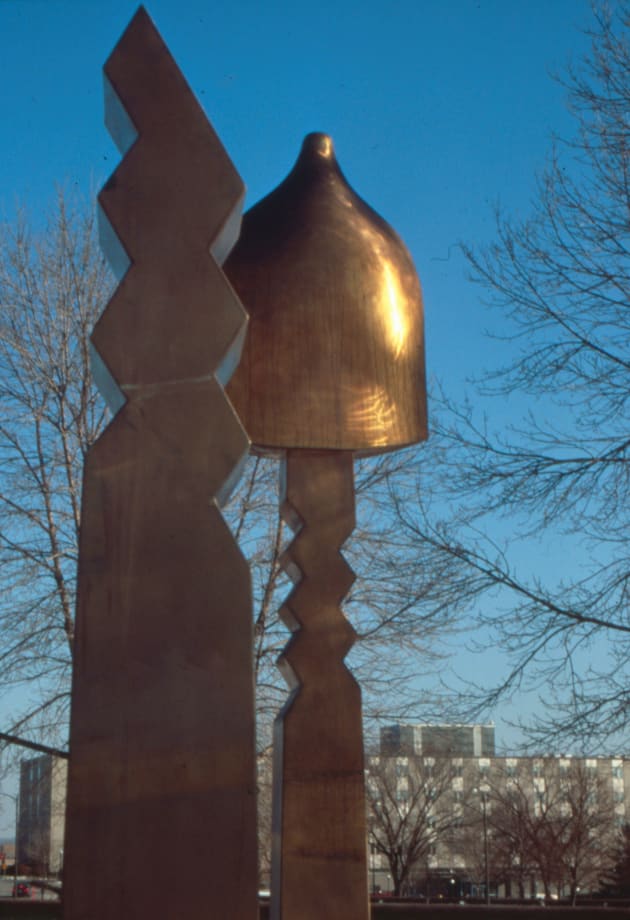 Photo: Curtis Patterson
Client: The State of Minnesota
Location: St. Paul, Minnesota, United States
Completion date: 1995
Artwork budget: $300,000
Project Team
Artist
Curtis Patterson
P&S Metal Works
Client
Gary Griffenburg
Minnesota Capital Area Board
Overview
"Spiral for Justice" was developed to memorialize the lifetime achievements of civil rights icon, Roy Wilkins. Located on Minnesota's State Capitol Grounds, the sculpture and integral plaza area encompasses nearly 4000 sq-ft. The sculpture is composed of fabricated bronze and engraved bronze plates. 46 elements form an ascending spiral which terminates with an 18' reliquary element representing the 46 years of service Roy Wilkins provided to the NAACP. Walls ranging from 24–30' serve as stark reminders of barriers and injustices Mr. Wilkins helped overcome. The sculpture contains over 90 bronze plates with motifs representational of the civil rights movement.
Goals
In 1993, the State of Minnesota and State Capitol Grounds Board embarked on a project to develop a commemorative monument dedicated to civil rights icon Roy Wilkins. The project group formed a search for artist panel and laid out primary goals which were to:
1. Create a monument reflective of Roy Wilkins' exemplary character, civil rights leadership and legacy of pursuance of equality and social justice for all.
2. Develop a site to serve as a destination point for the local community and visitors from afar.
3. Create a memorial site emblematic of Roy Wilkins' 46 years of servitude in the legislative arena that would serve as a contemplative space and historical reference.
During the project selection process, I developed a set of self-imposed requirements in response to the Project Board goals. These, in part, were: Develop a sculpture with elements relatable to movement analogous to the perpetual movement of the civil rights campaign, Create a venue clearly demarking Mr. Wilkins' 46 years of achievements and ascendancy over the barriers of social injustice and Develop an open atmosphere environment that encourages investigation and participation. Fulfillment of these requirements and resultant sculpture were genuinely embraced by the board and local community.

Process
The "Spiral for Justice" Project was a collaborative endeavor supported by a cross function team which I led during the 1993-1995 timeframe. Others who served on the team consisted of Bill Sanders and Mark Salzman, with Sanders, Wacker, Wehrman and Bergly Landscape Architects and Planners, Gary Grefenberg, Minnesota Capitol Area Planning Board CEO, Don Roberson, PE, Engineer, Curtis Patterson, II Project Engineer and the community advisory group. I worked in conjunction with the landscape architects to create a venue that would allow ease of ingress and egress for the pedestrians, including those with disabilities. The piece is composed of three, six foot tall walls, symbolic of barriers oppressed people faced in their efforts to achieve equality. Each of these walls has integral benches and retractable doors on the opposite side of the wall behind the benches. This arrangement allows viewers to explore features of the sculpture without disturbing others, who may be resting on the benches. When the doors are opened they reveal quotations by Mr. Wilkins and one has a bar-relief portrait of Mr. Wilkins. Additionally, there is a 46-element ascending spiral terminating with an eighteen foot reliquary element. The reliquary is symbolic of Mr. Wilkins.
Additional Information
The experience of collaborating with the Minnesota Capitol Area Planning Board, the community group and the landscape architectural firm , Sanders, Wacker ,Wehrman and Bergly Architect and Planners was extremely enjoyable. "Spiral for Justice" was completed on time and within budget. It was well received by the community and the City of St Paul. The dedication of this sculpture was very well attended despite the fact that it occurred during sub-freezing weather. Those attending expressed their accolades for the finished project.