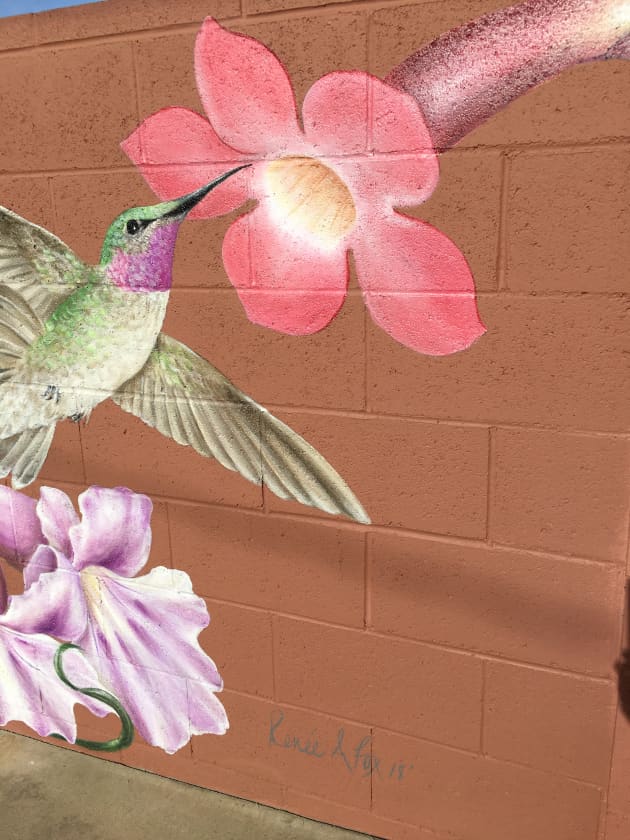 Photo: Renée Fox
Photo: after- Renée Fox
Photo: before- Renée Fox
Client: Private Residence
Location: Los Angeles, CA, United States
Completion date: 2018
Artwork budget: $20,000
Project Team
Landscape Architect
Urban Water Group
Overview
Sage of the Diviners is a 18×6 foot outdoor mural on concrete block, painted in acrylic with a UV fade resistant/ graffiti proof clear coating. It reflects the colors, flora and fauna in the garden adjacent to it.
Goals
My client commissioned me to design a site-specific mural for her draught tolerant, beautifully designed garden with color, texture and proportion in mind. The mural was painted on a blank concrete block wall, the activation of which was critical to completing the space, which is often used for social events. The mural was conceived using only flowers and plants from the garden and Anna's Hummingbirds which can be seen in the garden daily.
Process
I had several site meetings with the client where we simply spent time enjoying the garden, and talking about ideas for the wall. The garden was designed by Urban Water Group with rain water collecting arroyos and reservoirs underneath. The designers implemented a gorgeous plan for the garden that has grown in beautifully, offers vibrant colors to the client's taste, and attracts birds. I requested a list of the plants that had been used in the garden, which was extensive, and employed specific types for their shape and color. In the end, the mural perfectly complements the garden, creating an urban oasis.