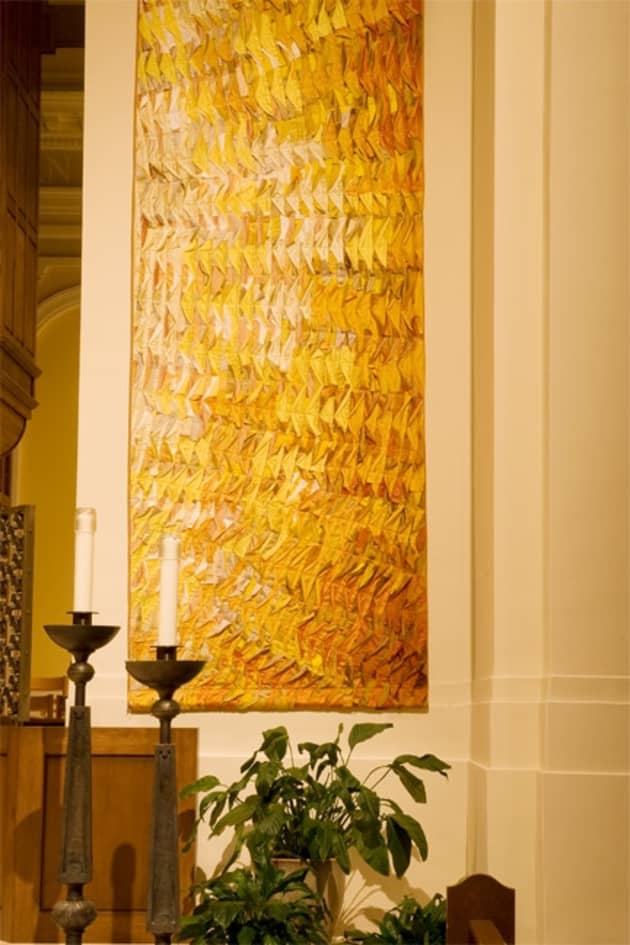 Photo: Cecile Hooker
Client: University of Saint Thomas
Location: SAINT PAUL, MN, United States
Completion date: 2010
Artwork budget: $36,000
Project Team
Architect
Phillip Broussard
Architron
Artist
Tim Harding
Tim Harding Studio
Overview
The Chapel of Saint Thomas Aquinas was undergoing a major renovation when I was asked to propose a design for a set of alter banners for the Easter season of the liturgical calendar.
I had been previously commissioned by the university for 3 other projects, including alter banners for the Christmas season. I presented a sketch and color swatch set for my proposed diptych, Radiance, which was quickly approved by the art selection committee.
Goals
The artwork needed to be compatible and complimentary to the color palette of the chapel renovation. This palette included warm, classic materials like bronze, brass and gold, along with rich creamy white walls and deep warm brown wood tones. My chosen palette consisted of white through a range of yellows, golds, ochres, and deep golden browns.

The dimensions, 18.5 feet in height by 5 feet in width for each panel, were determined by the existing wall spaces.
The texture/patterning scale was determined by the range of viewing distances within the chapel, from 120 feet at the back to 28 feet from the front row of pews.
Process
The art committee gave me great leeway in determining all the project details.
My initial proposal met all their requirements and was approved without change.
The committee consisted of members of the university administration, priests, and the campus ministry, which coordinated the project.

The main input from the committee was the importance of the symbolism of the Easter season in the Catholic Church, that of resurrection and renewal. My visual solution to that conceptual starting point was the illusion of a strong source of light from the point of the crucifix above the alter.
Additional Information
Installation was designed to be very simple, with the installation armatures virtually invisible. This allows the textural, tactile quality of the artwork to retain its intrinsic intimacy with the viewer, even with its grand scale. The project was very well received by the art committee and by the larger university and parish communities.