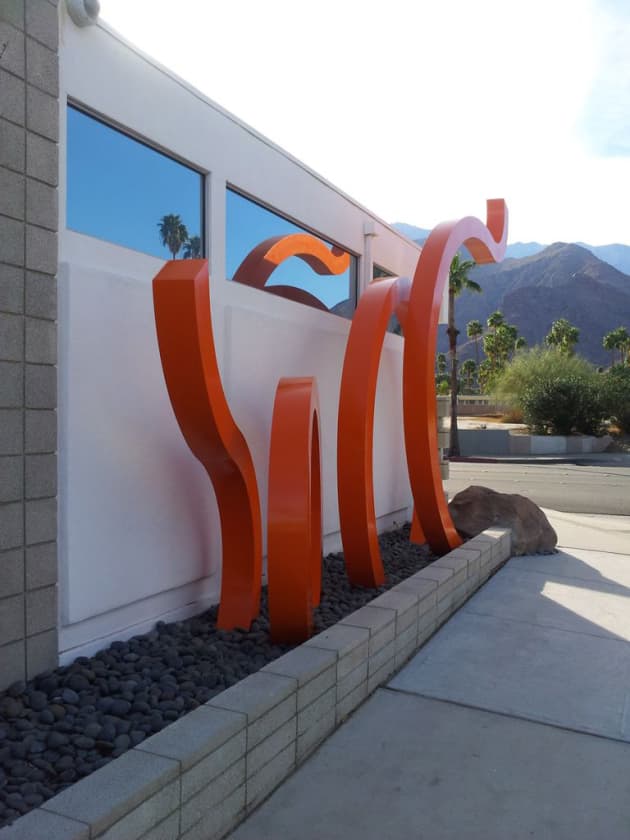 Photo: Jena Van Earl
Client: Dr. William Grimm
Location: Palm Springs, CA, United States
Completion date: 2014
Artwork budget: $30,000
Project Team
Overview
"Orange Twist" continues the exploration of the Luna series: That which we do not see or cannot understand, we imagine. This concept takes the floating, spiraling, serpentine and ribbon-like line of the sculpture that is above ground and lets it be graceful and playful and light. The underground unseen half that is imagined, is solid, heavy and mysterious. The juxtaposition of one half against the other is the intrigue. "Orange Twist" is fabricated in steel and painted with oil enamel. It is 12′ X 20″ X 3′.
Goals
The primary goal was to take the client's interest and appreciation of my work and integrate that into his building and space. The building is an architecturally significant 1960's post-modern site. I wanted to bring a post-modern look to my sculpture and to make it fit into a long and very narrow planter box that was part of the property.
Process
I worked with the owner and restorer of the building, Dr. Grimm, in making sure the scale, color and safety issues were all addressed. The response from Dr. Grimm and his staff has been great. They were all very excited about the whole process. From removing stumps and digging holes to pouring concrete, from placing the elements to the final paint, Dr.Grimm and his staff really enjoyed watching us work and couldn't hold back their excitement. "Orange Twist" has also been a big hit in the community. Dr. Grimm tells me that his patients have made comments like "The piece adds "lots of fun to the place" and "Its like a big coil of sunshine". Jennifer Henning, Director of Art in Public Places for the City of Palm Springs noted, "What a thrilling addition to our city".
Additional Information
North Palm Canyon, the area the building is located in is in a surge of redevelopment. Buildings are being restored and new buildings are being added. It's a section of hotels, restaurants, art galleries and speciality stores. The area's trauma center and largest hospital is just two blocks away. "Orange Twist" speaks to this positive energy and vitality. We all know that positive energy heals the mind, body and spirit.