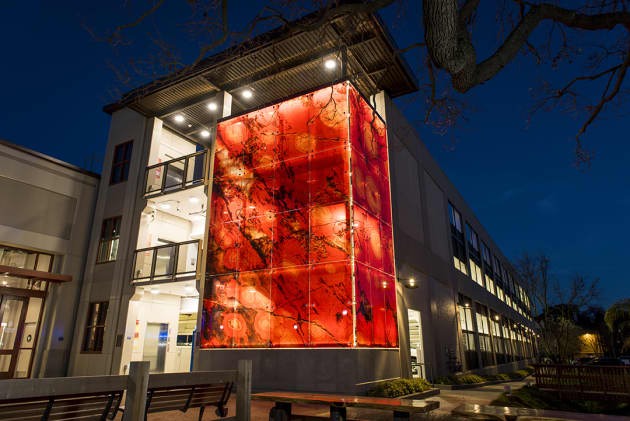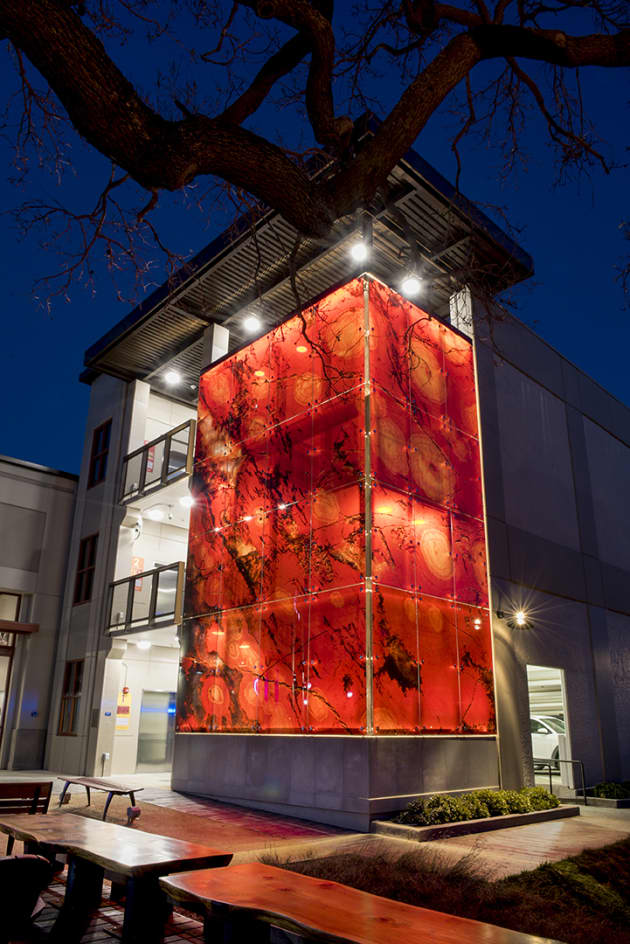 Photo: Infinity Visuals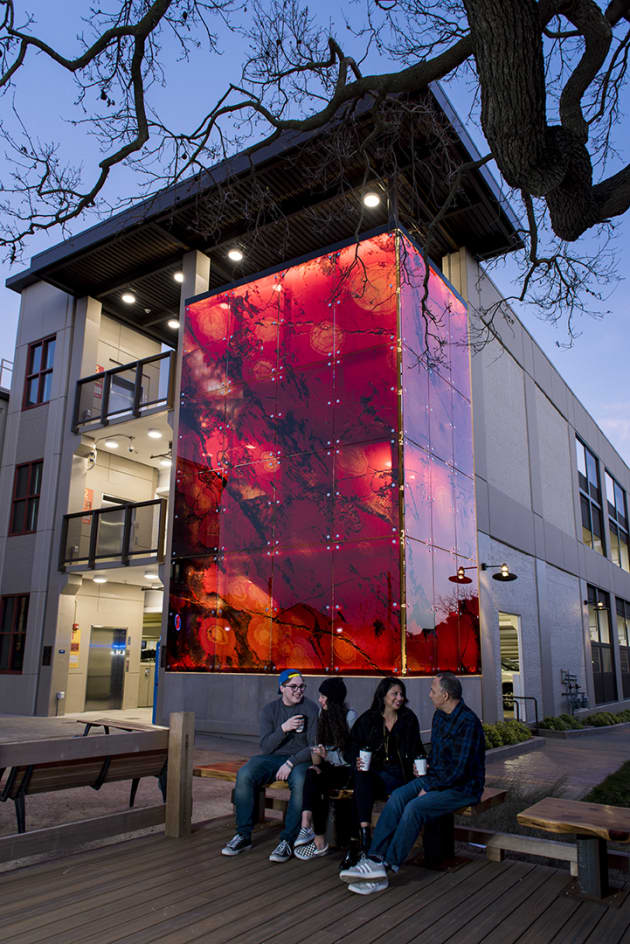 Photo: Infinity Visuals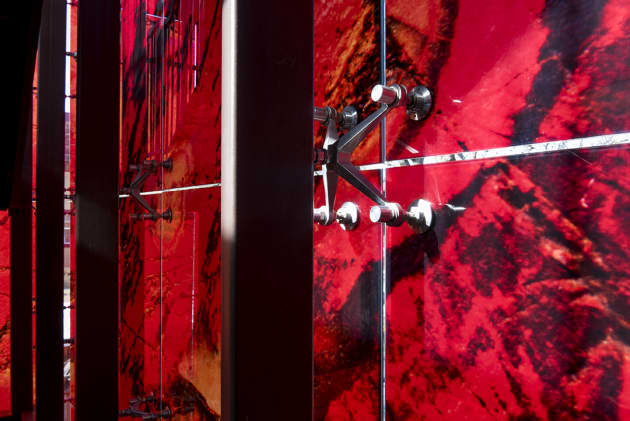 Photo: Infinity Visuals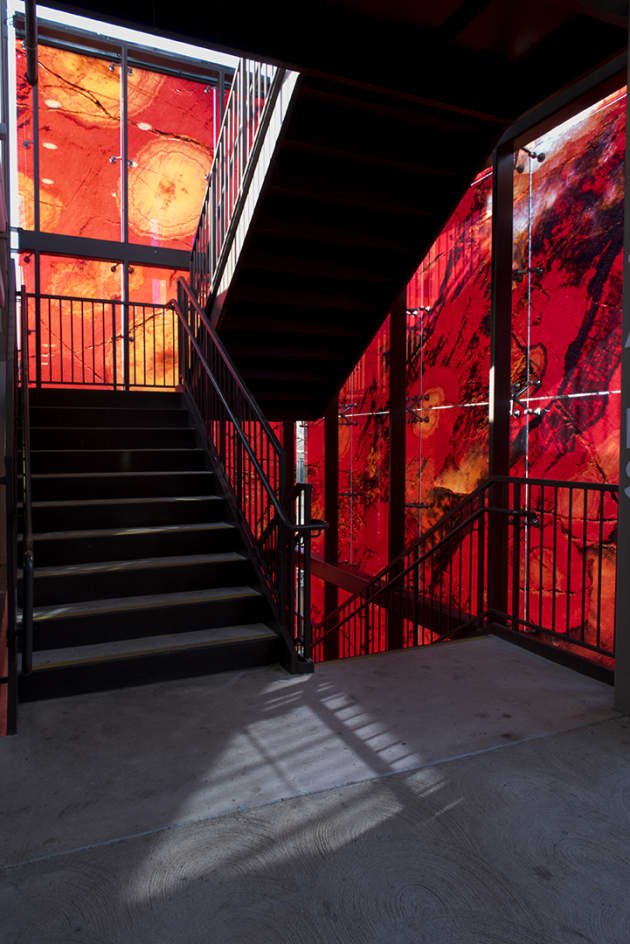 Photo: Infinity Visuals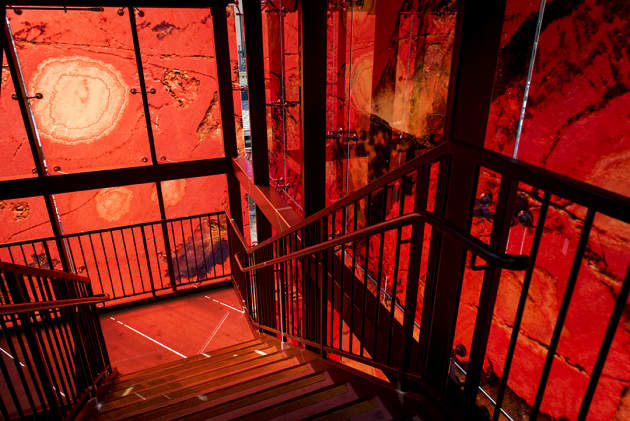 Photo: Infinity Visuals
Client: The City of Morgan Hill
Location: Morgan Hill, CA, United States
Completion date: 2016
Artwork budget: $212,500
Project Team
Industry Resource
F+H Construction
F+H Construction
Client
City of Morgan Hill
Overview
The glass panels for 'Poppy Jasper' measure 26'H x 19'W and 26'H x 11'W. The total art budget for both art pieces, 'Poppy Jasper' and 'Tarantula,' was $425,000, the biggest art investment in Morgan Hill's history.
Goals
Integration of the design into the "skin" of the garage was essential. In his endeavor to create context and a connection to the local culture and history of Morgan Hill, Gordon Huether learned about Poppy Jasper, the region's ubiquitous mineral. The mineral became the inspiration for this translucent enclosure, wrapping around the parking structure's stairwell. Facing the Third Street Plaza, Huether used a high-resolution image of Poppy Jasper to create an integrated glass art installation that features the vibrant reds, oranges and yellows of the mineral that is said to have healing properties. By celebrating this hometown mineral, the art installation promotes a strong local identity of the community of Morgan Hill, which was an important goal for this public art installation. The stairwell is illuminated at night, which gives the Poppy Jasper installation a lantern-like glow and creates a stunning focal point for the garage.
Process
Gordon Huether was invited to be part of a design and build team that submitted a proposal package in response to the City of Morgan Hill's request for proposals for the parking garage. The design team, made up of Gordon Huether Studio, F & H construction and WMB architects, worked closely with the City of Morgan Hill to ensure a successful project outcome. Collaboration and creative problem solving were key elements in the process.