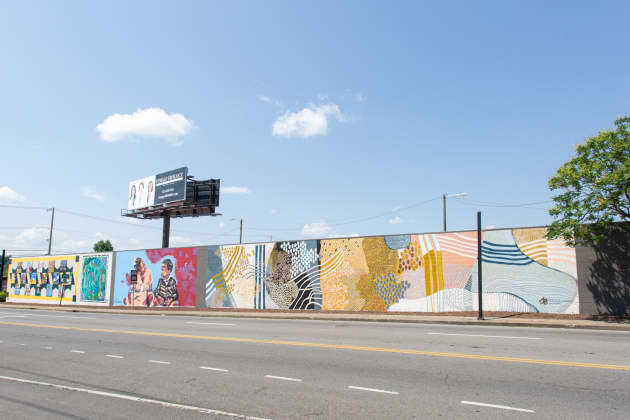 Photo: Blu Sanders
Client: Sandy Stice
Location: Nashville, TN, United States
Completion date: 2018
Artwork budget: $35,000
Project Team
Art Consultant
Tinsley Dempsey
Tinsley Dempsey
Overview
OFF THE WALL Nashville's mission is to contribute to the responsible revitalization of the Charlotte Corridor with the creation of an outdoor contemporary art installation, and to foster the diversified spirit needed for a community to thrive through arts participation and exposure. Our goal is to create an environment that honors the cultural and historical significance of the area and to create these "places" of creative consumption within development to inspire our community. The outdoor gallery is over 1000 feet long and spans several blocks.
Goals
The goals of the commissioned artwork are to contribute to the built environment, using the bones of the neighborhood and reviving an industrial area that has been developed into multi-family housing and commercial area through the rapid growth in the city of Nashville. 5 years ago, everyone was talking about the "New Nashville" and all the rapid change and development happening and I believed it was important to use what was there. Another deliberate piece of the project was the inclusion of local and regional artists from different sexes, cultural backgrounds, sexual orientations, mental health status, and ethnicity. The artwork is to be representative of the community and culture that makes Nashville a wonderful place to live, but specifically include messages of social change and historical significance of race and development in the neighborhood. The commissioned artworks chosen were side by side and had to flow into each other in order to not overwhelm or seem busy. The selected murals included encourage residents and visitors to explore. The works chosen are meant to engage the public and also sometimes disrupt the public status quo.
Process
I was given the opportunity to curate artists that represent Nashville from the public art agent who had a relationship with the surrounding commercial owners. The owner of the property participated in the design selection process. I worked with over 30 artists, 6 local non-profits, and 19 sponsors to fundraise in order to complete the outdoor installation. I was sponsored by the Greater Nashville Arts & Business Council and supported by Nashville Arts Magazine and the Chamber of Commerce. Without the final sponsorship from the Buckingham Foundation, we would not be here today. Benefits to the area include more foot traffic to local business and the creation of areas for residents and visitors to enjoy.
Additional Information
This project took me almost 5 years to complete from beginning to end and I enjoyed every moment that I was able to connect and engage with my community. From artists, designers, real estate developers, media, students and businesses that donated money it was an incredible experience, but I most enjoyed painting on the Nashville Quilt mural project because it involved our homeless community here in Nashville, and highlighted issues of social change. My hope is that people are inspired and feel a little more connected.