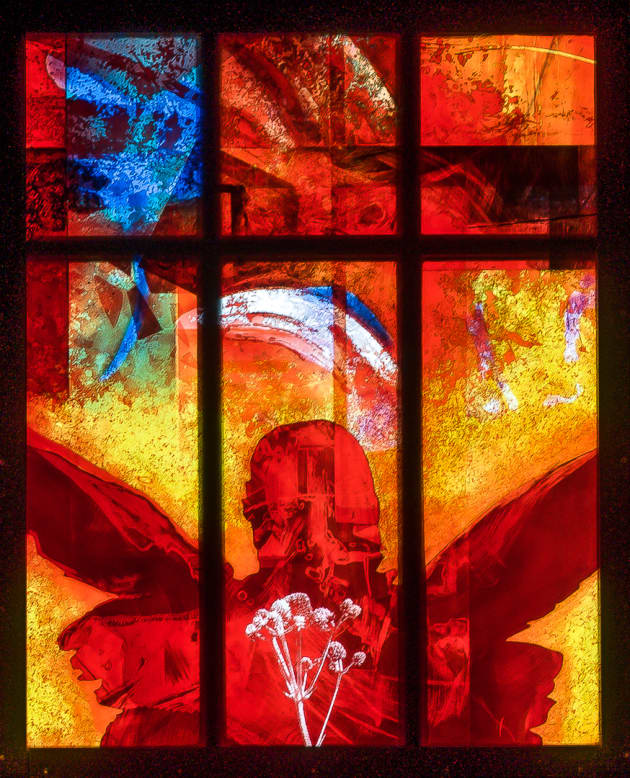 Photo: Derix Glasstudio
Client: Our Lady of Loreto Parish
Location: Foxfield, CO, United States
Completion date: 2014
Project Team
Client
Monsignore Edward Buelt
Industry Resource
Anna Rothfuss
Derix Glasstudio
Overview
Twenty-six liturgical art glass windows for Our Lady of Loreto Parish in Foxfield, Colorado were designed by Scott Parsons and created in collaboration with Derix Glasstudios in Taunusstein, Germany. Thematically three series of windows were developed with Msgr. Edward Buelt: The Mysteries of the Rosary, the Angelic Hierarchy, and the Celestial Jerusalem. The glass panels were created using hand-blown glass fired with in two or more kiln firings to layer the colors of glass. Then, using acid-etching techniques, sandblasting and vitreous-fired enamels were applied and fired to create the voluminous depth one feels when looking into these windows.
Goals
We were very concerned to follow the ancient tradition and theology of the Church and in particularly Pseudo Dionysius, the most quoted Church father by St. Thomas in his Summa Theologica. The angelic hierarchy is paired with the Medieval celestial hierarchy. The church is Romanesque, inspired by the Basilica of St. Ambrose in Milan, Italy. A series of ten ground level windows depict the mysteries of the rosary. Finally, a series of five windows depict the four seasons and the lamb on the throne.
Process
The artist and parish priest worked collaboratively on design and content. Both traveled to Germany to realize the production with Olaf Hanweg, master glass painter at Derix Glasstudios.