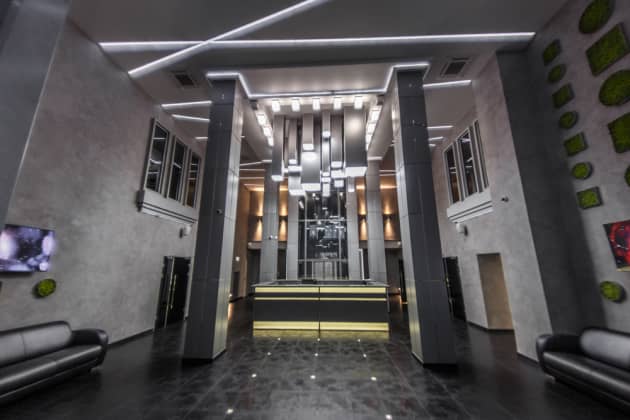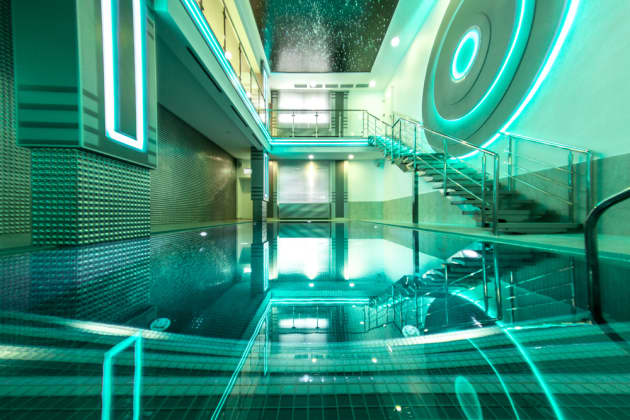 Photo: LYNX CLUB Business & Beauty pool SATURN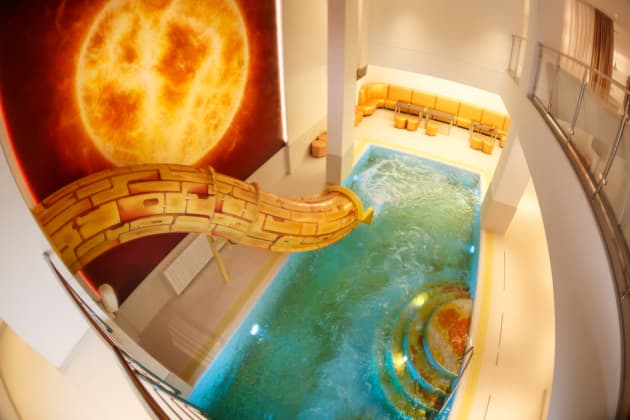 Photo: LYNX CLUB Business & Beauty pool SUN
Photo: LYNX CLUB Business & Beauty pool MARS
Client: OOO AKVAGOROD
Location: Chelyabinsk, Russian Federation
Completion date: 2016
Project Team
Interior Designer
Marina Gurleva
GM design
Client
Anna Khodchenkova
OOO AKVAGOROD
Overview
Interior 1-2 floors in space style. Consisting of a lobby, bar and five halls with pools to 2 floors, damp steam rooms, a recreation area, massage rooms and restrooms. The space of each hall which is technically equipped, multipurpose, laconic with the simplest forms, safe and comfortable. Each room has the color scheme. In an interior the insignificant strokes hinting at infinity of the Universe are used elements of futurism and surrealism are also used that emphasizes identity of an interior. On the 3rd floor the hall, hotel, a conference room, restaurant, author's hotel rooms, a karaoke club.
Goals
Author, designer of the project Marina Gurleva. The customer has set the task to make an interior in space, minimalistic style. The photo and the description of planets of star system have been seen. Sketches, 3 d visualization, coordination with the Customer. Working internal project documentation was conducted in parallel with architectural institute which was engaged in reconstruction of the building, also with the contractors involved in building of object. Search of finishing materials, lamps, selection and development of furniture suitable for these styles. Finishing materials had to conform to requirements for damp rooms, to fire norms, have anti-vandal qualities, keep effective hygienic and ecological safety. Collection of information was entered on the Internet, visit of shops, offices, the international construction exhibitions. After coordination of the outline and working draft,design assignment have been told to builders, electricians, specialists in pools, sketches of damp steam rooms for finishing by a mosaic, sketches to artists for a list of walls, ceilings, specialists in production of individual elements of an interior, furniture, textile registration in sketches of the designer Have been involved.
Process
LYNX CLUB Business & Beauty unites in itself the business center, an entertainment complex, hotel 4 *, bar, restaurant, 5 halls with pools in two floors and day spa. As envisioned by owners of club, in his territory long-term partnership has to be entered. The club guarantees unsurpassed service on all European quality standards.
The object - to think up an exclusive, status interior in space style has been set for the designer. This noble, expensive place which is intended, first of all, for a relaxation and improvement. As a result the interior completely corresponds to wishes and expectations of the Customer.
Grandiose opening of club has taken place in September, 2015.
Additional Information
Lobby from the 7th a meter atrium zone. The UNIVERSE – the room with the pool in blue flowers. The NEPTUNE – the room with the pool, in heavenly shades SATURN – the room with the pool of turquoise color with the drop falls streaming from a ceiling. The SUN – the room with the pool it is executed in yellow red color with gold inclusions. Mars – the room with the pool is sustained in warm shades of orange color. The 1,2 and 3 floors are connected by the elevator with a panoramic glazing.