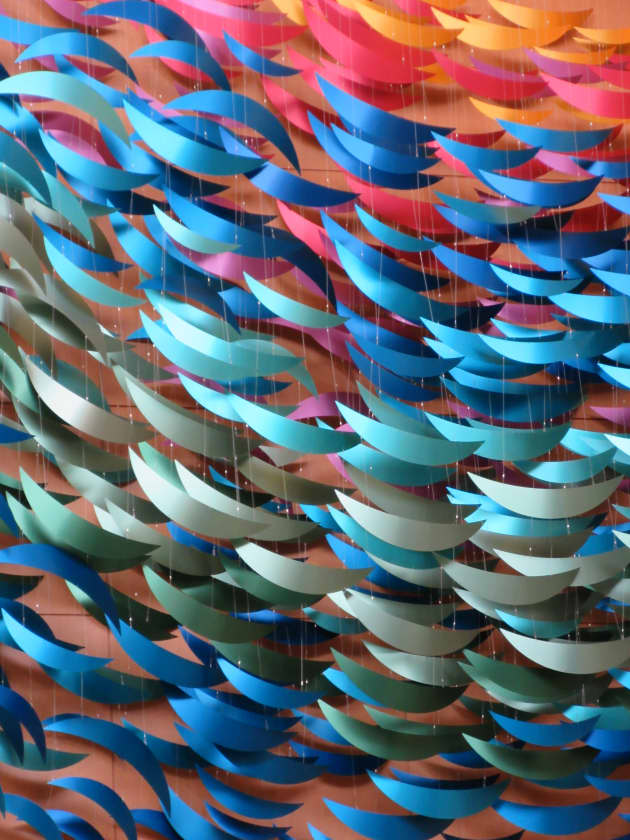 Client
Location: Rochester, MN, United States
Completion date: 2015
Artwork budget: $85,000
Project Team
Artist
Daniel Joshua Goldstein
Daniel Goldstein Studio
Art Consultant
Mary Dreblow
Mary Dreblow
Other
Corey Kapellas
Daniel Goldstein Studio
Overview
"Light on the Lake" is a wall related piece that is less than 4' deep and 350 sq ft. Minnesota is a land of lakes. The lobby is fairly monochromatic and hard edged so I felt called to bring color and curves to enliven the space. I was in Paris when I was working on the drawings and I visited Monet's Water Lily series at the Orangerie. I thought "what would these paintings of light on water feel like in three dimensions?"
Goals
The client wanted something that would unite the diverse elements and materials in the lobby with a strong yet calm central art work. This is the lobby of a state of the art cancer treatment facility and I wanted to create a sense of welcome and calm. Light on water is a perfect representation of those sought after attributes. The beautiful materials used in the lobby inspired me to use anodized aluminum, a material that has its own intrinsic beauty. Because all the materials in the lobby are either wood or many different polished stone surfaces the contrasting anodized aluminum serves to unite those natural materials and balance them out.
Process
I worked closely with the head of the art program at the clinic. She had suggestions about color which were easy to accommodate. The only other involvement was the clinic installation team who were wonderful to work with.
Additional Information
My studio manager, Corey Kapellas, was instrumental in bringing this sculpture to life.