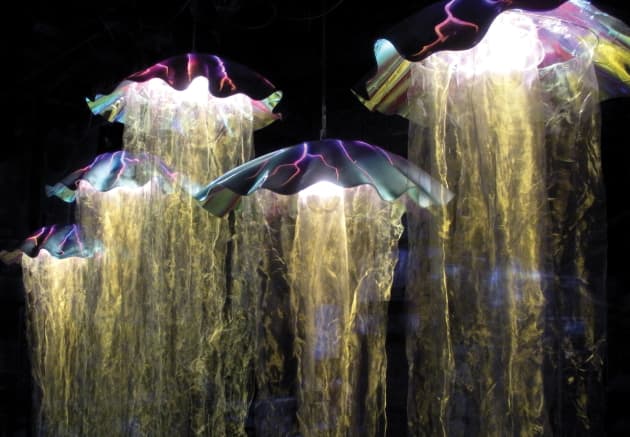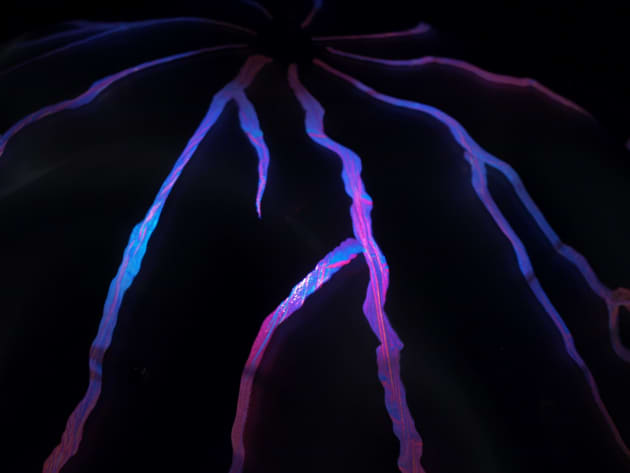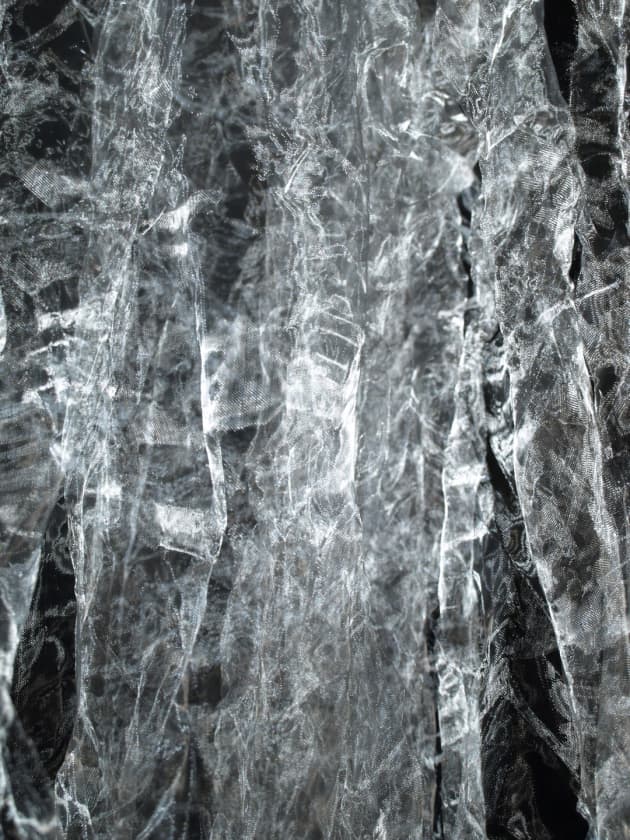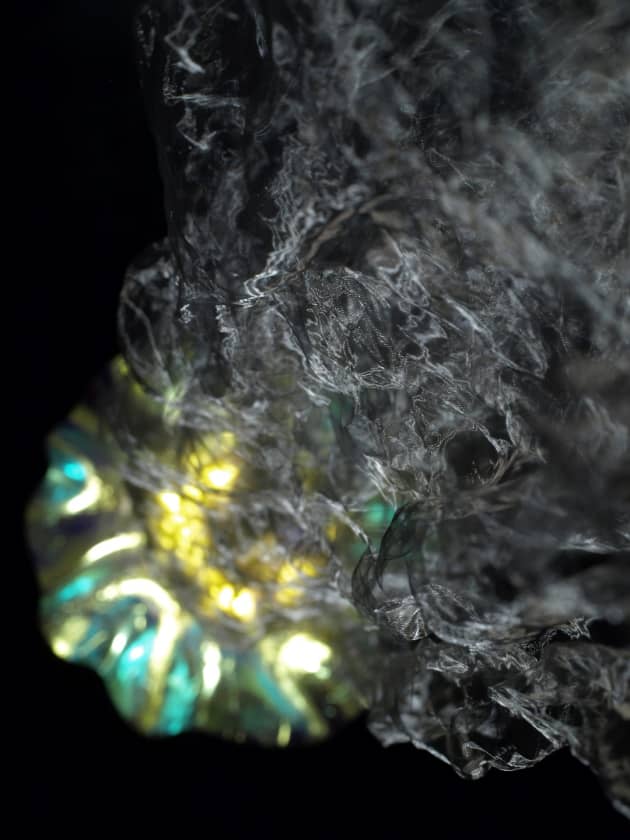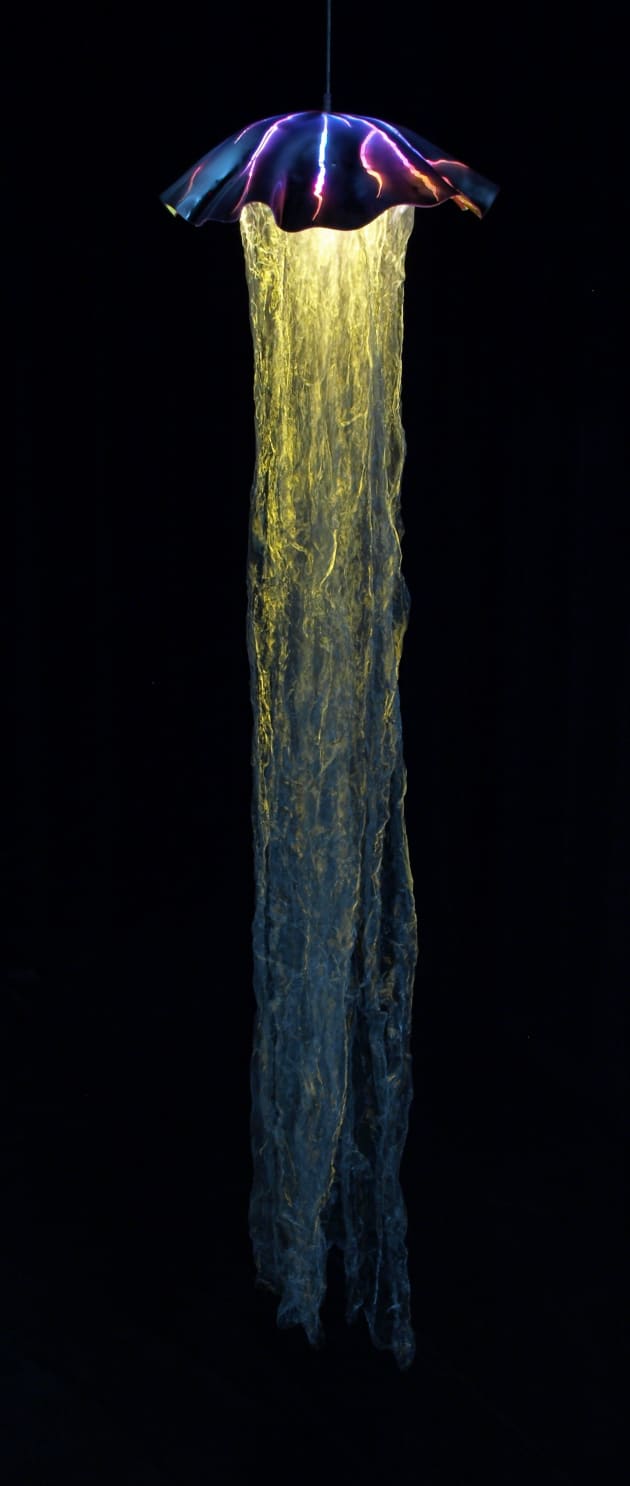 Client: Pelican Bay Hotel
Location: Freeport, Bahamas
Completion date: 2010
Project Team
Artist
Adam Jackson Pollock
Fire Farm Lighting
Artist
Adam Jackson Pollock
Fire Farm Inc
Client
Cape Hope Investments Ltd.
Overview
Inspired by ethereal jellyfish, five of these fixtures now hang together in the Bahamas. The design required a tall centerpiece that looked great at all angles, since it fills a four-floor-high atrium space. Very fine stainless steel wire cloth mesh hangs from an acrylic formed "body" lined with dichroic film.
Goals
There were several key requests in designing this sculpture. First it had to meet UL requirements if we were going to integrate lighting. Second it had to have an aquatic theme to reflect the nature of the conference center's Bahama location. There were some challenges to filling a five-story space that the jellyfish approach addressed nicely. Multiple jellyfish were installed at various heights to mimic the feeling of jellyfish floating through the ocean.This filled the large volume of space with ethereal presence that still allowed views out the windows. At night, the jellyfish can be seen glowing inside. The use of corrosion resistant materials addressed the challenges of a tropical environment for longevity. The trail of the jellyfish is made from a very fine ethereal stainless steel mesh cloth that catches the light. The light source is reflected off of the dichroic film-lined acrylic top carapace and radiates rainbow colors into the mesh below. We used standard sockets to allow easy replacement of the half-silver globe bulbs. The cords can be hooked and pulled to the balconies to easily re-lamp without need of lifts or maintenance. Our shop provides in-house UL testing and certification.
Process
We worked primarily through photographs and drawings sent by email back and forth to design this to the clients expectations. We would create models in our shop and photograph the results and then dialog on any modifications. The clients were very easy to work with and very supportive of the concept and execution so it was actually very easy.
Additional Information
The sculptures were collapsible which the client loved because freight costs are extremely high to the Bahamas. This meant we were able to fill a very large space with minimal extra costs. The installation could be done by a single electrician making standard connections with no additional support structures in the ceiling which also appealed to them.