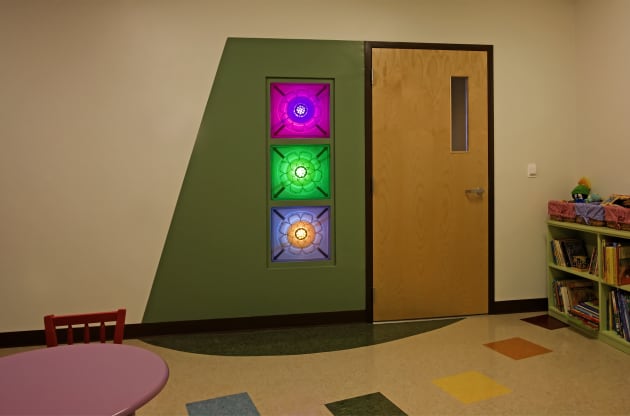 Photo: Michael McMurry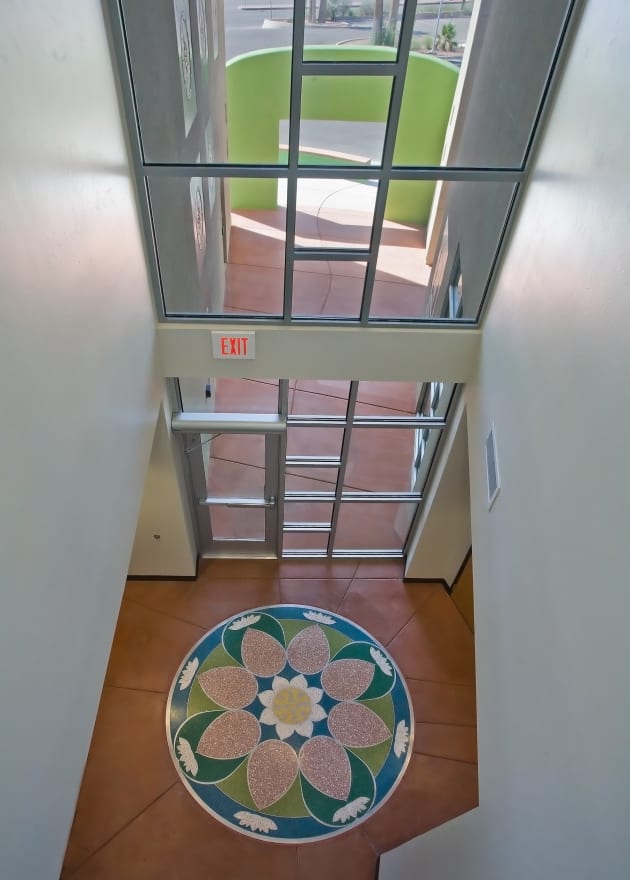 Photo: Michael McMurry
Client: Pima County
Location: Tucson, AZ, United States
Completion date: 2007
Artwork budget: $56,000
Project Team
Artist
Stephen Grede
RBSG Architects
Architect
Kathi McLaughlin
Merry Carnall Schlecht
Overview
The Inter-Agency Center houses multiple service agencies providing children in crisis immediate intervention and care from multiple sources. "Healing Mandals" involves four art elements. They are: screen walls in the colors of the chakras with a central green arch that visitors walk through as they enter the portico; 6 large mandala tile insets on the portico walls; a 10' terrazzo lotus flower in the small lobby which also can be viewed form the second floor; an interactive LED light sculpture in the form of three mandalas that are touch sensitive in the children's post interview waiting room.
Goals
The goal was to identify spaces where art integration would create a calming, engaging, and healing environment because the children would be in a state of distress and/or trauma. All discussions about art integration took into consideration the children's emotional state. We worked to see everything through the eyes and size of a child and this is what we imagined they would see and experience. The child's first view is of a very large building with screen walls hiding what goes on inside. Then they enter a portico with 40' walls, which narrow towards the single front door they must walk through. Here, they wait in a small space until they are buzzed in through a locked door. We looked at ways to make each of these experiences less intimidating for the children through the integration of art that was calming, child-friendly and healing. The first step each child takes towards the building is the first step on their healing journey therefore we kept asking ourselves how the art might help make the building itself and thus the experience less frightening.
Process
We worked closely with the architect, interior designer, Pima County, and several agencies housed in the building. We came to the design table with the goal of creating art that would soften the spaces and create a calming, healing atmosphere. The team immediately embraced our concepts, which focused on healing imagery and symbolic colors. The architects handed over the design of the screen walls to us so we could integrate our concepts into the very first element visitors viewed from a distance. Our undulating walls in the colors of the chakras set the stage for the rest of the entry experience. The team supported our ideas about making the portico walls less intimidating with the addition of mandala inspired tile panels and embraced the idea of a giant terrazzo lotus flower in the lobby that encompassed the entire space. The interiors designers continued the chakra color scheme throughout the building within the flooring and walls. With the strong support of the team we were able to stretch a fairly modest public art budget to create a big impact on spaces that most needed to be child friendly, calming, and healing.