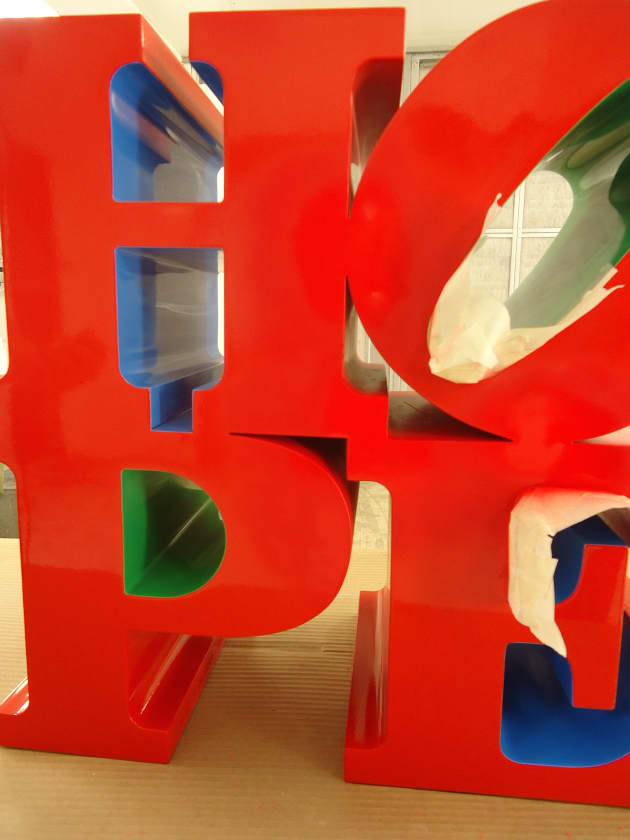 Client: American Image Atelier
Location: Katonah, NY, United States
Completion date: 2010
Artwork budget: $60,000
Project Team
Art Consultant
Michael McKenzie
Industry Resource
ART Research Enterprises
Overview
Aluminum 6' x 6' x 3' Fabrication with Polychrome Paint and Clear coat sealant
Goals
Artist Robert Indiana designed the HOPE Sculptures at the time of President Barack Obama's nomination for President. This was the mantra of President Obama's campaign for our Country to have Hope. His Art Dealer worked with ART Research on the design and colors.
Process
The process of building HOPE began with a 2-D CAD drawing of an 18" high model that the client supplied. From that ART scaled the measurements to build a 6' high version in polychromed aluminum. Patterns were created from the scaled drawing and used to cut out the shapes of the letters from aluminum sheet. The patterns were also used as a guide for rolling and bending the metal to the desired shape. Once that was complete the individual letters where welded together and the surface was ground in to the proper specifications for paint. The sculpture was then assembled with additional structure added to both weld and hardware connect the letters together. Special adhesive for aluminum was also utilized between letter joints to ensure strong bonds.
Additional Information
The sculpture was then prepped for paint. This included form work and thorough cleaning of all surfaces to receive the initial epoxy primer. Between each coat of primer and paint the surfaces were lightly sanded to produce an extremely smooth surface. The final finish was a gloss clearcoat that was also sanded and buffed. The order of paint color addition an inspections was extremely demanding to create the final sculpture. We also custom built a crate to transport the sculpture internationally and assisted with the unpacking process oversees.