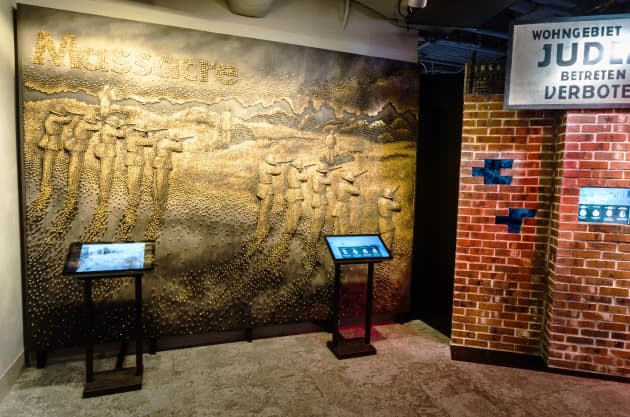 Client
Location: Cincinnati, OH, United States
Completion date: 2019
Project Team
Art Consultant
Mike Meyer
Jack Rouse Associates
Other
Michael Meyers
Universal Services Associates (USA)
Overview
The systematic murder of the Jews during the Holocaust did not begin in gas chambers. It began in the fields and forests in close proximity of the first 1.5 million victims. This is known as the "Holocaust by bullets." Marched to trenches, they were lined up and shot — bullet by bullet, town by town. This installation is meant to be a memorial for those frequently overlooked victims. To achieve this in a visceral way, a deep relief-mosaic of an actual killing scene was created using actual bullet casings of the type of bullets used predominantly in these operations.
Additional Information
There are also two digital screens providing first hand testimony from a boy who survived such an occurrence, as well as a short explanation as to how the mobile killing units did their work. This installation was designed by BJA and fabricated by USA.