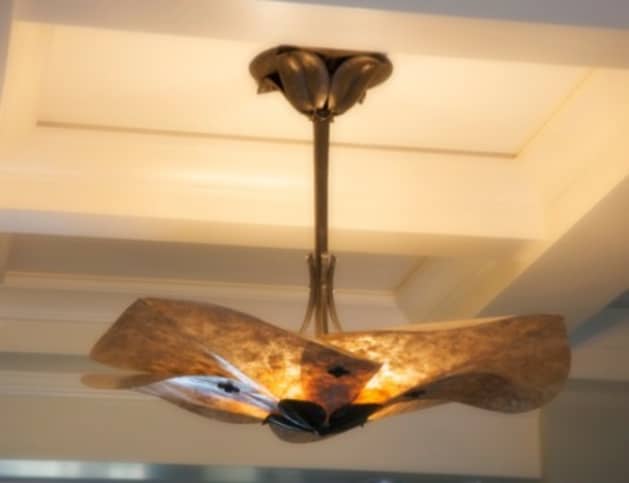 Photo: Mark Elster
Client: AOME architects
Location: Medina, WA, United States
Completion date: 2014
Artwork budget: $5,000
Project Team
Architect
Mark Elster
AOME architects
Artist
Steve Lopes
Steve Lopes Blacksmith Inc.
Overview
I was asked to conceive and execute an entry light matching the asian styling of the front door which was custom made around a 600 year Japanese wooden door.
Goals
The lighting had to warm the room and enhance (not compete) with the beauty of the front door which is the real focal point of the entry. We wanted to continue with the asian style and thus used a stylized floral form in the design that is found in Japanese architectural detailing
Process
The architect, Mark Elster, took a very personal interest in this as he considered this the finishing touch to the entry. He visited my shop twice as we worked out techniques and details he wished to incorporate as well as educating himself on the processes I could offer as an artisan. In the end we both educated each other to a great degree and the result was a true custom one of a kind piece that the client was very pleased with.
We agreed that engaging in this kind of give and take can push us to greater levels of creativity and we will work together in the future; a true collaboration between professionals based on enthusiasm and mutual respect.