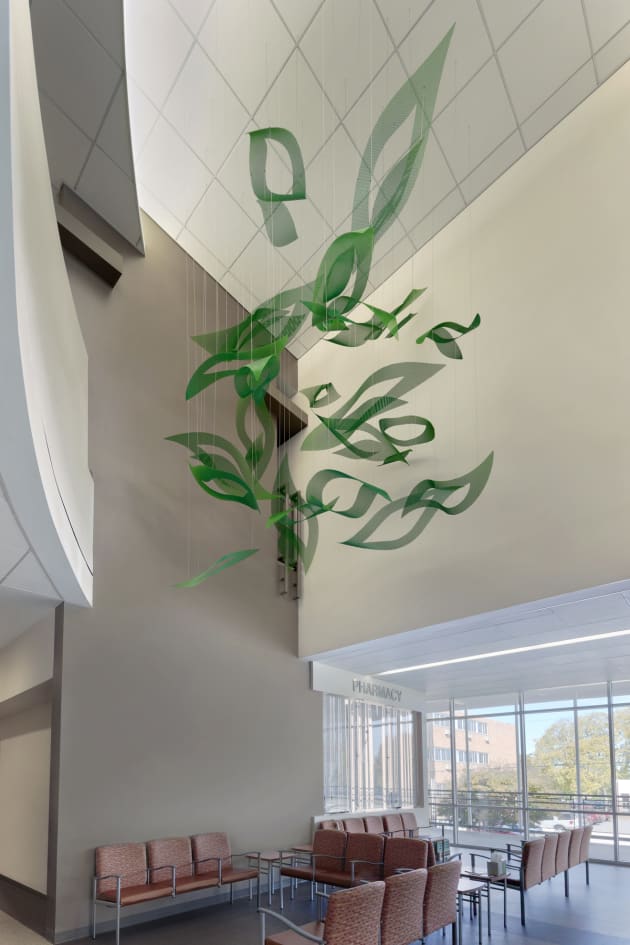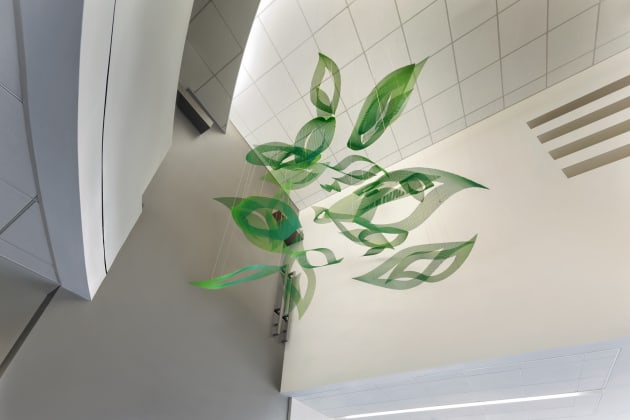 Photo: ©Joe Aker, Aker Imaging Houston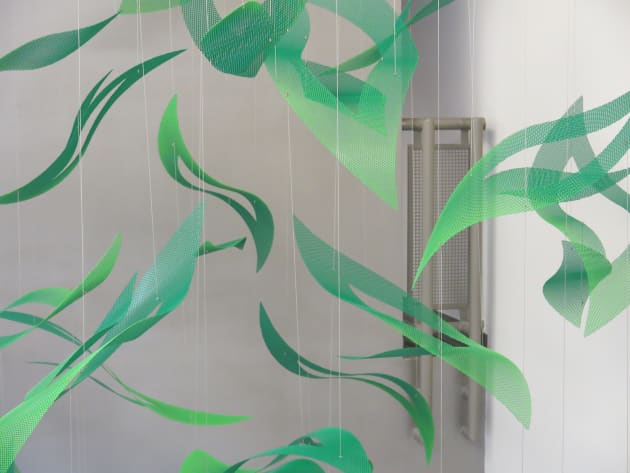 Photo: ©Talley Fisher
Client: Sam Houston State University, Student Health and Counseling Center
Location: Huntsville, Tx, United States
Completion date: 2014
Artwork budget: $50,000
Project Team
Artist
Talley Fisher
Art + Artisans Consulting, Inc.
Art Consultant
Debbie Goldgar
Art + Artisans Consulting, Inc
Art Consultant
Marjorie Flanagan
Art + Artisans Consulting, Inc.
Other
Denise Neu, Director. Facilities, Planning and Construction
Sam Houston State University
Overview
Sam Houston State University, Huntsville, is a member of The Texas State University System. Founded in 1879 to educate teachers, it now has bachelor's, master's and doctorate degrees within seven colleges. In 2000, the University began expanding its building program, and in September of 2014 the new Student Health and Counseling Center, designed by The Lawrence Group, Architects, opened its doors. In the fall of 2013, the Art Committee for the Center turned to Art Artisans Consulting of Austin for help in acquiring a suspended artwork approximately 9' diameter by 12' high for the lobby.
Goals
The Art Committee wanted an artwork that alluded to nature. And, because this is a health facility serving a wide variety of physical and mental health needs for a large student body, the Committee was looking for something that would provide a calming and also an aesthetic presence. Debbie Goldgar and Marjorie Flanagan at Art Artisans Consulting found Talley Fisher, whose work is largely based on natural shapes and concepts. One of her personal goals in many of her suspended sculptures is to bring the outdoors indoor. A large suspended sculpture based on the beauty and changing seasons of nature by Talley Fisher was the perfect solution to fill this empty space. Art has become a necessity in contemporary structures looking for prestige and a high quality impact on visitors. In addition, artworks have long been found to have a healing and inspirational effect on visitors to healthcare facilities, and "Emerald Cascade" does just that.
Process
The art consultants were involved in every step of the project, acting as project managers and helping with installation. The Committee reviewed options from the artist for the shapes of the lightweight perforated aluminum sculptural elements, including waves, wings, birds, and flight. They selected petals with cutout centers tumbling out of larger forms and cascading through the space, coaxing the viewer to experience the buoyant fall of windblown natural forms.

Color selection required much collaboration between the Committee, the art consultants and the artist, who provided samples of the material, powder coated in a variety of colors and techniques. The final choice was a rich emerald green powder coating with a feathering of lime green, creating a standout suspended sculpture against the neutral walls.

Installation takes Talley out of the studio into the practical and engineering worlds where new contacts and knowledge are gained from collaboration with the architect, contractor, facilities manager and staff, and sometimes a structural engineer. Their telephone conferences covered structural support behind the ceiling for suspension, weight loads, a template to transfer the anchor points to the ceiling, and suspension hardware that ensures safety but also is aesthetic.
Additional Information
Installation took three days, and in August of 2014, ten months from the first contact with Talley Fisher, the petals of "Emerald Cascade" drift gently down into the lobby, greeting all who pass through the facility.