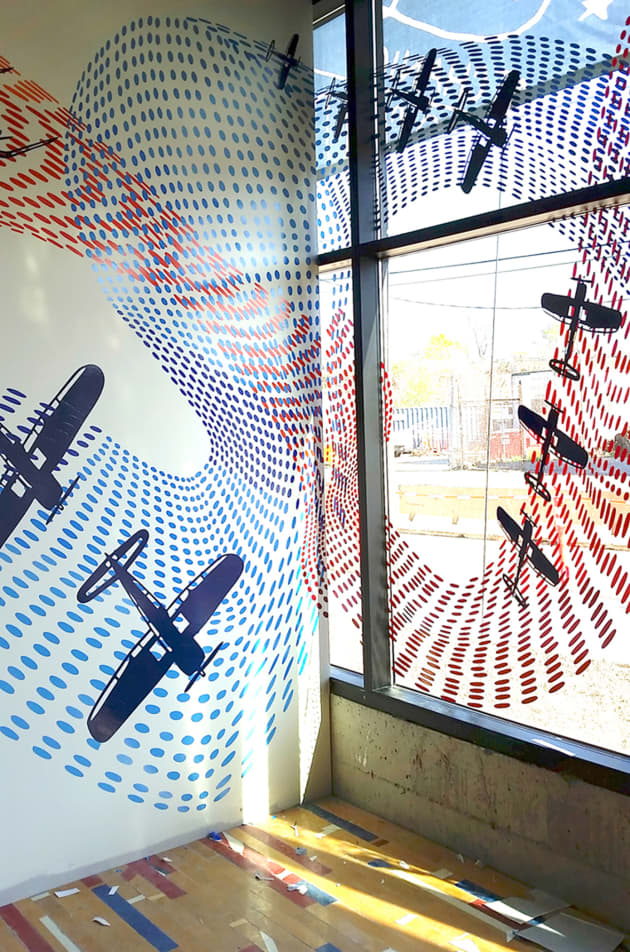 Photo: Raylene Gorum
Photo: Terence Collins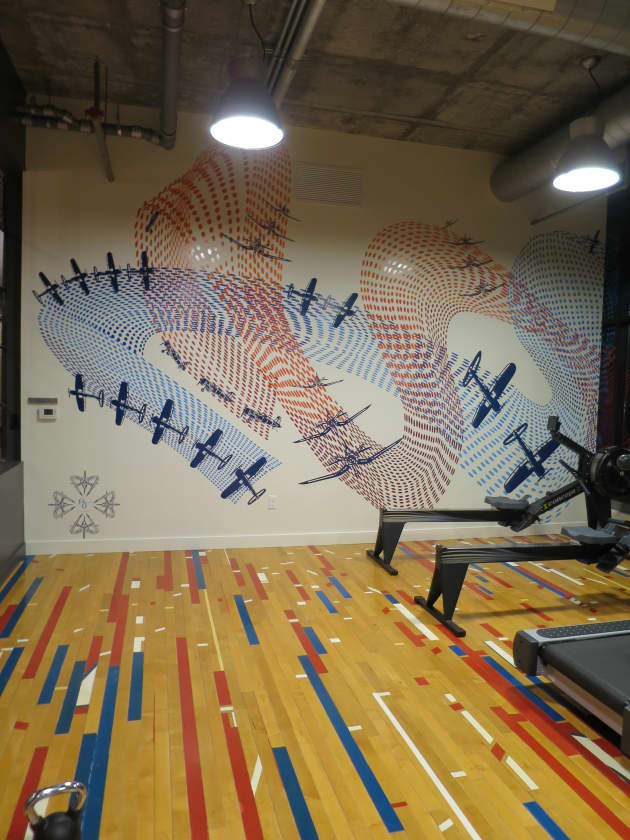 Photo: Terence Collins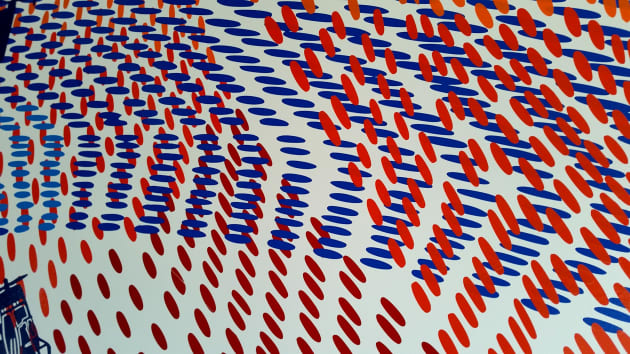 Photo: Raylene Gorum
Client: Post Road Residential
Location: New Haven, CT, United States
Completion date: 2016
Artwork budget: $25,000
Project Team
Client
Andrew Montelli
Post Road Residential
Overview
The same developer I worked with in Stamford, CT for "Into the Valley of Heart's Delight" invited me to make a site specific piece for their latest luxury residential project which converted the former Corsair Propeller Factory (active WWII) into condos. I worked closely with the developer, architects and the GC to develop the art, arrive with my prepared materials near the end of construction. Installed on site in one week.
Goals
The goals here were to celebrate the history of the site, engage state street, and integrate the work into the Fitness Room. Through a deep research dive into the nascent use of these fighter jets in combat over the Pacific, I came up with the concept of tracing maneuvers from the Fighter Jet Handbook to capture the vitality and bravery of these pilots and their machines. The jets climb and twist over the wall before crossing over the street facing window. The dot pattern is generated from the aerodynamic splay of jet wings. This part of the art engages the busy thorough fair and changes the work's personality day to night while creating movement with the overlaid patterns. The colors were refined to be harmonious with the colors of the recycled gym flooring sourced by the architects. The energetic movement of the piece is well suited to the use of the space as a Fitness Room.
Process
I have a terrific relationship with the developers and admire their inclusion of commissioned art in their residential projects. This easy working relationship is fostered by being able to seemlessly exchange CAD files with their architects and communicate with the General Contractor and crew. I find my architectural background helps in many aspects of my artistic practice. Here the developer contacted me, put me in touch with the architects who worked closely with me to coodrinate details and fine tune the timing of the on site installation. Smooth sailing and my on site crew of 3 ended up customizing the construction crew's hardhats and were flown back out for the opening party later that year.
Additional Information
Of his own accord, the developer decided to increase my payment once the work was completed! They then commissioned this beautiful video to document the site specific works created by artists for this project. https://vimeo.com/182861043