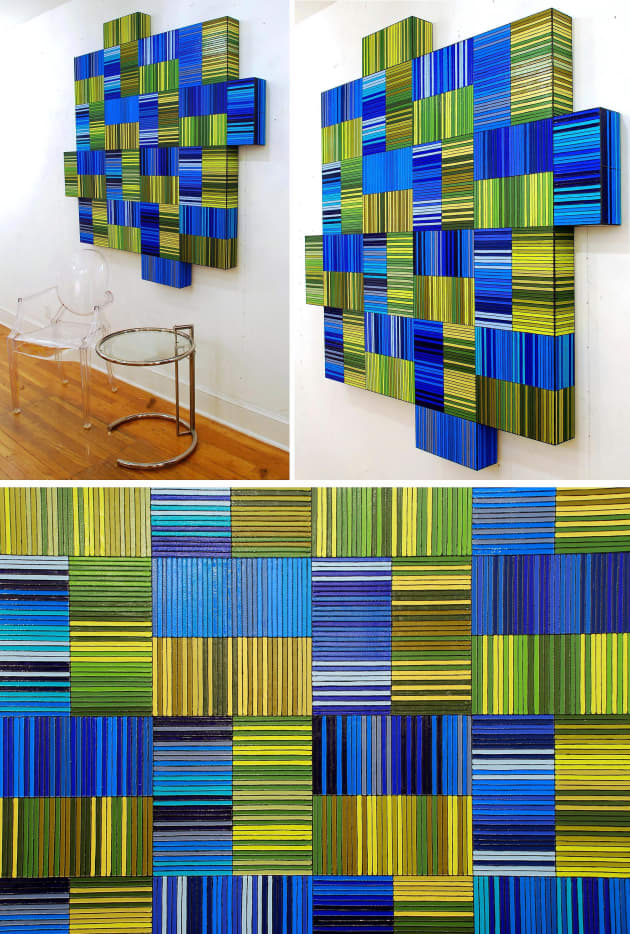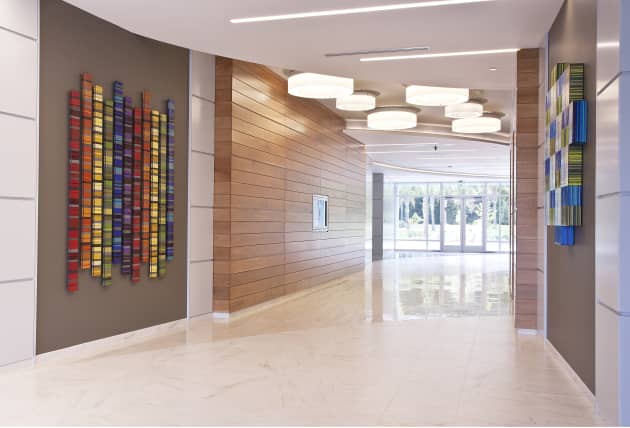 Client: Corporate Project
Location: Greenville, SC, United States
Completion date: 2016
Project Team
Art Consultant
Douglas Art Consulting
Douglas Art Consulting
Overview
Two complementary works were selected from my website. The irregularly shaped, blue/green "Matrix 5" was 60 in. square x 4 in. deep. Mounted directly adjacent to "Matrix 5" is "Continuum Sliver" composed
of (11) separately mounted wood panels which are 72 in. high x 4 in. wide each, with an overall dimension of 64 in. wide x 87 in. high. Each work is hand painted with thousands of raised black lines dividing pools of contrasting color.
Both works are very textural with great variety in surface sheen.
Goals

The art consultant wanted this elevator lobby to be flanked by (2) colorful, dimensional pieces of artwork that were similar yet distinctive from each other. Both works were painted with the same "graphic," however the patterns are distinctive and
each piece is diverse in size and shape. Also, "Continuum Sliver" has a hi-gloss resin top coat which adds depth and richness to the hundreds of bands of contrasting color. Further, both works are painted on all visible sides so they can be seen from multiple vantage points in this relatively narrow elevator lobby.
in this narrow elevator lobby.

Process
The project was commissioned by Douglas Art Consulting in Greenville, SC. "Continuum Sliver" was in stock and shipped "as is". The composition and color palette for "Matrix 5" was based on a work I had previously
completed, but the composition was modified to be a square vs. the rectangular shape of the original work.

Additional Information
The installation was handled by the art consultant. The "Continuum Silver" panels were mouted with typical security cleats. "Matrix 5" was mounted with french cleats, flush to the wall.