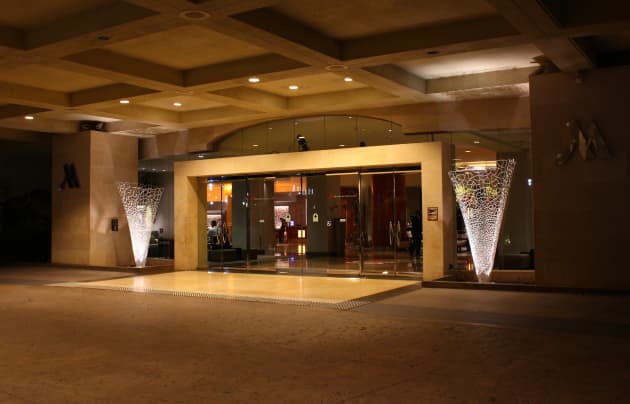 Client: Anaheim Marriott Hotel & Convention Center
Location: Anaheim, CA, United States
Completion date: 2016
Artwork budget: $12,000
Project Team
Art Consultant
Patty Evert
Patty Evert Fine Art
Artist
Jonathan Hils
Jonathan Hils Sculpture
Overview
Two sculptural pieces for the main entrance of the hotel. Each element is 9 feet x 4 feet x 2.5 feet. These pieces also include custom steel bases with halogen lighting built-in. Hand bent & welded steel with powder coating.
Goals
The hotel wanted something dynamic but overly imposing for the entrance of the hotel. These pieces were conceived from an earlier design installed at the Hyatt Convention Center in Denver, CO in 2010.
Process
Working with Patty Evert Fine Art consultants in CA and the hotel design staff, I proposed several versions of the works based on a previous sculpture. We arrived at these works positioned for the most welcoming and engaging space for the entrance.
Additional Information
The effect at night with the illumination works to create a material transformation that mimics glass.