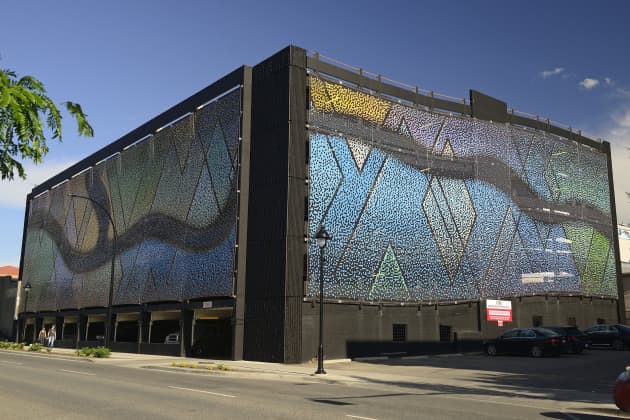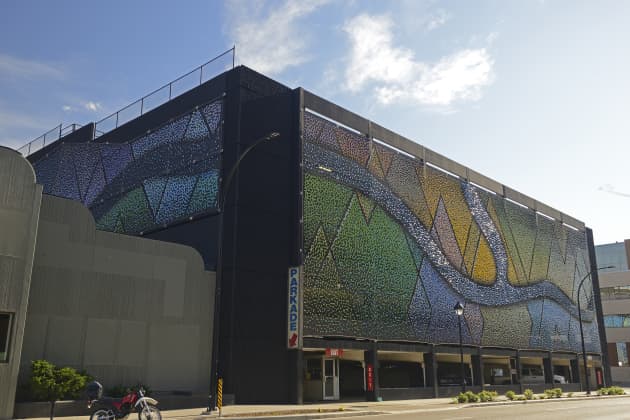 Photo: William Frymire-East Wall
Client: City of Kamloops
Location: Kamloops, BC, Canada
Completion date: 2019
Artwork budget: $126,000
Project Team
Artist
William Frymire
Fry Design Ltd.
Public Art Agent
Ryan Maalerud, Project Manager
City of Kamloops
Overview
The Lansdowne Street parkade project – working title: "Community Confluence" – covers the front three faces of the structure with a composition celebrating place and community, consisting of a topographical view of the confluence of the North and South Thompson Rivers set in an abstract colour field representing land and people. Currently, the project comprises 80,000 tiles, including 7000 that are kinetic.
Dimensions: 356 ft. x 37 ft.
Medium: anodized and powder-coated aluminum, stainless steel
Goals
Integrating the artwork into the rejuvenation project required approximately $500,000 in upgrades to the aging parkade structure including exterior painting and installation of stainless steel webnet. The art design is attached to the webnet. The project is a significant lasting gift to its citizens; to enliven Lansdowne Street and develop the face of downtown as a modern urban business district. Owing to its materials and manufacture, the finished project will last for decades. It will foster civic pride, distinguish Kamloops, and inspire further revivification of the downtown environment.
Process
The collaboration process involved architects, Kamloops Art Council approval, City of Kamloops officials, management and project managers as well as independent contractors. The magnitude and detail involved required much communication to realize the final project design.
Additional Information
The tiles representing water are kinetic and refractive: they will move in the wind and shimmer with the play of light over their anodized aluminum surfaces, like thousands of fish scales. The colour field bounding the rivers is formed by matte, powder-coated, aluminum tabs that, combining and contrasting, evoke diamond patterns large and small in the eye of the viewer. The tabs represent the individuals in the community and the diamond patterns represent community groups and, as they subtly shade into one another, the intermingling of these groups in Kamloops.