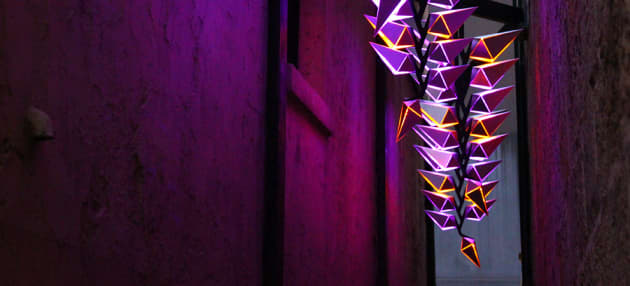 Photo: Rana Abboud
Client: DESTINATION NSW
Location: SYDNEY, Australia
Completion date: 2014
Artwork budget: $10,000
Project Team
Architect
Rana Abboud
CODESSI

Overview
CLAPICONIA was an interactive sound and light installation commissioned by Destination NSW for VIVID Light 2014. It was installed in the Suez Canal in The Rocks, Sydney, from May 23 – June 9 2014.
Goals
This artwork helped bring to life a little-known passageway in central Sydney. The design softly illuminated the heritage walls of the Suez Canal, and pulled passers-by into the narrow alley from the major arterial road of George Street. Conceptually, CLAPICONIA was inspired by the Heliconia pendula plant – a native of the tropical Americas and Pacific Islands. The installation's stylised interpretation consisted of flat, triangular aluminium panels reflecting the brightly lit stamen inside - recalling the festive colours of percussion castanets. The flat panels were joined together to form 'pods,' whose malleable edges allowed the flowers to fold open and snap shut during their 'performance'. Solenoids enabled the stylised pods to snap shut in response to a clapping audience below.
Process
The work was designed, manufactured, and installed by Sydney-based architects Rana Abboud & Ewen Wright. Rana was the key designer for the work, with Ewen providing all technical and manufacturing input.
Additional Information
CLAPICONIA won a Lighting Award from the 'Illuminating Engineering Society of Australia and New Zealand' in 2015.