Photo: Aaron Asis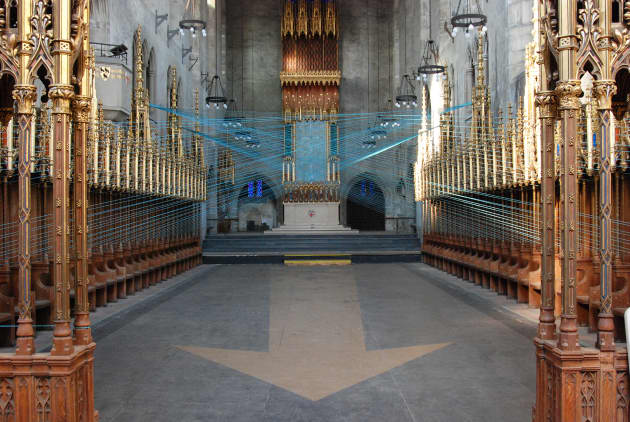 Photo: Aaron Asis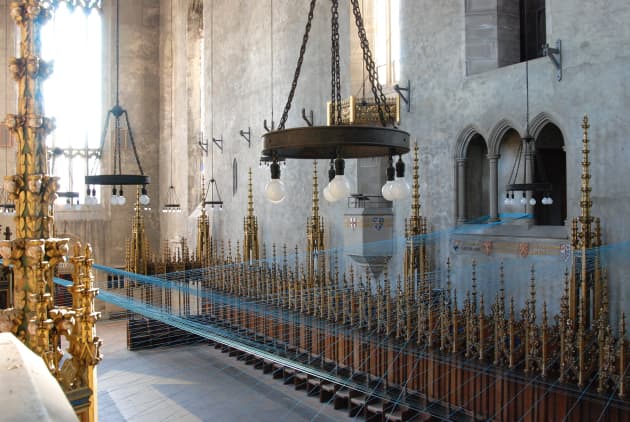 Photo: Aaron Asis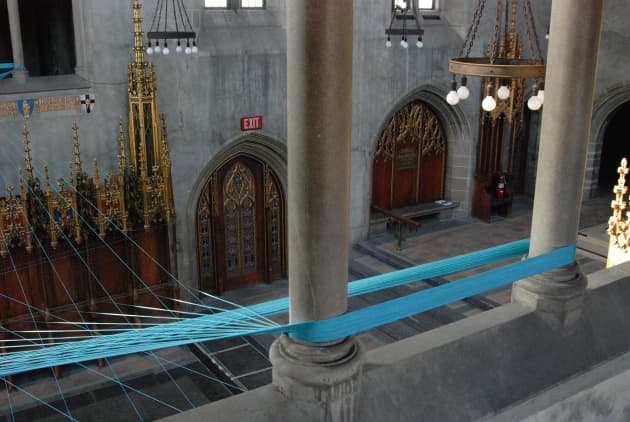 Photo: Aaron Asis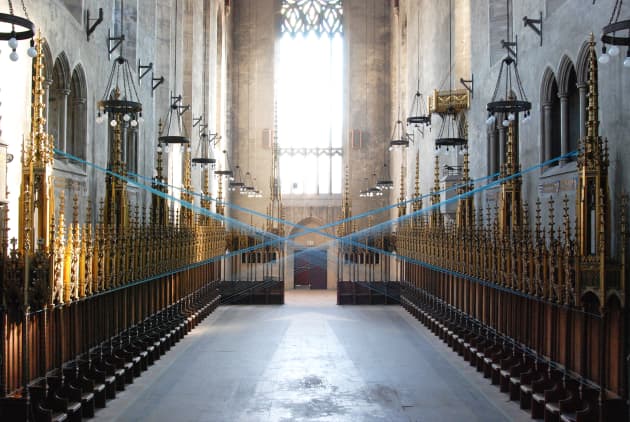 Photo: Aaron Asis
Client: University City Arts League
Location: Philadelphia, PA, United States
Completion date: 2015
Project Team
Industry Resource
Lori Waselchuck, Photographer
Client
University City Arts League
Client
Penn-Alexander School
Overview
Constructed in 1924, passersby hardly notice activity around St. Andrew's Collegiate Chapel. Majestic in its Gothic Revival-style, the chapel has stood dormant—without heat, plumbing, or electricity—for more than 20 years until artist Aaron Asis wrapped its grandeur in 7,000 feet of paracord and invited the neighborhood to remember it.
Goals
Aaron Asis developed his installation, entitled Ci-Lines, to create an opportunity for the community to experience the grandeur of this otherwise inaccessible space.

"I wanted to showcase St. Andrew's own existing architectural grandeur. By using cords to highlight bands of natural light and by creating form amidst the interstitial, I invited visitors into a kind of visual portal through which they could appreciate the detailed grace of this vacant chapel."

Once beneath the symmetrical umbrella of electric blue tensioned cords, observant eyes wandered between the architectural elements inside the chapel that inspired its creation, allowing them to explore the nuances of the chapel's interior environment. The cords created a woven connection between the carved wooden posts along the chapel's walls and the architectural columns supporting the balconies above. The resultant Ci-Lines became a catalyst for gathering and sharing experience—a social congregation in a space originally intended for religious congregations.
Process
For three days, the public was invited to explore St. Andrew's interior through Ci-Lines and share memories of their own personal relationship with the now vacant place of worship. Sparked by curiosity, the result was the beginnings of a new narrative about the preservation and future activation of this underutilized space.

---

Ci-Lines was created by Brooklyn-based visual artist Aaron Asis, in collaboration with the University City Arts League, the Penn-Alexander School, Art in the Open Philadephia, and partnering support from Philadelphia-based photographer, Lori Waselchuck.

Additional Information
The event culminated in a panel discussion on the final day, during which speakers were invited to share stories about the chapel's active life.