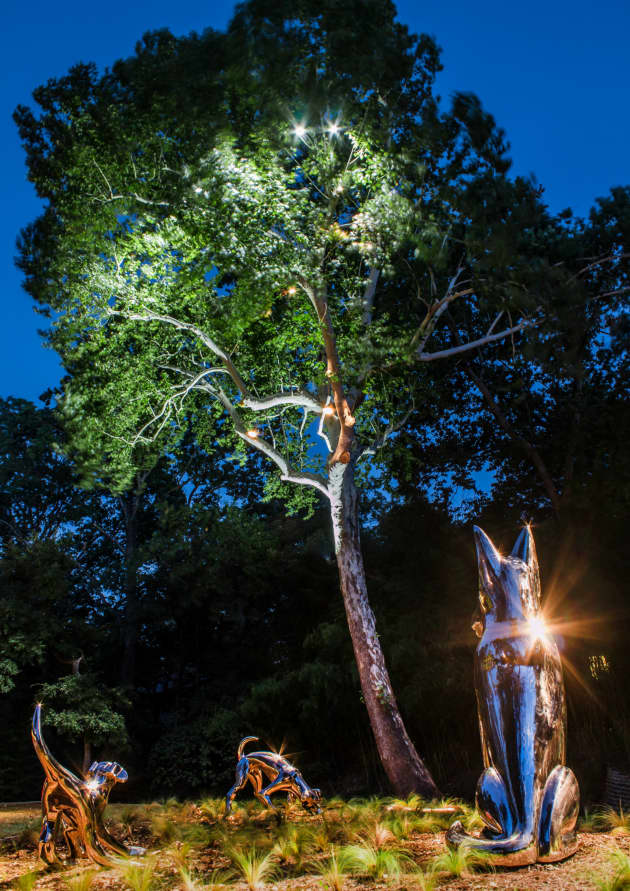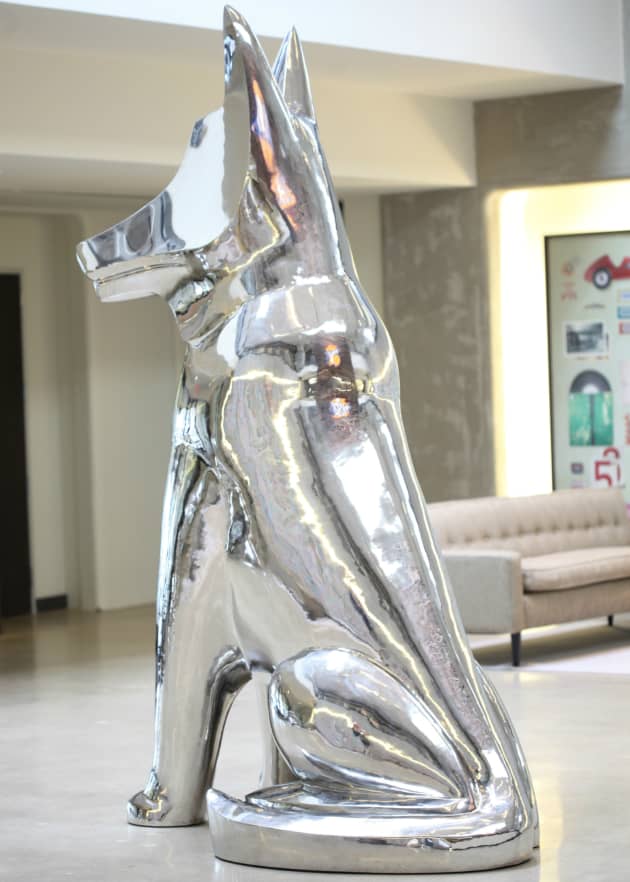 Client
Location: Dallas, TX, United States
Completion date: 2015
Artwork budget: $245,000
Project Team
Artist
Brad Oldham
Brad Oldham Sculpture
Artist
Christy Coltrin
Brad Oldham Sculpture
Overview
In "Better to Give," Brad Oldham and Christy Coltrin froze a story at the point of decision. A wise German Shepard is training a puppy when they come upon a hard-working dog consumed with burying a bone to later give to her puppies. Because her back is turned to the bone, when the ornery puppy suggests that they hide the bone, it becomes a teaching moment. The 12-foot-tall stainless steel German Shepard is a regal figure while the personalities of the other two dogs shine through as their placement shows them in dialogue with one another.
Goals
"Better to Give" was born out of a conversation with the client on how her mother modeled the importance of philanthropic work and inspired by the physical location. This installation is a story played out in fine-art sculpture in a private garden that is viewed from the residence from across a creek as if viewing an outdoor stage. While knowing the story is not required to enjoy this scene, it expands the artwork into an added dimension. As it stands, the sculpture in dialogue lend to various stories and interpretations allowing the viewer to connect the dots, if one so chooses, or think they've seen sculptures simply playing. Think of this installation as a Rorschach test of sorts and allow viewers to make the sculpture personal to their enjoyment.
Process
Before the sculptures left the Brad Oldham Sculpture workshop, the artists hosted a viewing, unveiling party for the client and her family and friends. Because the final installation location was in a private garden, the artists suggested sharing the installation publicly and coordinated a temporary installation at the headquarters of Fossil. The company sponsored a social media campaign among its employees to capture artistic perspectives of "Better to Give."
Additional Information
The dog sculptures are made of mirror-polished stainless steel that reflect ambient color and light. This material works beautifully indoors and outdoors. The bone sculpture was created in bronze to warm the installation and differentiate the dogs from the bone. The bone is the object of the discussion but not the lesson.