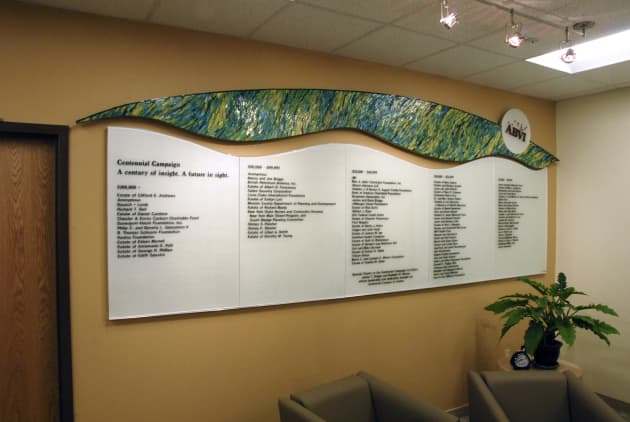 Photo: Chris Maggio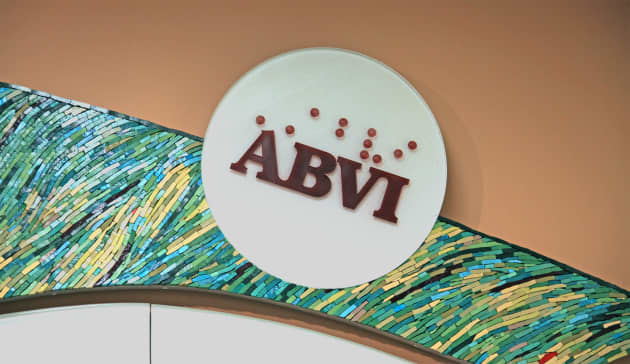 Photo: Chris Maggio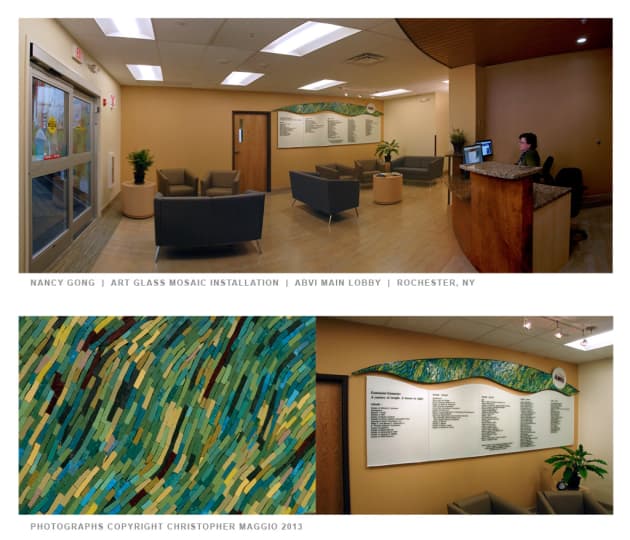 Photo: Chris Maggio
Client: ABVI Goodwill
Location: Rochester, NY, United States
Completion date: 2013
Artwork budget: $29,000
Project Team
Artist
Nancy Gong
Gong Glass Works
Architect
Bergmann Associates
Bergmann Associates
Interior Designer
Audet's Design Studio
Audet's Design Studio
Overview
A highly legible donor wall for the visually challenged and a colorful element of beauty for the sighted in the lobby of The Association for the Blind and Visually Impaired Goodwill Industries. The designer was responsible for finishes prior to artist's involvement. Gong Glass Works was responsible for the artistic design, layout, materials specifications, fabrication and installation of the donor wall and the mosaic displayed above.
Goals
The primary goal was to create a glass donor wall with etched names to recognize donors for an organization that serves those who are visually challenged or blind. To maximize visibility to those who visit the center, the design would provide high contrast lettering between the names and the background, without interfering with the legibility of the donor list. A second design element would soften the high contrasting black and white donor wall. This element, an abstracted leaf, would make an expressive human connection though an image from nature with color and movement.
Process
The designer provided the selection of all interior finishes and consulted with the client regarding the proposed artwork for the donor wall. The artist consulted with the designer regarding the glass selection and moasic colors. The artist also consulted with clients' experts in low vision staff to review color interpretation and contrast.
Additional Information
All levels of vision were considered in determining which artistic process and which color combinations would enhance the experience of sight and physical touching of the wall. The lobby is modest in size, so the crisp white glass and its subtle texture help to create the feeling of open space. By intrigue of subtly glistening glass tesserae, the colorful moasic draws the sighted visitors into the space. The mosaic adds warmth to the lobby through color, texture, and movement.