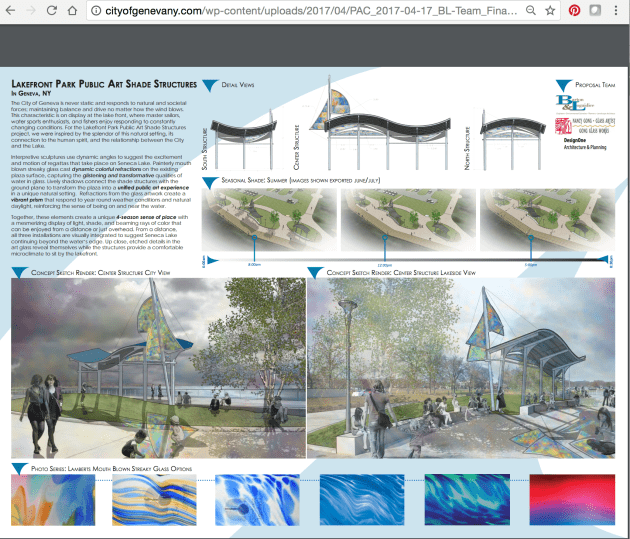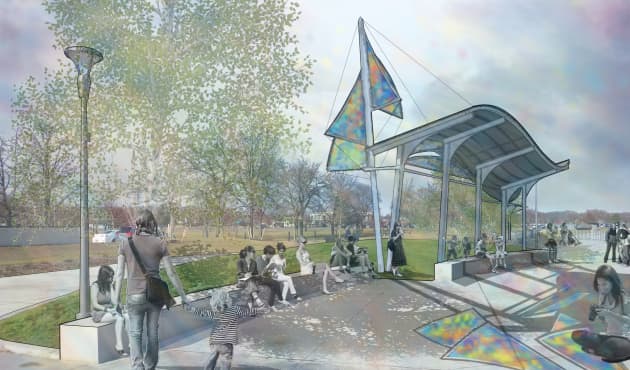 Photo: Barton & Loguidice rendering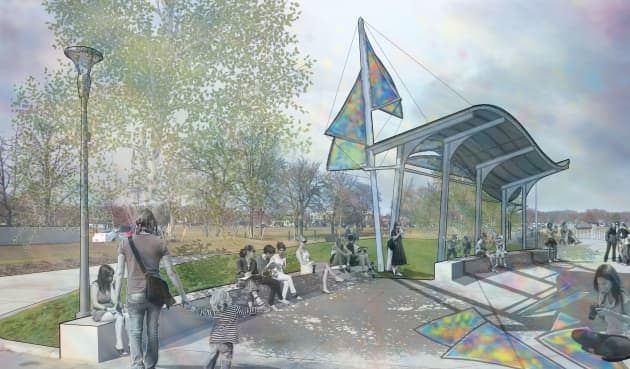 Photo: Barton & Loguidice rendering
Client: Public Art Committee, City of Geneva
Location: Geneva, NY, United States
Completion date: 2017
Artwork budget: $77,290
Project Team
Landscape Architect
Tom Robinson
Barton & Loguidice
Artist
Nancy Gong
Gong Glass Works
Architect
Dave Matthews
DesignOne Architecture and Planning
Landscape Architect
Nicole Cleary
Barton & Loguidice
Overview
The design and fabrication of art glass sail and water elements for three shade structures. The glass design is symbolic of activities on the lake and the sights of living in Geneva. Capturing the glistening and transformative qualities of water in glass, we will use color to create a dynamic sense place season to season while serving as a landmark beacon.
Goals
To offer Geneva, NY a powerful synergy of design, engineering, and art;
ultimately providing a system of imaginative and striking shade structures that celebrate Geneva's existing "Uniquely Urban" character.
Process
Our team was exceptionally positioned to offer creativity, experience, and expertise for the design and installation of three new art shade structures.
Team members submitting this proposal included, Landscape Architect with experience in the design and construction of creative and innovative custom
shade structures that embrace the landscape. Their context-sensitive designs are focused on enhancing the pedestrian experience for users of all mobility levels while capitalizing on the existing natural features.
Architect experienced in imaginative and sustainable architectural design the shade structures.
Accomplished glass artist specializing in architectural glass artwork. She offers many attributes including knowledge, familiarity with commissioned
artwork, flexibility and enthusiasm of fresh design concepts, and experience utilizing a wide range of artistic processes in architectural art glass; all of which demonstrate her ability to create artwork that will endure, intrigue, be interactive, be meaningful, and exceed expectations.