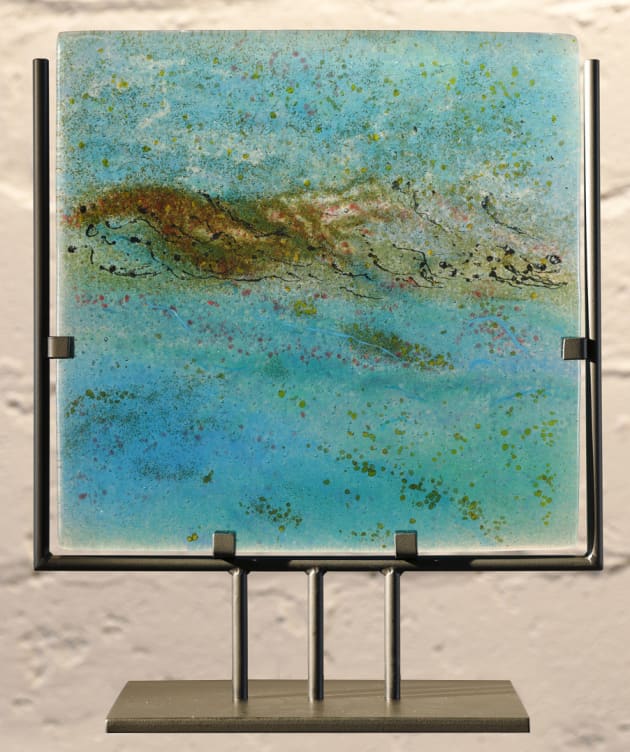 Client: Artist's Collection
Location: Rochester, NY, United States
Completion date: 2017
Artwork budget: $20,000
Project Team
Artist
Nancy Gong
Meagher Engineering
Industry Resource
Shawn Lingg
Residential Steel
Overview
The Imagine Project is a group of small prototypes for architectural art glass installations, landmark, landscape features and interior artwork. The art is a response to the modernist aesthetic combined with my emotional connection to nature presented in a simple, conceptual manner. Using cut mouth-blown sheet glass, some flashed – two toned, where color is removed to reveal visual design elements and unique etching techniques and vitreous painting, I bring the energy and spirit of living things to my artwork.
Goals
To bring a positive, energetic, yet sense of calm to the space while diffusing the view of traffic from the corridors into the meeting room.
Process
While each project is given personal attention and research to history, future and needs, the Imagine project was intended to be an introduction to a bit of what can be done with this approach. These prototypes serve only as a starting point of the possibilities with thes conceptual and technical approaches.
Additional Information
The possibilities with this conceptual and technical approach are wide open. I am excited about designing and setting glass in extraordinary places.