Welcome to the September issue of CODAmagazine, where we share the best in design + art projects from all over the world. The magazine is published twelve times a year by CODAworx. We're an online community for artists and design professionals to showcase their work, collaborate with one another, and earn recognition for their projects.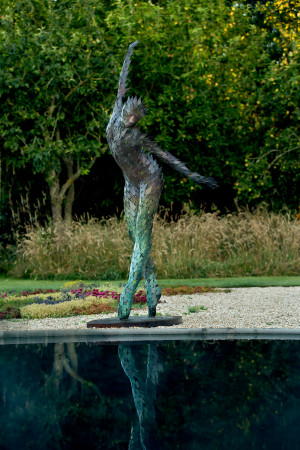 The Human Form is the organizing principle of this month's issue. Putting a new spin on the venerable artistic tradition of human form studies, today's artists and designers integrate the form into the built environments we travel daily.
CODAmagazine documents the world's latest human form projects in an array of media; we have selected 25 awe-inspiring projects where collaborative teams transform public, commercial, educational, and liturgical spaces through imaginative depictions of the human body.
Inside this issue, you'll find bronze leaves fused to the slender lines of a ballerina, more than one hundred feet of a stone mosaic of the Garden of Eden, glass windows featuring the muses, and studio sculptures of the human form, dangling in a community.
Full of engaging works which portray, observe, and reflect upon humanity's physical existence, this CODAmagazine takes you from the banks of the Thames to a Catholic church in Kenya to a university in Texas to the Jacksonville Airport, displaying lifelike sculptures, abstract depictions of humanity, and monuments of those we wish to remember.
We hope you will subscribe to CODAmagazine on Flipboard to receive the best design + art projects from all over the world, delivered to you, free of charge, each month. We look forward to sharing more of these incredible collaborations with you.
Sincerely,

Toni Sikes, CEO and Publisher
CODAmagazine