Welcome to the June issue of CODAmagazine, where we share the best in design + art projects from all over the world. The magazine is published twelve times a year by CODAworx – we're an online community for everyone in the commissioned art economy to showcase their work, collaborate with one another, and earn recognition for their projects.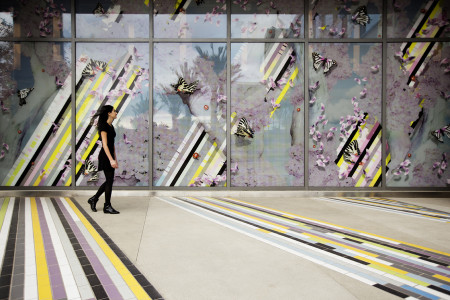 Healing art is the organizing principle of this month's issue. Artists and designers create spaces of reflection, meditation, and transformation, using the power of the creative process as a healing force in our environments.
This issue of CODAmagazine demonstrates that the integration of art can play a key role in creating warm and welcoming habitats — hospital interiors, medical exam rooms, chapels, and gardens are all featured, showcasing creativity's healthy influence.
Furthermore, collaborative at their core, these projects developed not only from the minds of designers, artists, and architects, but also healthcare professionals, public art agencies, and art consultants. It's a spectacular collection—an example of the wondrous things creative professionals can accomplish when they collaborate.
This CODAmagazine features an article about one of our leading artists, Daniel Goldstein, whose own serious medical problems opened his eyes and heart to the powerful role that art plays in the healthcare environment. Goldstein realized that "Hospital lobbies are really the gateway into this holy place of life and death," and has dedicated much of his career's work to enhancing this particular critical space.
We hope you will subscribe to CODAmagazine on Flipboard to receive the best design + art projects from all over the world, delivered to you, free of charge, each month. We look forward to sharing these incredible collaborations with you!
Sincerely,
Toni Sikes
CEO and Publisher
CODAworx