Ask kinetic sculptor Ralfonso to describe his first commission, and you'll immediately discern an artist whose work and career have been nothing short of remarkable.
"I had just built my first website as an artist, and I would run to my computer every day to check email for inquiries," recalls Ralfonso. "I received an email from Russia and immediately assumed it was a con, but it turned out to be the real deal." The commission, a large wind-driven stainless steel and fiberglass sculpture perhaps prophetically titled Moving on UP, was installed in 2004 in front of an award-winning residential high-rise in St. Petersburg, and came with more than a paycheck.
"There was a huge campaign about this commission as it was the first kinetic public artwork that had been installed in Russia in more than 40 years, and was for such a prominent new building," Ralfonso says. "The developer invited me to St. Petersburg, where there were reporters and TV cameras all over the place. It was a major reception with more than 300 guests—just the craziest introduction to the art world—and I remember thinking, 'Wow, this artist thing is pretty great.'"
Pretty great, indeed. Since his auspicious entry into the world of art, Ralfonso has installed or exhibited large-scale kinetic, interactive, and light sculptures in public settings throughout Europe, China, Hong Kong, the United States, and the United Arab Emirates, to name a few. His focus has always been on large-scale public art, though he's recently begun creating smaller pieces in very limited editions, and again finding immediate success. Just last month, Sotheby's auctioned a 19″ prototype that Ralfonso had created in 2007 for Dance with the Wind, commissioned for the 2008 Olympic Games. Part of Sotheby's "Contemporary Curated" collection, the prototype sold for above estimate in New York, and has opened up a world of smaller commissions and limited-edition works to Ralfonso.
Wondrous Works
Ralfonso's continued success is, no doubt, fueled by the work itself: winding, spiraling works often composed of many pieces that move in unexpected ways when set in motion by wind, water, electricity, or even the viewer. Ralfonso, who had always dreamed of one day becoming an artist and was mechanically inclined as a child, always taking things apart and putting them back together ("much to the dismay of my mother," he wryly notes), approaches his work with an engineer's discipline for precise, clean design and a naturalist's observation of nature.
"Mother Nature is the greatest artist of them all, and I'm inspired when I notice how trees and flowers move in the wind, or how a leaf spirals as it falls to the ground—how it twirls and rotates," he says. "It gives me inspiration on form, movement, and design." Combined with his appreciation for art and mechanics, it was natural that he should arrive at the place where these disparate fields intersect: kinetic art.
But there was also thoughtful deliberation in selecting large-scale kinetic artworks as his genre of choice. "Kinetic art was just more interesting to me than static art," he notes, "and I figured that this day and age, when everyone is on their iPhone and everything moves and is interactive, that art—and particularly public art—needed to change similarly with the times."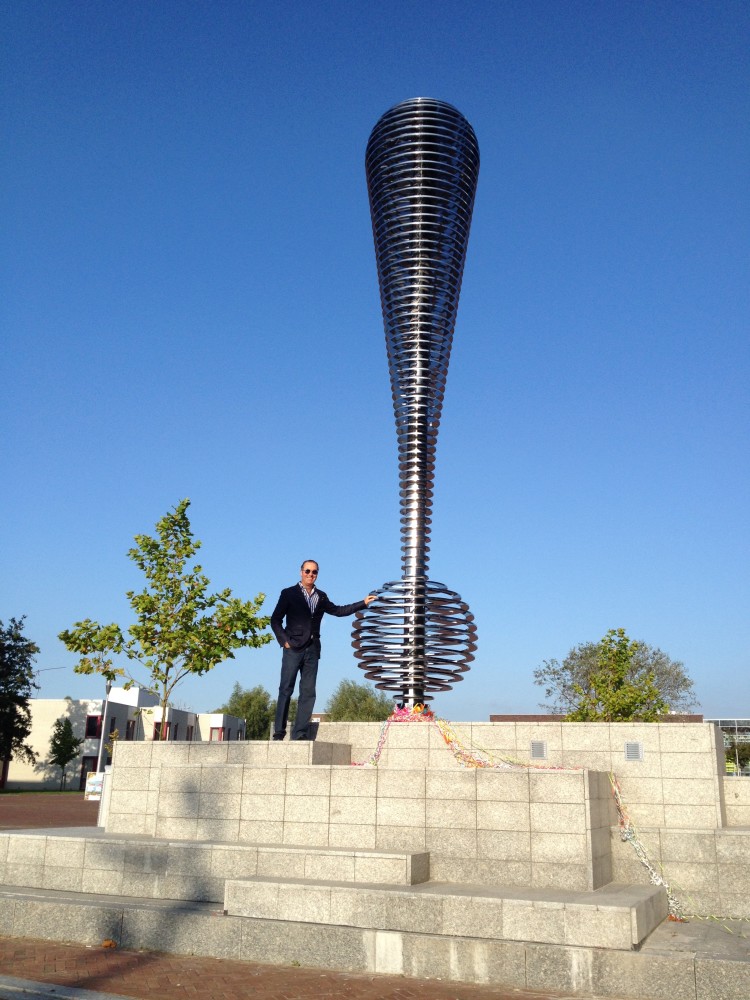 Anymore, he reasons, traditional sculpture that you view in person gets five seconds of a viewer's time and a selfie, and then the experience is over. With kinetic art, and particularly with the interactive art he's creating, viewers are more engaged and don't even need to be in the same place as the work to view and interact with it. His Ex Strata, located in the Netherlands, for example, is a high-tech light and sound sculpture that emits changing color and sound based on a viewer's input by computer or text. A high-res camera pointed at the piece even allows the viewer see and interact with the work online, in real time, no matter where in the world he or she is located.
"My passion for innovative art led me to create kinetic work that is active instead of passive, dynamic versus static," Ralfonso says. "Kinetic, interactive art engages the viewer and gives something back to that individual." And because his work is kinetic, it's ideally suited to generate electricity, so that it might serve as both art and an energy source, a very literal translation of giving back that he's currently exploring with his work via solar panels and wind energy.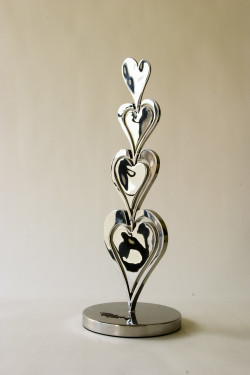 But the artistry of a Ralfonso sculpture doesn't end with its active, engaging concept. Each of his pieces is sketched and then carefully modeled in Styrofoam, paper, or clay. Indoor pieces may be formed in fiberglass or Kevlar, which are flexible, lightweight, and strong, while outdoor works are fabricated in marine-grade stainless steel, which is incredibly strong and weather resistant. "I have to think about things like sandstorms and the acidity of the air in Beijing, or the buildup of snow and ice in Alaska, so the materials have to work well," Ralfonso says. "Stainless steel is both strong and beautiful."
He works from his studios in Florida and his native Switzerland, where he spends his time with his wife, also an artist, and his cat, Hobbs. In 2001, he co-founded the Kinetic Art Organization (KAO) as a place for artists, curators, collectors, and art consultants to share information, images, and resources around kinetic art. "An American, a German, and I were drinking plenty of wine one night and realized we were the only kinetic artists we knew," laughs Ralfonso, remembering the organization's inception. "So we formed KAO and much to our surprise, we soon had 1,000 members from more than sixty countries." The group has held meetings all over the world, and hosts an international competition every two years. In 2010, two years after installing his Olympic Park sculpture in Beijing, Ralfonso established the first-ever kinetic arts website in China, KAO China, and helped establish the first kinetic art curriculum at the famous Tsinghua University in Beijing, where he also taught the first course.
Going Big with Small Sculpture
Ralfonso continues the exploration of large-scale, innovative public art in collaboration with art consultants, architects, designers, and developers worldwide. His large-scale Art in Motion pieces were recently covered in a CNN International documentary. But he's also excited about his growing collection of smaller kinetic sculptures—and even some traditional static pieces—that measure anywhere from two to ten feet in height. Forbes recently featured Ralfonso's kinetic work, declaring a "new residential trend is born" with the advent of his smaller pieces.
"People have been asking me for years to create smaller, more affordable kinetic sculpture for their homes," he explains. "It's taken me awhile to get here because I've always been so focused on public art, but I've finally decided to do it and am thrilled with the process." Often fabricated in mirror-polished stainless steel, many of the pieces are based on designs that have been languishing in Ralfonso's sketch books for years. "I'm feeling liberated because it is so much easier to work with these smaller designs. With 3D printing, it's an easy process to have small models for these pieces fabricated." And as evidenced by the Sotheby's auction and other residential commissions, such as the Ferrari Red kinetic sculpture FLAMENCO, things are going very well indeed.
The smaller pieces are finding favor with homeowners, interior decorators, galleries, and museums, among others. "I think it's unusual to incorporate smaller kinetic sculpture into these environments," Ralfonso says. "But there's a real joy and tranquility to these pieces, and an enjoyment you get from observing how they move and change with touch or the wind. It's so much fun, and I'm meeting an entirely new audience of art lovers who enjoy my work."