Welcome to the April issue of CODAmagazine, where we share the best design + art projects from all over the world. The magazine is published once a month by CODAworx.com – we're an online community for artists and design professionals to showcase their work, collaborate with one another, and earn recognition for their projects.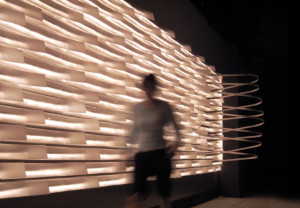 Motion and Mobility is the focus of CODAmagazine's April issue. We called for collaborative design and art installations which are moving, changing, and ever-altering art. Projects that are kinetic, suspended, time-based, or performance-driven are key to this month's selection. This month, CODAmagazine showcases the 25 projects we thought best exemplified these principles.
Featured projects this month include suspended sculptures which change as you move around them, as well as sculptures which move due to external forces like wind and gravity. Some of the art requires human interaction to reveal its kinetic effect, like Drawing Machine by Skyline Art Services where viewers physically move a two-story pendulum and The CAVE by the Lisa Frank which is a virtual reality room where people manipulate the artwork projected around them. Water, light, and sound are included in the kinetic aspects of these projects and the viewer interacts with each one in a unique way. These projects come from all over the world, bringing movement and art into our daily lives.
It's a spectacular collection—an example of the amazing things artists and designers can accomplish when they collaborate. We hope you will subscribe to CODAmagazine on Flipboard to receive the best design + art projects from all over the world, delivered to you, free of charge, each month. We look forward to sharing these incredible collaborations with you.
Sincerely,
Toni Sikes, CEO and Publisher
CODAmagazine