Welcome to the September issue of CODAmagazine, where we share the best in design + art projects from all over the world. The magazine is published eleven times a year by CODAworx. We're an online community for artists and design professionals to showcase their work, collaborate with one another, and earn recognition for their projects.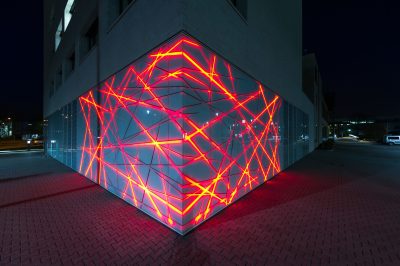 Technology + Art is the organizing principle of this month's issue. Creative professionals are using technology to create placemaking art, with amazing collaborations occurring between artists, designers, scientists, and technologists.
CODAmagazine documents the trend of fusing the digital and the technical with the artistic and the architectural; we have selected 25 awe-inspiring projects where collaborative teams transform public, commercial, educational, and public spaces through the most innovative technologies.
Within this issue you'll find immersive interactive light and sound installations all around the world, an ephemeral environment in a building's interior that informs of the wind and temperature outside, and an artwork in the Palo Alto City Hall lobby that encourages a transparent and creative style of governance (which we want to share with cities everywhere!). My favorite: beautiful light drawings that comprise 156 square meters of the glass front for the Fraunhofer Research Institute for Laser Technology in Germany.
Full of thought-provoking works that take advantage of fiber optics, LED technology, and environmental-mapping software, this issue's 25 projects were made by some of the most creative people working design + art today. These projects solve problems, create engaging atmospheres, and push the limits of computer technology.
It's a spectacular collection. We hope you will subscribe to CODAmagazine on Flipboard to receive the best design + art projects from all over the world, delivered to you, free of charge, each month. We look forward to sharing these incredible collaborations with you!
Sincerely,
Toni Sikes
CEO and Publisher
CODAworx