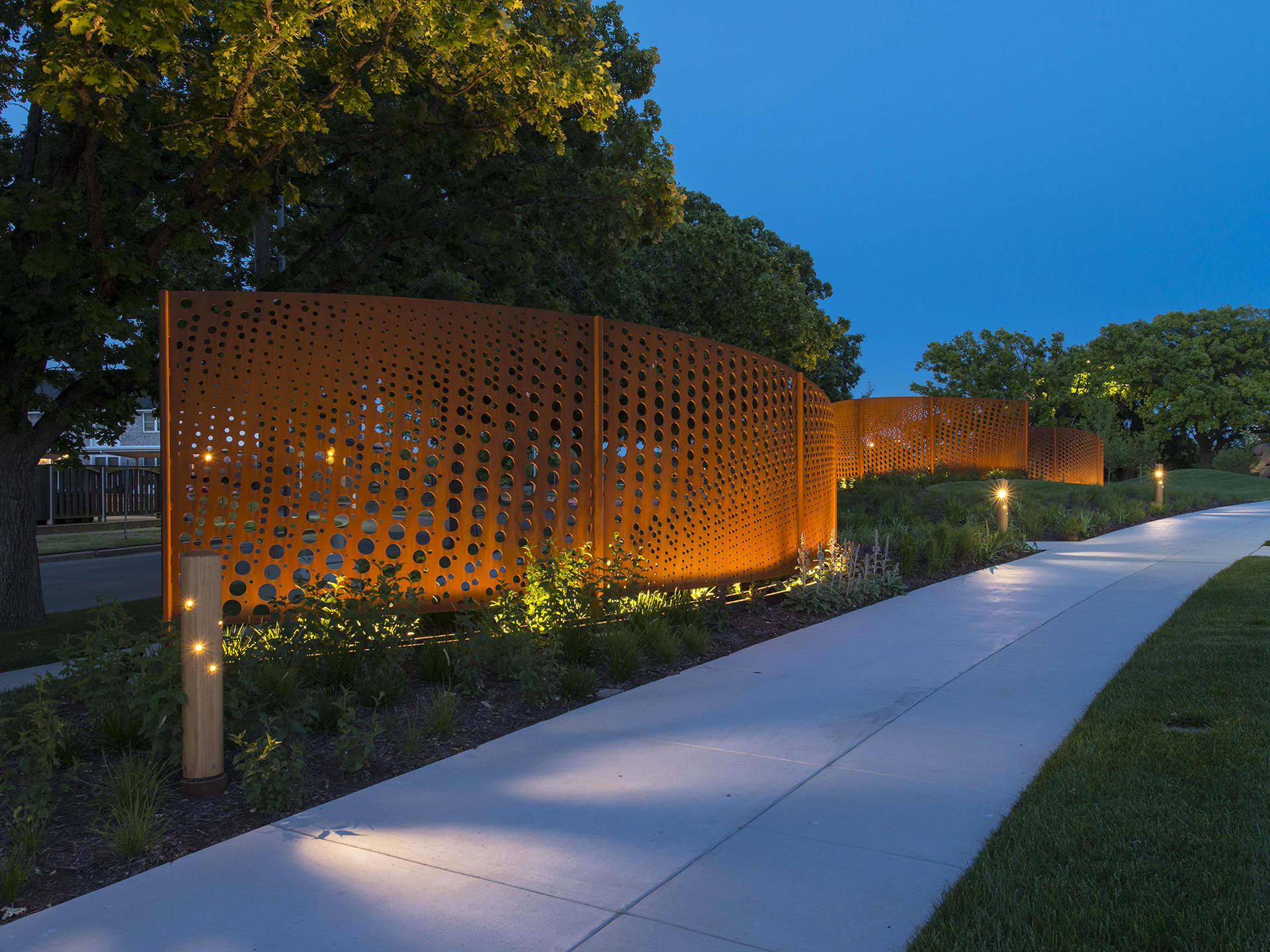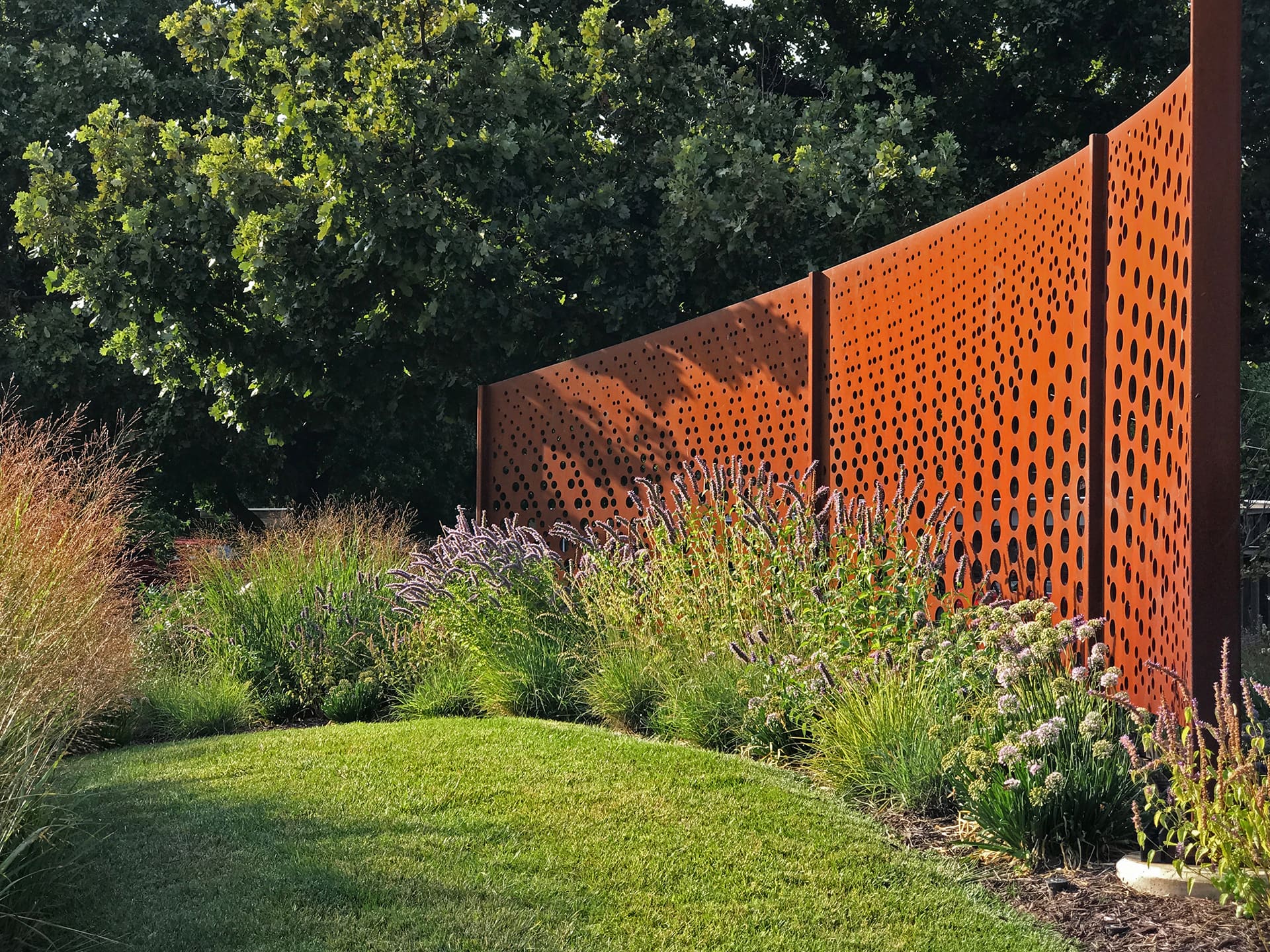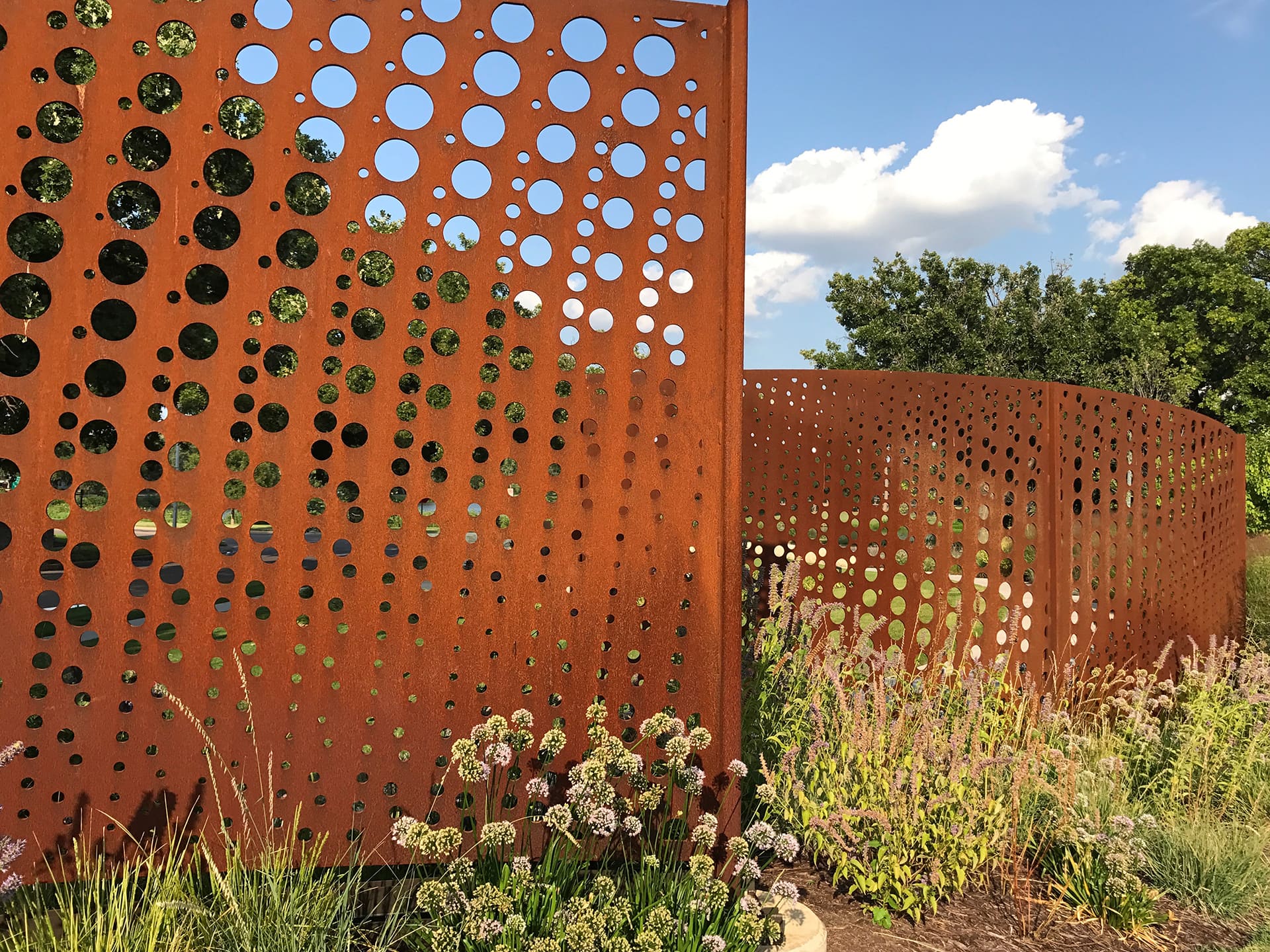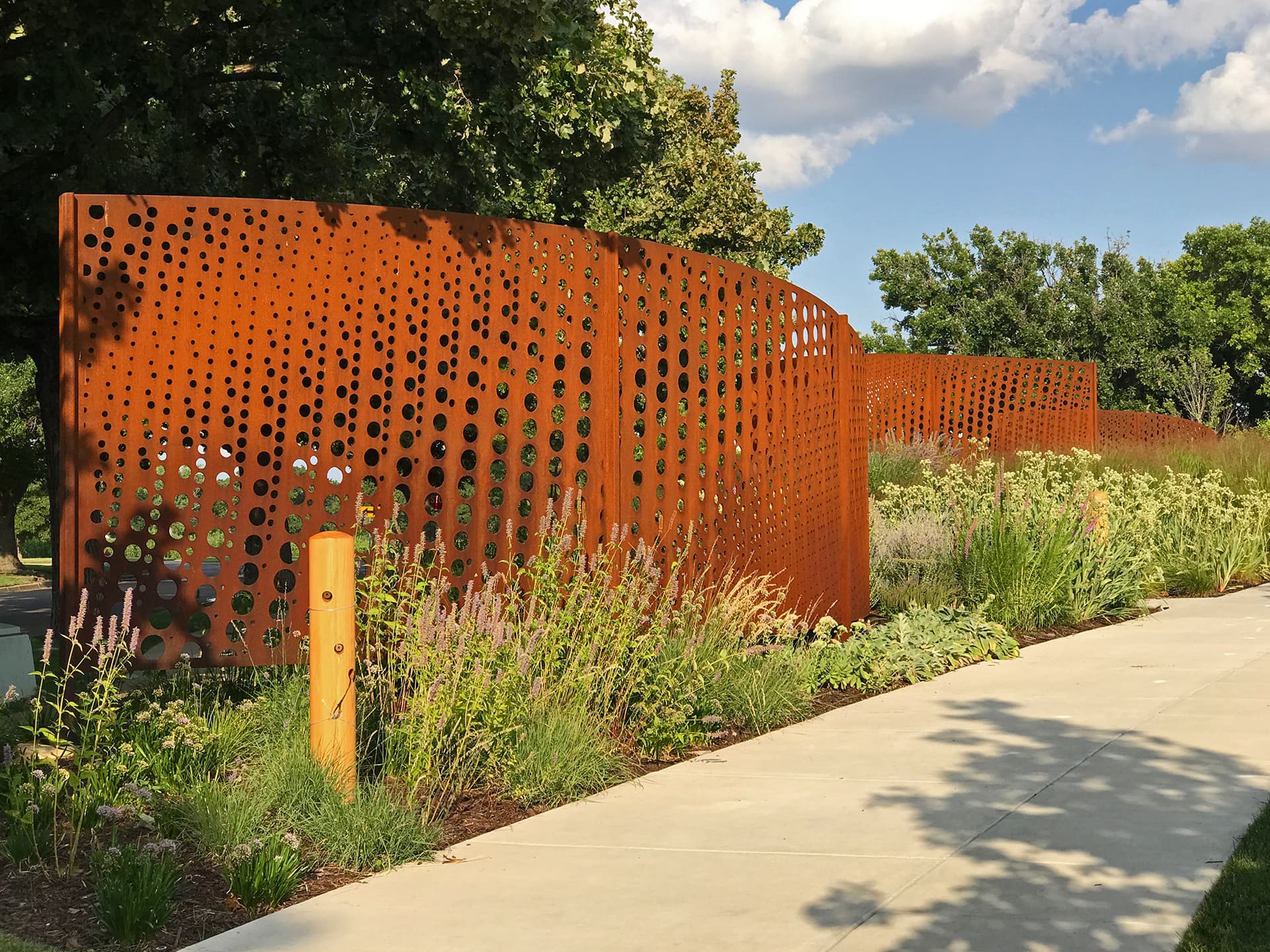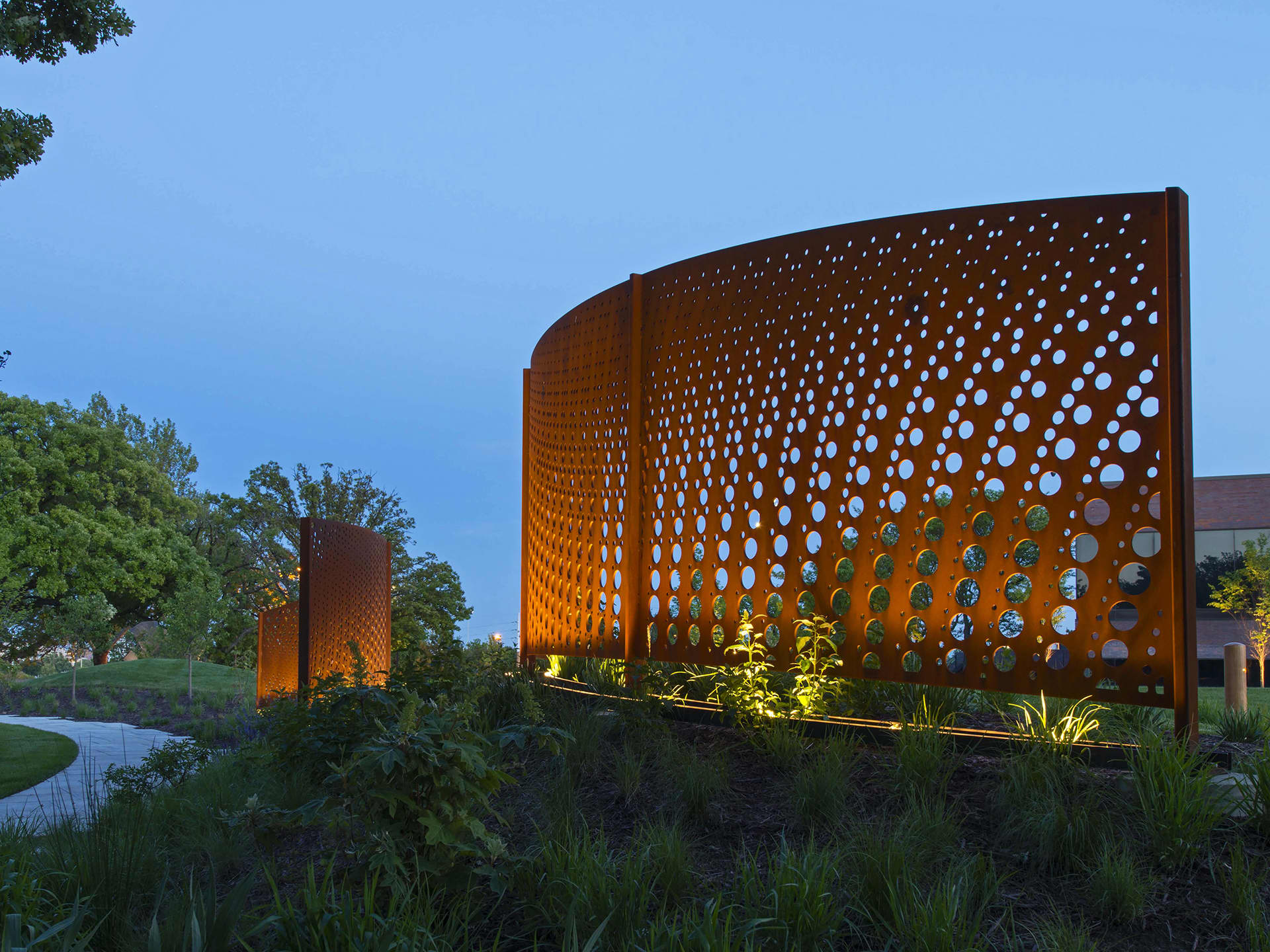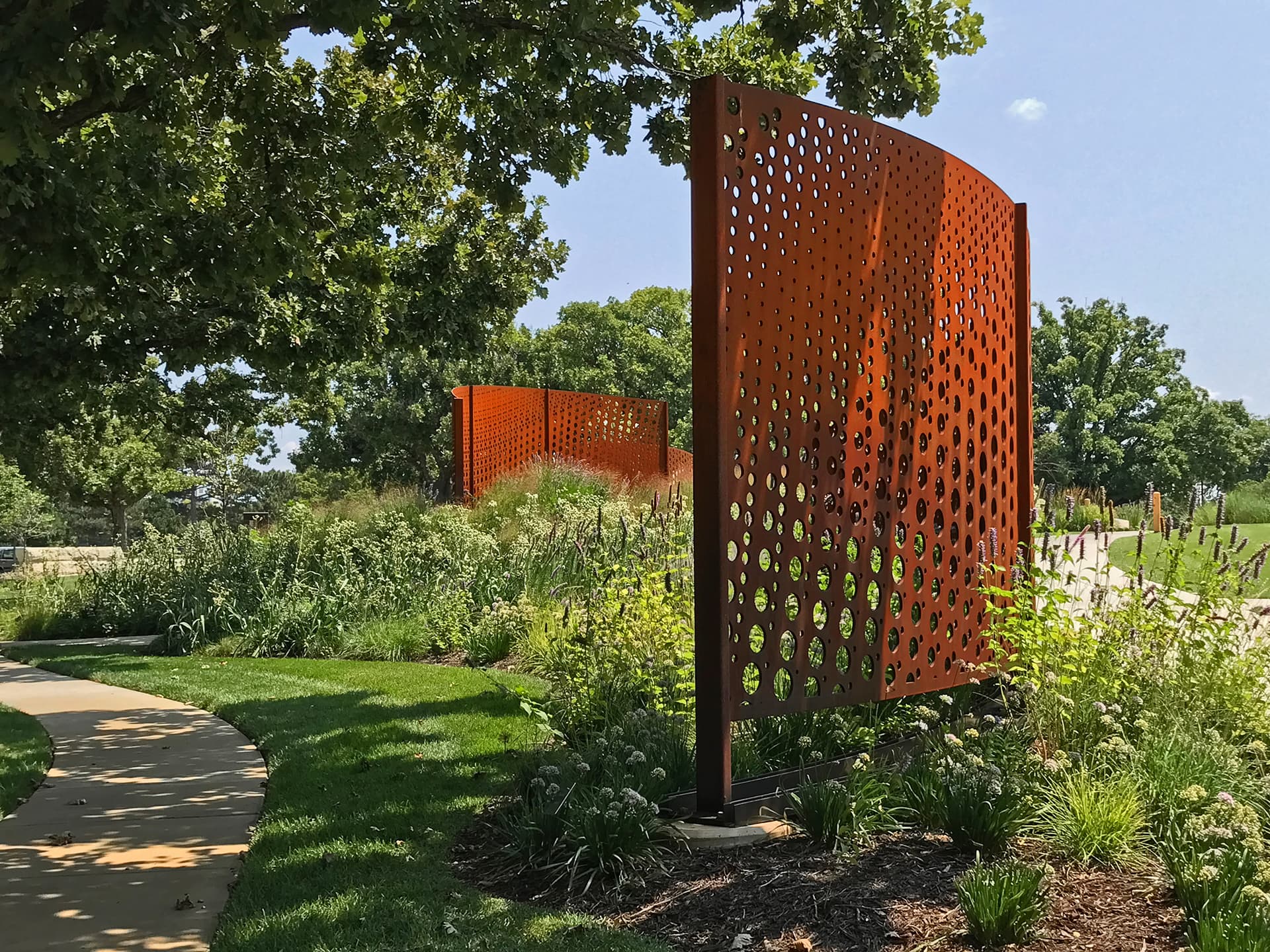 Project
Client: Wichita Art Museum
Location: Wichita, United States
Completion date: 2016
Artwork budget: $175,000
Project Team
Artist
Vicki Scuri
Vicki Scuri SiteWorks
Landscape Architect
Chris Cline
Confluence
Landscape Architect
Jackie Kolpeck
Confluence
Client
Patricia McDonnell
Wichita Art Museum
Landscape Architect
Matt Evett
Confluence
Landscape Architect
Terry Berkbuegler
Confluence
Overview
WAM commissioned a master plan and two new artworks, including the WAM Windscreens, for a complete renovation of their 9-acre Art Garden. Wichita's prairie winds, the garden site, digital technology, and classical forms inspire this work. The 3 screens overlay gestural patterns of gradient circles onto elegantly curved forms. Opacity and transparency add interest, abstraction and interaction with the native landscape. The screens mirror marking the entry and flanking the paths and gardens, creating a sweeping motion. They complement the site, defining and framing the space. They curve along their 30-foot lengths, arcing from 5.5 feet to 8 feet tall.
Goals
This project supports the master plan, complementing the Museum and its new Art Garden. Confluence, in their role as lead, included the Artist on the master planning design team. She worked with the team providing insight for re-siting the Museum's existing outdoor sculpture. Also, the Museum commissioned the Artist to create a new work functioning both as sculpture and as screening for the amphitheater and the surrounding site. Because the Artist participated on the master plan, this work plays a vital role, integrating into the larger project. The screens, sited along the paths on the north side of the garden, by a neighborhood street, flank the central path to the amphitheater. They extend into the gardens, screening the church parking across the street. The screens reference the wind, adding beauty, grace and pedestrian scale along the paths. Fabricated in weathering steel, they respond to the red brick of the Museum building while complementing its new native landscape. The screens become a powerful part of the landscape, standing as sculptural statements. They interact with light and shadow, casting beautiful patterns along the ground plane, changing throughout the day, marking time and seasons.
Process
The Artist collaborated with the design team led by Confluence, on the overall master plan to renovate the 9-acre Art Garden. The Art Garden plan introduced garden rooms with native plants, landforms, seat walls, pedestrian paths, lighting, an amphitheater, and two new artworks, one by Derek Porter and one by Vicki Scuri. The Artist designed this new work to address the needs and desires of the Museum and its stakeholders, working closely with them and the design team throughout the process. The Artist and the design team worked together to site the screens in the garden along the pedestrian paths, adding color, scale, and framing to the site. They positioned them to enhance pedestrian experience and to shield headlights from cars parking across the street. Patricia McDonnell, the Museum Director, worked closely with the Artist and the design team on the entire project. Responding to feedback from the Museum, its stakeholders and the design team allowed the Artist to create a work that marries beauty and utility. The screens were designed by the Artist, fabricated by CAID Industries, and installed by the Art Garden Contractor, Simpson Construction. The Artist oversaw the fabrication and installation process to ensure quality.