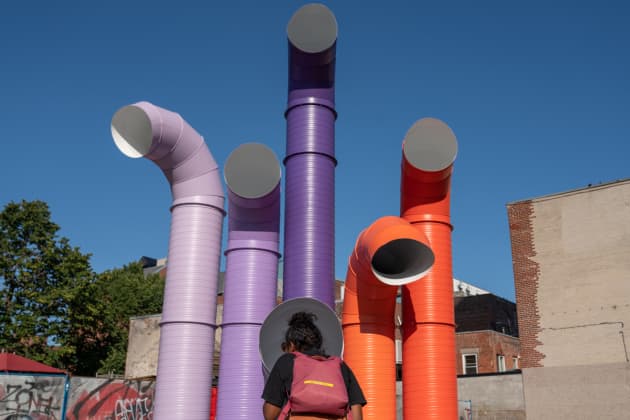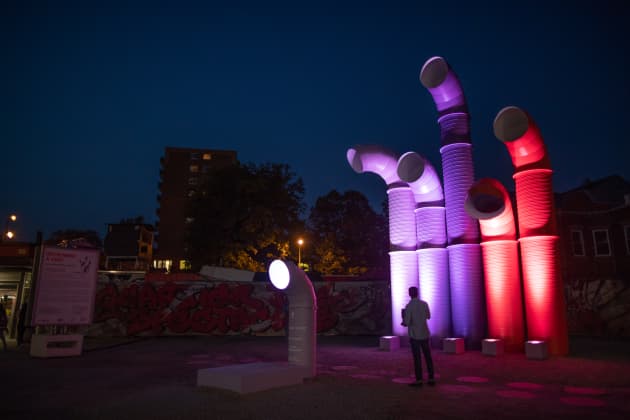 Photo: Chloé Larivière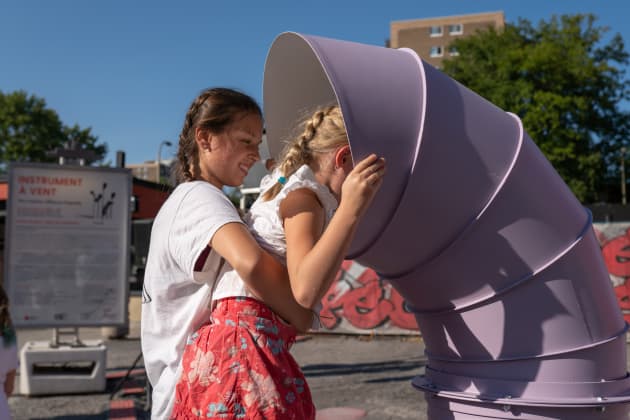 Photo: Elias Touil
Client: Quartier des Spectacles Partnership
Location: Montreal, QC, Canada
Completion date: 2018
Project Team
Public Art Agent
Quartier des Spectacles Partnership
Quartier des Spectacles Partnership
Artist
Étienne Paquette
National Film Board of Canada
Other
LA SERRE – arts vivants
LA SERRE – arts vivants
Overview
A work by Étienne Paquette – An interactive installation that borrows from sculpture and generative art, Wind Instrument creates soothing musical sounds from the ambient noise surrounding it. Made up of six steel ventilation tubes positioned vertically, like fanciful organ pipes, this 28-foot-high work produces compelling melodies by reacting to variations in ambient sound and the contributions of passersby. Lighting effects emphasize the device's musical output. Wind Instrument also keeps a record of the sound levels it picks up, creating an archive that can serve to inform our thinking on noise in our cities.
Goals
Wind Instrument is part of POSSIBLES, a high-profile creative project from LA SERRE – arts vivants that seeks to enrich our experience and vision of art and civic engagement in the city, and was presented in the Quartier des Spectacles. We wanted to see creators find inspiration in public spaces like those in the Quartier to create original works that lead to reflection and dialogue among residents. . This participatory installation invites members of the public to experience and share the sounds of the city, and once again illustrates the commitment and contribution of artists when it comes to reflecting on issues that affect us collectively—such as the spaces we inhabit.
Process
Wind Instrument began with a reflection on the absurdity of seeking silence in spaces where noise is ubiquitous. But if we can't silence the world, we can at least play with the sounds it generates. Here, the hum of the city becomes the driving force behind an installation that allows the public to harmoniously blend in with the sonic landscape.
Additional Information
Wind Instrument won a Numix Award in the category Cultural Production - Experiential & interactive installation. THE INSTALLATION KEEPS A RECORD OF SOUND LEVELS. WHY? Local sound levels are noted by the system, as a form of documentation of sound activity while the installation is running. It is not a scientific effort – we don't have the tools for that – but our database will still provide some insight into fluctuations in noise intensity. It's a way to contribute to a public debate through art.