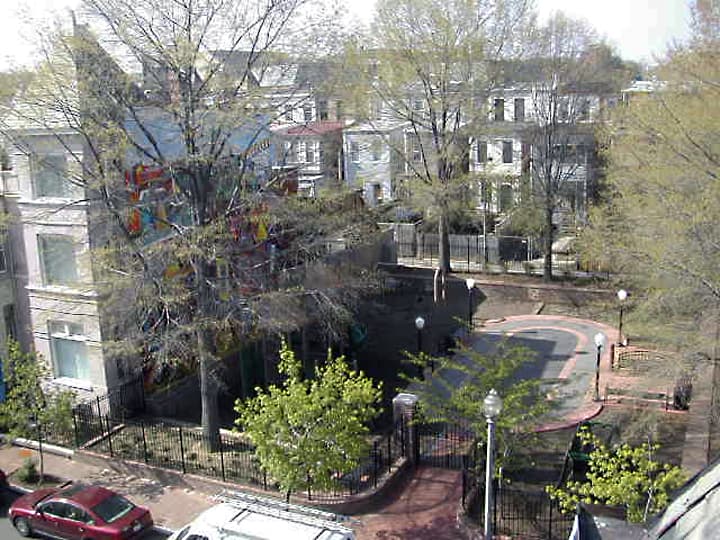 Project
Client: D.C. Commission on the Arts and Humanities (DCCAH)
Location: Washington, United States
Completion date: 2002
Artwork budget: $50,000
Project Team
Artist
Anne Marchand
Anne Marchand
Public Art Agent
DC Commission on the Arts and Humanities
DC Commission on the Arts and Humanities
Client
Westminster Neighborhood Association
Westminster Neighborhood Association
Industry Resource
Renovations Unlimited Inc.
Overview
Design for an East Facing Townhouse Wall, 33' x 35' overlooking the Westminster Playground. The overall concept of "community" is realized by the choice of colors, symbols of progress and achievement, sheltering architecture, and an atmosphere of movement and interconnection. Views of the Westminster neighborhood and the 14th and U Streets corridor depict the historical character of the late 19th Century Shaw architecture and the pride of community professionals, working people and craftsmen, who made Shaw their home from the late 1800's to the present.
Goals
"It is our goal to involve community members in bringing quality public art projects to their neighborhoods while creating opportunities for local artists. . . . The mural was funded through the DC Commission on the Arts and Humanities Community Public Art Initiatives program which makes its funding decisions based on community interests and the public use of proposed sites. Locations for the installation of such public art are identified through a city-wide nomination process, and the artists are selected through open competitions that include community representatives as members of the selection committees." The InTowner By P.L. Wolff. June, 2003
Process
The artist worked with the arts commission on budgeting in a two step process: wall fabrication and mural design. Project timelines included review stages, completion and a mural dedication for the public. The artist and the Westminster Neighborhood Association President enlisted a contractor to construct wall panels over a historic brick facade townhouse overlooking the playground in preparation for the wall mural by the artist. The artist and a team of six assistants worked in the summer heat to complete the mural in a month. Staging for materials was secured in the basement of a neighborhood resident across the street from the project site. The artist Interacted with neighborhood residents and day care centers using the playground on a daily basis.