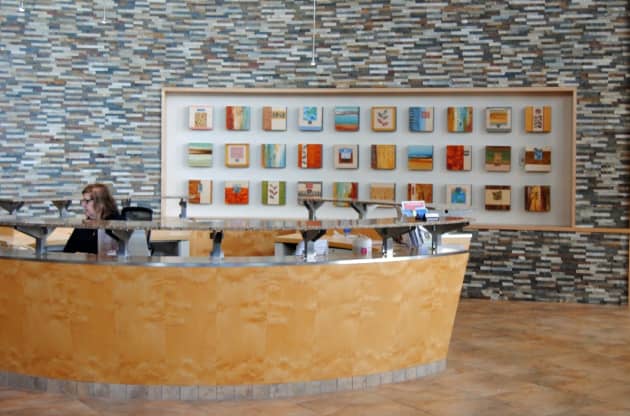 Photo: Cat Tesla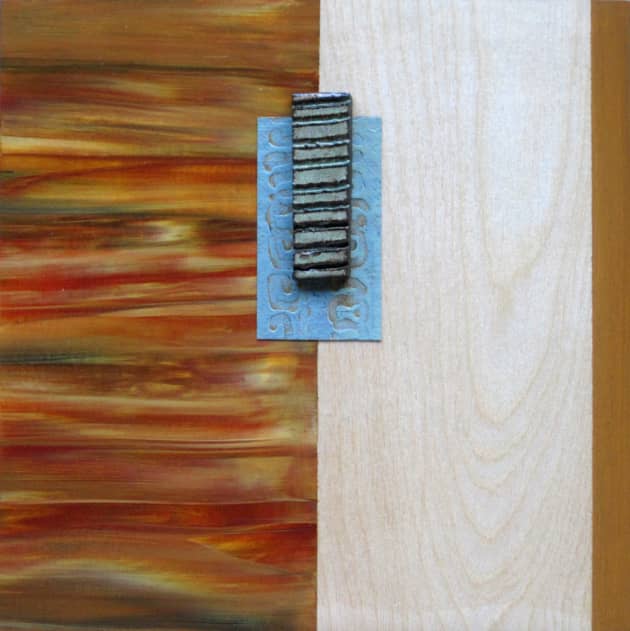 Photo: Simo Tesla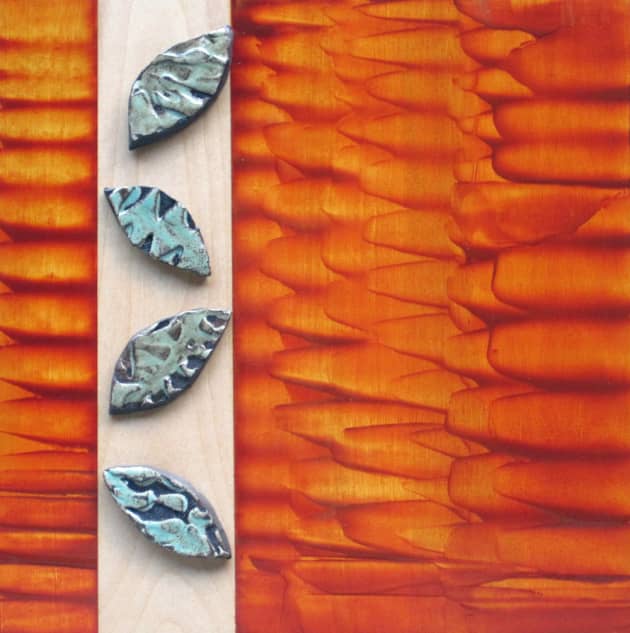 Photo: Simo Tesla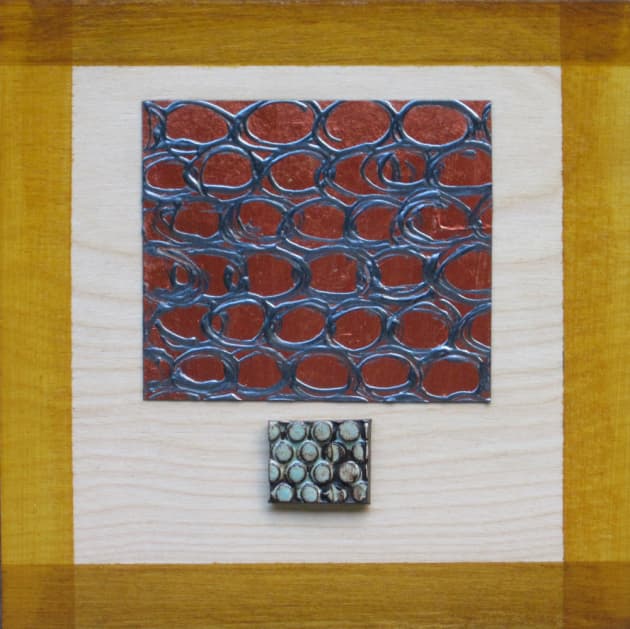 Photo: Simo Tesla
Client: Waukesha Memorial Hospital
Location: Waukesha, WI, United States
Completion date: 2015
Project Team
Artist
Cat Tesla
Catscapes Inc./Cat Tesla Fine Art
Other
Simo Tesla
Catscapes Inc./Cat Tesla Fine Art
Art Consultant
Sarah Gingrass
Gingrass Corporate Art
Overview
Waukesha Memorial Hospital is a general medical and surgical hospital in Waukesha, WI. The main concourse has an alcove 4.5'H x 14.5' long behind the reception desk, surrounded by stone, tile, wood, and metal. With lots of natural light, it's the perfect place for wall art. The only catch? The alcove's wall is curved. The solution? Thirty of Cat Tesla's "Outside of the Box" Series paintings. Mixed media on birch, Tesla employs acrylic paints, custom glazes, collage, and handmade clay tiles on 10"x10"X3.5" deep birch supports – small enough to withstand the curve, large enough to make a big impact.
Goals
Waukesha Memorial is a tertiary center with highly specialized heart, cancer, orthopedic and women's services, and a Level III newborn intensive care unit. The hospital has 301 inpatient beds and treats 40,000 patients in its emergency department each year. It is the fourth largest hospital in the Milwaukee area. A three-year renovation project began in 2012 that has dramatically transformed Waukesha Memorial Hospital's main concourse and enhanced many clinical areas. The new concourse includes a pharmacy, gift shop, family resource center, coffee shop and greeter's desk. With natural light and natural surface textures comprising the reception desk and surrounding the curved wall alcove, the goal of the wall art was to create an organic, nature-inspired installation that was also dimensional.
Process
Cat Tesla's "Outside of the Box" Series began when her husband Simo built the birch boxes for her during his own cancer treatment in 2001 when he was diagnosed with colorectal cancer at the age of 41. Simo is Cat's business manager and studio assistant. He made the first birch boxes during the few "good" hours he had each day between months of radiation and chemotherapy treatments. Simo urged Cat to paint "outside of the box" - - and the series was born. Cat created nearly 40 box paintings for her to plug into the arrangement of 30 needed for the curved wall - this allowed some play and editing. Responding to art consultant Sarah Gingrass's direction to "make it connect with all the natural surfaces, connect with nature, and throw in some pops of color", Cat describes the process like putting together pieces of a puzzle. Some paintings are covered in paint, while others let the beauty of the birch wood show through in their designs. This unusual body of work employs paint, collage, and clay tiles that Cat dubs "cookies" on dimensional supports. Each design is different yet they all have to connect and work together.
Additional Information
The idea of painting on birch boxes was initially rejected by Cat – in fact she told her husband Simo "don't tell me what to paint on, I'm the artist!". After the boxes sat in the garage for a week, Cat finally went to work. To date Simo has built and Cat has painted over 2000 "Outside of the Box" paintings. (Due to demand the box building has been outsourced to a framer.) You can view the current inventory here: http://artbycat.com/section/279881_Outside_of_the_Box.html Colon cancer often has no symptoms. For information on colorectal cancer and screening, please visit: http://www.cancer.gov/types/colorectal