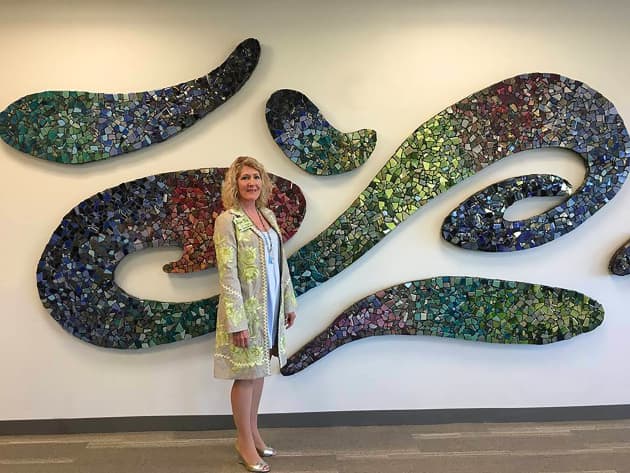 Client: Broomfield Art Commission
Location: Broomfield, CO, United States
Completion date: 2017
Artwork budget: $15,000
Project Team
Artist
Annette Coleman
Annette Coleman, Artist
Other
Rick Tronvig
Rick Tronvig
Overview
Commissioned by the Broomfield Arts Committee for the Health & Services family lobby. Seven shapes were created using mosaics in broken recycled shattered tiles. Colors were chosen to calm and delight the viewer by blending many different colors together. 5' x 20' then reinstalled to fit vertical space 15' x 26'.
Goals
This project was commissioned for a new building with the staff selecting me to work with them to create a work of art that would be enjoyed by children and their parents and caregivers. First located on the third floor of a public waiting area the staff and arts commission after a year somewhat hidden wanted to move the work to the first floor so everyone would be able to enjoy it in the main lobby.
Process
When the work was moved I presented different sketches of the new position of the individual pieces. One of the configurations were approved and the work was reinstalled with new cleats to hold up works that were 80 pounds and less. The larger individual pieces have up to 4 puzzle pieces that fit together to make up the whole. When these works were deinstalled I needed to chip out the tiles where the seams where and regale new tiles to both fit the seams and to make sure the flow of color remained seamless when viewing.
Additional Information
To view the process please visit my youtube chanel here: https://youtu.be/mkyrSm1nOe0