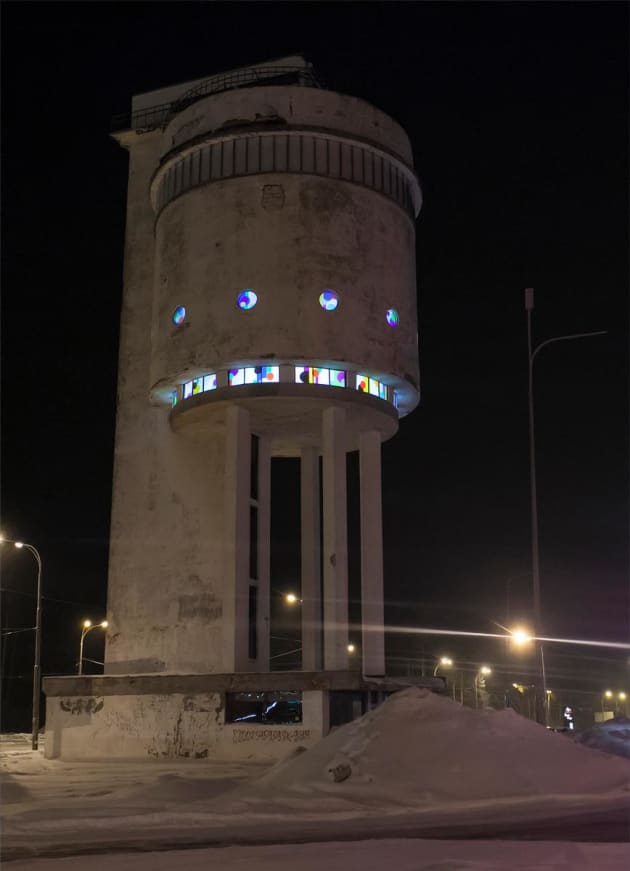 Client: Cultural Transit Foundation, Russia
Location: White Water Tower, Yekaterinburg, Russian Federation
Completion date: 2016
Artwork budget: $50,000
Project Team
Client
YEVGENIA NIKITINA
Cultural Transit Foundation
Overview
This light installation is in twenty windows of a landmark Constructivist water tower in Yekaterinburg, Russia. Its design of circles and rectangles unites the shapes of its round and rectangular windows to form a whole, using the vocabulary of Constructivist painting. The movement's paintings thus merge with its architecture, while the newer medium of light and technology joins the older one of painting. "WATER BUBBLES" 2016
Oracal transparent film on clear acetate, with LED backlighting
Rectangular windows: 30" x 93"; Round windows 34" in diameter
Goals
Water Bubbles used light and transparency to respond to the unique configuration of the lower windows. It was designed to appeal to all viewers. To the casual passers-by its imagery, colors, and shapes gave a sense of delight. Its additional layers of art-historical significance added dimensions to more knowledgeable art enthusiasts.
Process
Its design of circles and rectangles united the windows' shapes to form a whole, using the vocabulary of Constructivist painting. The movement's paintings thus merged with its architecture, while the newer medium of light and technology joined the older one of painting.
Additional Information
The White Tower was the largest water tank in the world when it was completed in 1931. It was built to supply water for Uralmash, one of the first planned developments Stalin undertook to industrialize Russia. The tower fell out of use in the 1960s, and by the 1980s had deteriorated enough that there were plans to tear it down. It is in the process of being restored by the White Tower Project, a dedicated group of architects.