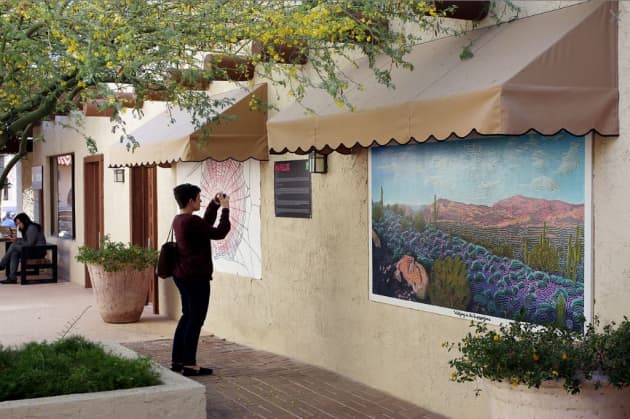 Photo: Lisa Olson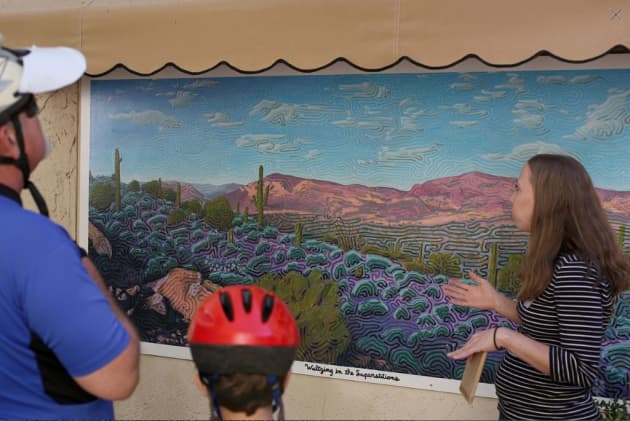 Photo: Lisa Olson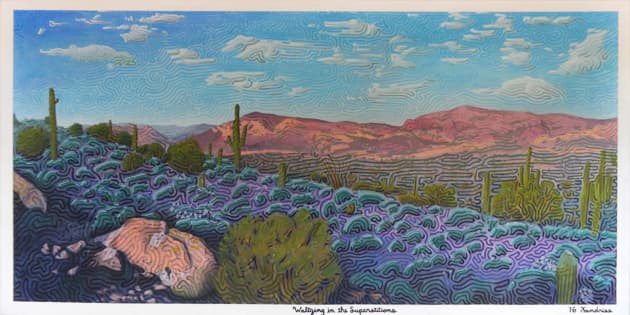 Photo: Xandriss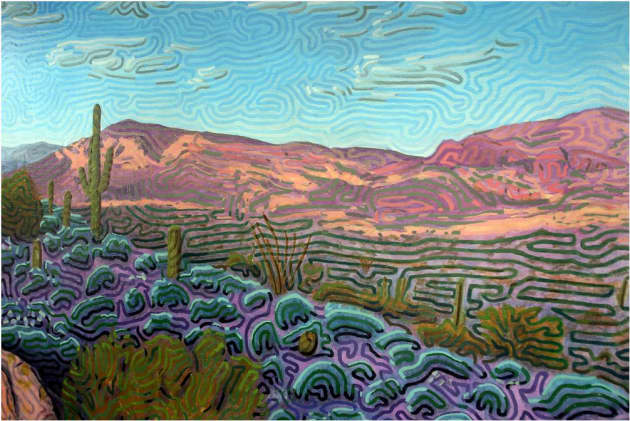 Client: The Arts at Marshall Square
Location: Scottsdale, AZ, United States
Completion date: 2016
Artwork budget: $1,000
Project Team
Artist
Xandriss Art
Xandriss Art
Public Art Agent
Kevin Vaughan-Brubaker -Project Manager
Scottsdale Public Art IN FLUX initiative
Client
The Arts at Marshall Square.
Main Street Galleries- Scottsdale
Overview
"Waltzing in the Superstitions" A Mural on panel painted with a single continuous line. 4 feet tall x 8 feet wide. Acrylic on wood panel. This mural was commissioned by Scottsdale Public Art through the IN FLUX public art initiative in cooperation with the Arts at Marshall Square.
On public view from April 2016 – April 2017
The Arts at Marshall Square
7077 East Main Street, Scottsdale, AZ 85251
Goals
The site of this installation was on one of the four buildings in a complex of commercial art galleries and studios. The buildings had large picture windows facing the center courtyard. The rental occupant and gallerist of one of them needed more wall space in his gallery and so they were boarded up. But, it left the exterior of the building unseemly and lacking aesthetics. The building complex owner contacted INFLUX of Scottsdale Public Art to commission artists to create murals to temporarily fill and beautify the spaces and bring visual harmony back to the complex. He wanted to test having artworks there and needed works that could be removed completely without altering the original structure before anything permanent was decided on. Xandriss and two other local artists were selected from many applicants and each were contracted to fill one of the three spaces with an outdoor and weather resistant mural to be on public display for one year.

INFLUX was launched by Scottsdale Public Art in 2010 as an initiative for temporary art installations in vacant storefronts and to provide opportunities for Arizona artists to create site-specific public art in a wide variety of locations.
Process
The theme of the installation was "The West" to go with the newly opened Museum of the West which was right next door. Xandriss chose to paint a mural of a favorite scene of the Superstition Mountains as remembered from a hiking trip. These mountains are a popular destination in the eastern part of the Phoenix metro area. She created a complete traditional painting using her own photo as a reference, and then painted right over it with a single continuous line covering the entire picture. The line is spaced evenly with half of the original painting showing between it. The colors of the underpainting and the line layer (overpainting) were planned and coordinated to work together. When viewed from a distance, the eye blends the colors of the two layers to show the sight and feel of the original scene that inspired the painting. The artist worked with the team manager and fellow installation artists to coordinate work efforts throughout the 4 months time given to complete the artworks. Scottsdale Public Art staff built and installed the temporary framework to hold the murals. They also assisted in installing, transporting and deinstalling the murals.


Additional Information
This Mural is available for both purchase and rental. Contact the artist for details. http://www.xandrissart.com