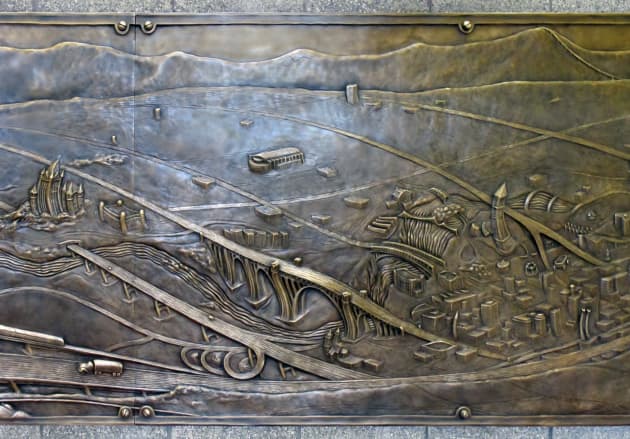 Photo: Jeanne McMenemy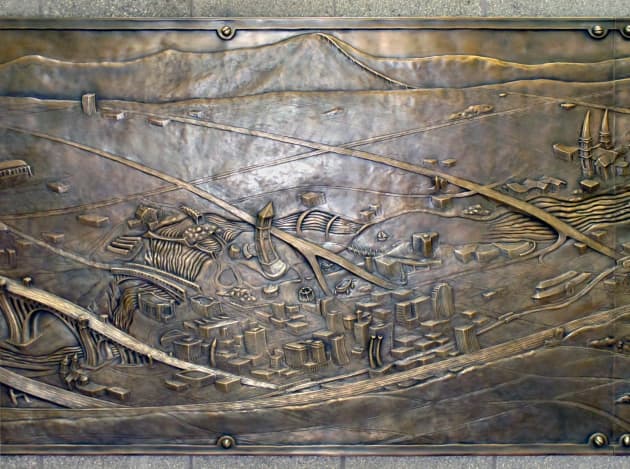 Photo: Jeanne McMenemy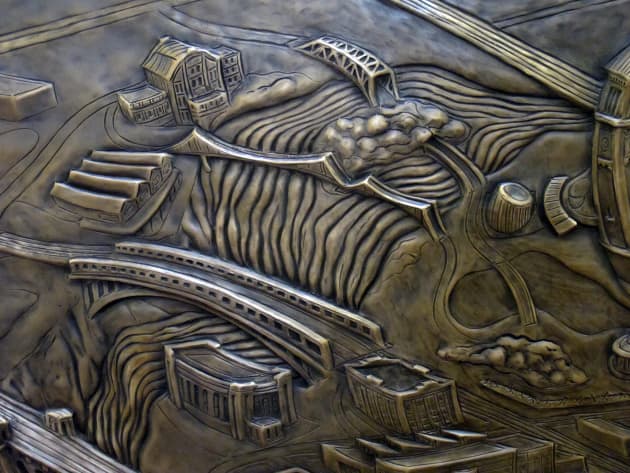 Photo: Jeanne McMenemy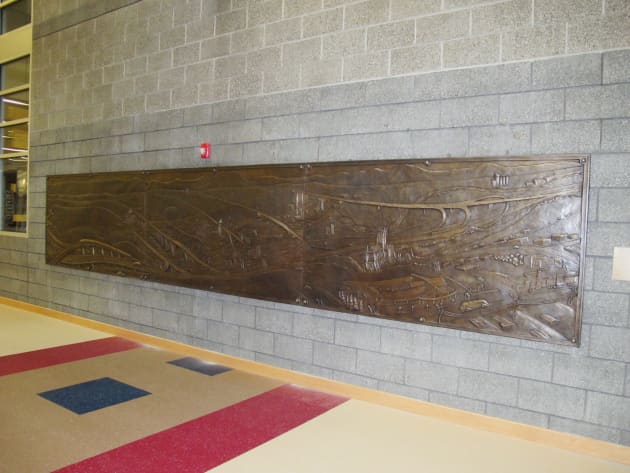 Photo: Jeanne McMenemy
Client: Washington State Arts Commission
Location: Spokane, WA, United States
Completion date: 2016
Artwork budget: $86,884
Project Team
Industry Resource
Trevor Hunter
T. Hunter Bronze
Overview
The piece is installed in the main hallway of the new Jefferson Elementary School in Spokane, WA. It is a 20'3″ x 3'9″cast bronze bas-relief mural done in three sections, each 6'9″ x 3'9″. The whimsical interpretation of Spokane, emphasizing some of its familiar landmarks most appealing to children, is an expression of my belief that playfulness and humor are vital components of a spirited life.
Goals
The school was already built and in use when the public art process began. This site was one of several presented at an initial meeting with school district personnel, staff at the school and community members. I liked the opportunity to do a sizeable bas-relief mural and chose this central hallway location. I wanted the piece to be mounted at a kid-friendly height so the school children could touch the piece and search for familiar scenes.
Process
There were two main collaborators in this piece: T. Hunter Bronze, the foundry I use here in Walla Walla, owned by Trevor Hunter, whose team produces first rate castings, and works overtime to problem solve and meet deadlines. My other collaborator is always my wife, Jeanne McMenemy, who scans and prepares my drawings in digital form for my proposals, collaborates with me to turn my verbal concepts into coherent written form, offers her own artist's eye at various stages in the sculpting and patina processes and photographs my work.
Additional Information
Saul Steinberg's 1976 New Yorker magazine cover, "View of the World from 9th Avenue" was the inspiration for this piece. We each are the center of our own world and our ability to respond to lightheartedness is intimately connected with knowledge of the world and self. This piece also expresses the theme of "continuity" and the flow of knowledge. I see the river, the freeway, the tributary roads as the circulatory system of the City. The school is the heart: the vital engine of the community which enables knowledge and understanding to flow from generation to generation.