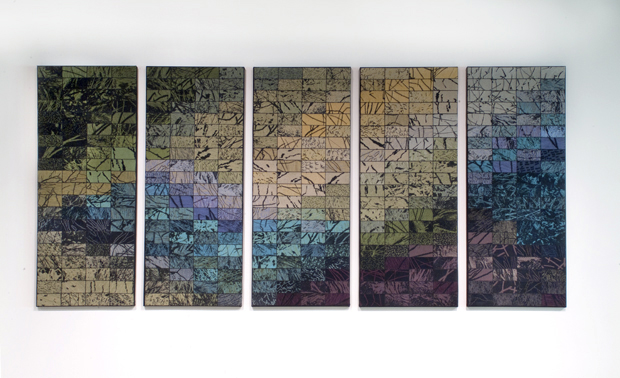 Project
Unitarian Universalist Church of Greater Lansing
Lansing United States
2016-09-15
Artwork budget: 25000
Project Team
Artist
Chris Triola
Chris Triola Designs
Interior Designer
Judy Ford
Studio Intrigue
Overview
8' x 16' textile mural composed of five panels of pieced, stitched and fused layers of
studio produced cotton fabrics. Fabrics are designed from patterns found in the
environment, then knit, cut, arranged and fused in place. Each piece is top-stitched in place and then fused one last time on finished backing. Each panel is stretched on
wooden stretcher bars for final wall mount.
Goals
This was a commission for the new building of the Unitarian Universalist Church of Greater Lansing. The goal was to provide an inspirational piece for the large, sparse sanctuary that would reflect the values and spirit of the organization. All elements of the piece were open to my design. The final design reflects a sense of uplifting (hope) and harmony (peace) using natural colors and calming graphics to represent earth, water, sky and sun.
Process
The process began with an initial visit to my studio by the church administrative staff. I discussed my vision and showed samples of my work. After approval of initial ideas meetings were held with the architectural firm's interior designer. Carpet samples and paint swatches were given and a tour of the building (in progress) was arranged.