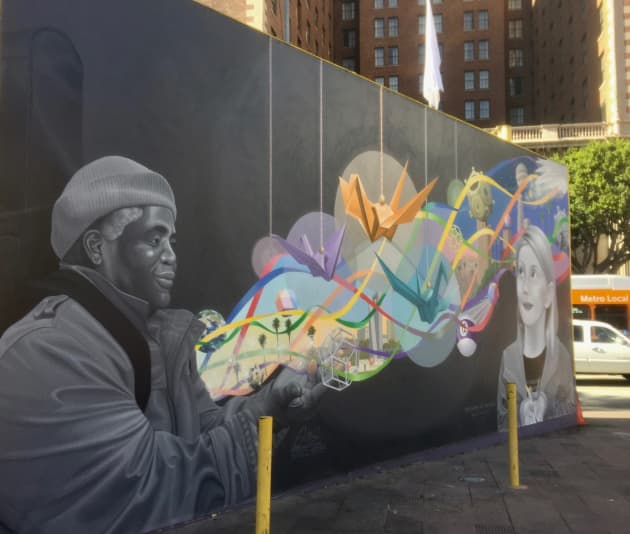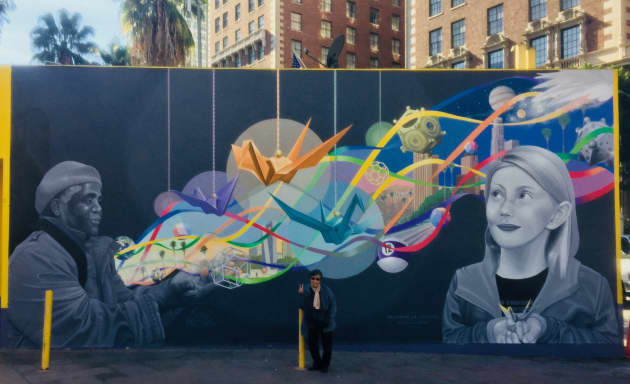 Client: Los Angeles Park & Recreation Dept. (Pershing Square)
Location: Los Angeles, CA, United States
Completion date: 2018
Artwork budget: $15,000
Project Team
Artist
David Mitchell Lee
Avid Illustrations
Other
Robert Larmore
Jive Live Entertainment
Liturgical Consultant
Louise Capone
Pershing Square
Overview
Title: UNLEASHING LA CREATIVES, Location: Los Angeles (Pershing Square), Dimension: 15' x 32', Material: Acrylic Paints (Nova Color)
Goals
Pershing Square (Los Angeles Parks & Recreation Dept.) has an annual banner mural series in which a selected artist is commissioned to temporarily display a banner mural on a highly visible wall (of the park) near the corner of Olive St. and 5th St. for approximately 6 months. Both style and content is open to the selected artist provided the subject matter pertains to either, or both, the city of Los Angeles and Pershing Square Park.
Process
The artist (David Lee) was recommended by the Pershing Square Board Members (namely Robert Larmore) and worked directly with Pershing Square Park Staff (namely Louise Capone). The artist came up with the concept and design layout for the mural which was presented to the board and staff for feedback and eventual approval. The mural was allowed to exhibit for additional months (nearly one year).
Additional Information
The 15,000 budget amount is a cost estimate of actual labor/equipment cost. 2,500 was the budget for the banner mural. The artist donated his own labor expenses.